Short stay: Roseate House, Hyde Park, London, UK
Roseate House London
is a white stucco confection of a 48-room boutique hotel within a five-minute walk of Hyde Park. An invitation to revisit an era when London aspired to become the next
Athens
or Rome.
Dating back to 1842, three Grade 2 listed townhouses with classical columns and balustraded balconies, make up this dignified retreat from modern life. Yet, with a quiet jazz-funk soundtrack playing in the bar, chic grey carpet and lamp room grey paintwork – Roseate House London is fashionably contemporary.
Westbourne Terrace, named after one of London's lost rivers, which now runs underground, is frequently acclaimed as one of the capital's finest streets. Tall architectural, shade-giving London plane trees recall a Victorian era that built and planted with one eye on posterity. Although Roseate House London is currently popular as a staycation, The Hyde Bar, with its 72 page Story of Whisky, offers a global tour: Campbelltown, Highland, Japan,
India
,
USA
and beyond. Nor are cocktails, gin, vodka and wine neglected.
The welcome
Clarissa, from Rome, warmly welcomes us. She checks our temperature and sanitises our luggage whilst we admire the decor.
Long ago, the hotel offered an honesty bar in reception. Although the bar no longer operates, its shelves of back-lit gins and whiskies have been incorporated into the internal architecture.
The room
A hand-crafted four-poster Bellestrata bed, topped with an opulent silk ceiling culminating in a cream rose, and dressed with finest Irish linen, takes pride of place in our Junior Suite. A sitting room provides a paisley salmon tapestry sofa, a comfy chair, upmarket tea and coffee. Vast lined curtains, thicker than a clipper's mainsail, hang down over the tall windows.
Original oil paintings hanging on the warm Roseate walls and crafted mahogany furniture create a reassuring Victorian ambience.
The bathroom
A light spacious bathroom is distinctly contemporary, featuring limestone fittings, rather than Victorian. Lefroy Brooks, the Rolls Royce of plumbing, supply the gleaming taps.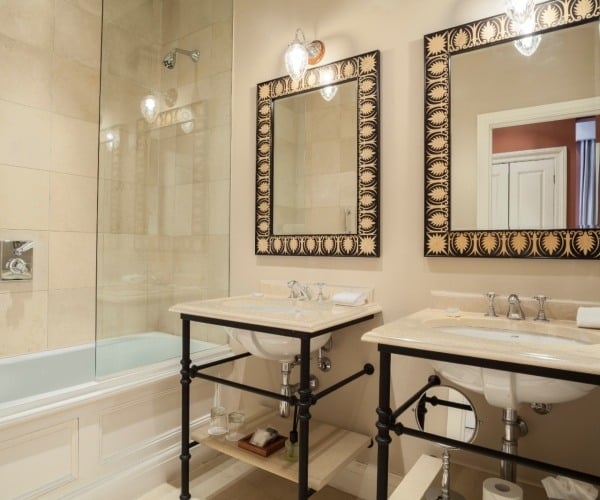 Blenheim Bouquet toiletries by Penhaligon are provided. It's a heady fragrance of lemon, black pepper and pine first created for the Duke of Marlborough at his Blenheim country seat.
Facilities
Before the pandemic, Executive Chef Rajesh Maharjan had planned to create a new innovative menu from his experiences in Delhi, Dubai and Bray where he had developed his ideas working with a range of international cuisines.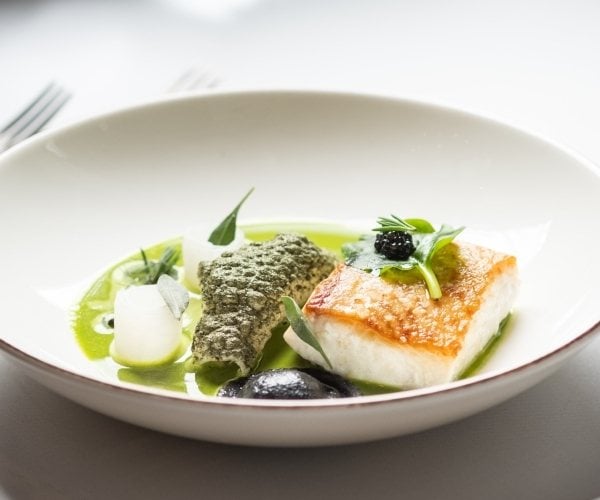 Currently, those ideas are appearing on the pared down all day dining menu. Both a mango and avocado relish plus a cucumber and fennel salad accompany the crab cake starter. King prawn tagliatelle is a regal east-meets-west fusion of pasta including bock choy, coconut and Thai red curry. The key to a meaty, red-juiced vegan burger, is the jack fruit mimicking beef's texture, accompanied by a jenga-block stack of chips.
A star of the dessert menu is a sunken volcano of a dark chocolate fondant with a molten middle contrasting with cherry ice-cream, enhanced by a sweetened caramel sauce. Equally tempting is a vanilla cheesecake with a mixed berries compote.
Location
Merely five minutes-walk from Paddington Railway Station and The Heathrow Express, Roseate House London is a quietly sophisticated alternative to an airport hotel and a great option for those visiting London for the weekend and wanting to explore all the city has to offer.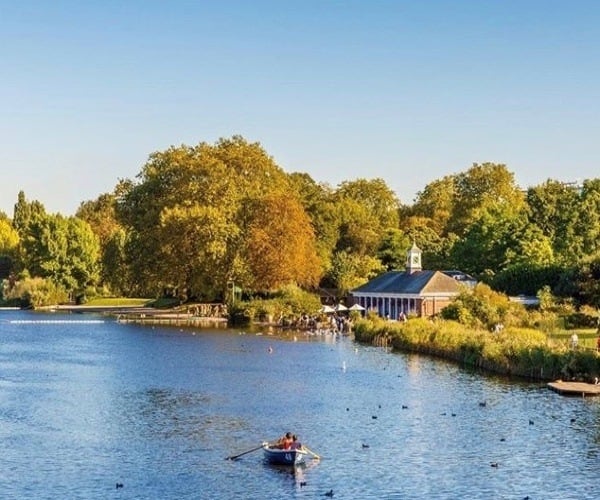 Another five minutes-walk away is the 350 acres of Hyde Park where you can watch and listen to the Great British democratic tradition of Speakers' Corner or take to the Serpentine Lake. Nor is it far to the Puppet Theatre Barge and Jason's Canal Boat which will take you on a tour of London's Little Venice.
Other nice touches
Jonty Hearnden,
Antiques Roadshow
expert, has curated a collection of original art, including many oil paintings, that create the sense of Victorian decorum. In our suite, alongside still-life oil paintings of flowers there are line-drawings of two chubby cardinals sharing a joke and a barrister whispering to a gaunt defendant.
Recently launched is a Work from Roseate offer which provides a quiet luxury work-station away from busy households. Conference speed internet is suitable for video calls and streaming services. Throughout the day, guests have access to coffee, tea and water, lunch in the Hyde Bar and Restaurant or delivered by room service, as well as a well-deserved end of day cocktail.
The cost
A junior suite begins around £250 for the night including breakfast.
The best bit
"For medicinal purposes only" reads the label on a Old Mock whisky that was distilled early in 1916 and bottled 18 summers later, during prohibition, in Louisville, Kentucky. "Patients" paid their doctors to write a prescription for a dose of whisky. Today, whisky connoisseurs, ordering this dram of Bourbon history, unsurprisingly kept in the safe at the Hyde Bar, will have to pay handsomely.
The cocktail list is an archive of taste. Presumably a
Modern Maid
from 1905 is still popular with young ladies whilst a
Vowel
from 1927 may improve your elocution.
The final verdict
When Westbourne Terrace was built, the
UK
was on a mission to export culture and civilisation to a growing empire. Now, originating from India, Roseate House London returns discrete Victorian decorum to one of the capital's grandest streets.
Disclosure: Our stay was sponsored by Roseate House London.
Did you enjoy this article?
Receive similar content direct to your inbox.