Go to Provence, they said. You will love all that you see.
And they were right.
But Provence-Alpes-Cote d-Azur is a region over 31,000 km2 in area and with over 5 million residents. It is close to the Italian Cinque Terre; it borders other beautiful areas of France, such as the Auvergne-Rhone-Alpes. When everything is cream and everywhere rises to the top, how can you possibly ration your time to find the best of this best place to visit in the world?
Any list of the best places to visit in Provence is open for wild and delightful discussion. Please, feel free to disagree and tell me your favourite sites. But for today these five places are worthy of any 'must visit' list you may have. Happy exploring!
1. Gordes
Many artists choose this traditional village that sits upon the peak of a hill. You may have heard of it spoken about in talks about famous painters who took up residence in this beautiful place to soak in the delicious light and extensive views.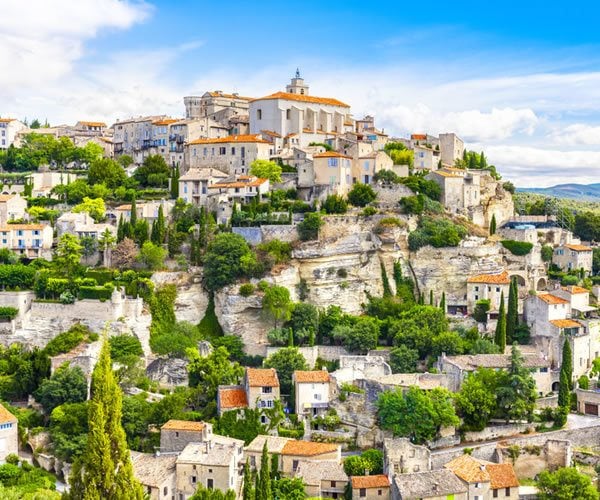 The village of Gordes sits upon a calcareous rock from the Mont de Vaucluse. It is a place of narrow streets and traditional white houses, and at the end of every alleyway is a view that will leave you stunned to silence.
You could visit to merely soak up the environment and the quiet French life that attracted the artists. However, you really should also seek out the 11th-century castle, which is the most important monument in the village. You will be awed by its towers and stone walls. In the summer there are festivals and exhibitions.
It is only 25 minutes from Avignon – and this is a bonus because Avignon should really make a list of must-see places in Provence. Avignon is the seat of the papacy in France. The town retains all of the beauty of the era with its churches and medieval streets.
2. L'Isle-Sur-la-Sorgue
This is a city that is surrounded by water. Indeed, you will find water everywhere, and it will give you the feel of being lost on an island. Water is a tranquil element, and it has undoubtedly had its impact on L'Isle-Sur-la-Sorgue. We mention this place not because there are fantastic tourist attractions and not-to-miss cultural experiences but because it feels like a fairy tale. You can stroll by the river and down random streets and everywhere will be a scene worthy of a photograph.
If you want something to draw you to a place, a USP let's call it, then the little shops in the city and the market on a Sunday will delight you. There are some cute bookstores and places to buy trinkets. The market is probably one of the best in France with everything from fresh foods to textiles to local crafts.
3.Chateauneuf-du-Pape
Yes, you have guessed right, I have chosen this delightful place for its wine. If you are going to Provence, then you need to spend at least a small part of your time tasting the grape. This beautiful village is surrounded by vineyards, wineries, and caves. You can spend your days visiting for a tasting session of the delicious wine, and you will be offered small bites to eat too.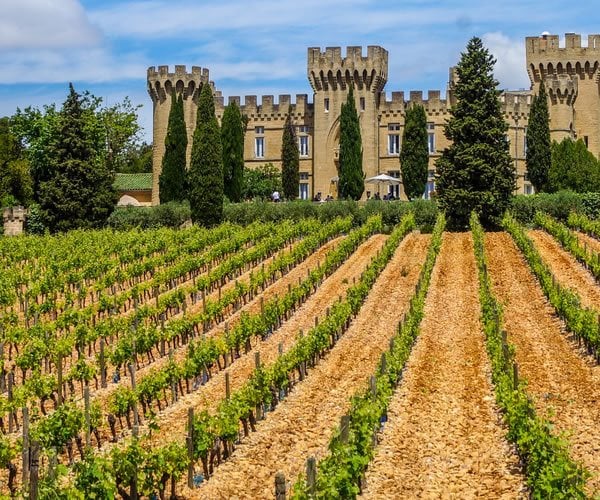 While this a place for the wine-lovers, there is no doubt, you can also visit the castle and the nearby town of Courthezon with its medieval beauty. I would always time my visit here for the first week of August, as there is a lovely festival – the Fete de la Veraison – which will transport you into pure French culture.
4. Cavaillon
If you are looking for something more metropolitan, then the larger town of Cavaillon could be just the place for you. It is one of the bigger towns in Provence and is cited between Mount Luberon and Saint Jacques Hill, which makes it one of the best places to base yourself if you love hiking. There are options for every level of walker, from the easy climbs of Saint Jacques to the more ambitious hikes and trails on nearby Mount Luberon and along the Coulon river.
This might sound all too energetic, and you were looking for some laid back provincial life. If this is you, then stick to browsing the morning market that is set up around the streets and square of the town centre. Then, take to the shops along the Cours Leon Gambetta, Rue de la Republique and Cours Bournissac. There are such deliciously quaint shops filled with cheeses and lavender products, as well as breads, marmalades and honey.
If food is your thing, then you will be delighted to know that just 30km away is Carpentras, which is famous for its truffles.
5. Lacoste
Last, but certainly not least, is Lacoste. You must visit Lacoste for its castles and its narrow winding alleys that will leave you feeling lost in a spy action thriller.
The castle was the home of Marquis De Sade who wrote some notoriously blasphemous books and was exiled in this place. The castle was then bought by Pierre Cardin, French fashion designer, but is now more a ruin than a luxurious home.
If you are a budding artist or writer, this is the perfect place for a retreat. Not only is it perched on a hill and so blessed with beautiful views – but it is also a town with hidden nooks and crannies where you can hideout and get some much-needed peace.
But what about…?
So, any list like this is going to feel incomplete. Where for example is Aix-en-Provence, Arles, Saint-Tropez, Les Baux-de-Provence or Saint-Paul de Vence on this list? Then there is the archaeology in Vaison-la-Romaine; the artist village of Vence; van Gogh's greatest inspiration in Saint-Remy-de-Provence, and the perfumes and art in Grasse? There is so much to take in when you travel Provence that in reality, to do Provence real justice you'd need a 'must visit list' that included many more than 5 places! But, as a place to start, these five locations will delight your heart and leave you hungry to explore more of this wonderful region in France.
Su Stephens is Owner of Olives & Vines. Olives & Vines is a luxury holiday company based in the South of France offering stays at their beautifully designed holiday house and boutique hotel in Le Castellet.
If you would like to be a guest blogger on A Luxury Travel Blog in order to raise your profile, please contact us.