Suite name: Ambassador Suite Swim Up
Location: TRS Coral Hotel, Costa Mujeres, Mexico
Size of accommodation: 130 sq m
Cost per night: $1,263.70
Who's stayed there? Rafa Nadal
What makes it special: This luxury suite has direct access to the Swim Up pool and includes a variety of luxurious and modern amenities.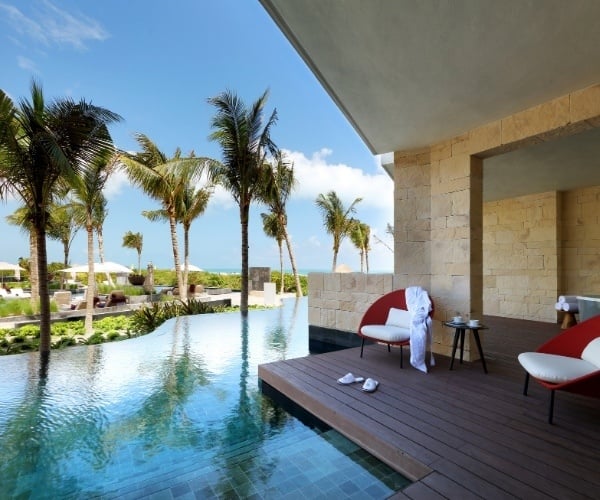 At the adults only and all-inclusive TRS Coral Hotel, the Ambassador Suite swim up is the most exclusive suite Palladium Hotel Group has to offer. This hotel has an ultra-modern architectural aesthetic, built with sustainable materials and palm-lined walkways. Guests staying here will be covered by the Stay Safe medical insurance for any incident related to COVID-19. When booking at Palladium Hotel Group, there is a 100% flexible cancellation option, no additional fees and exclusive gifts and discounts.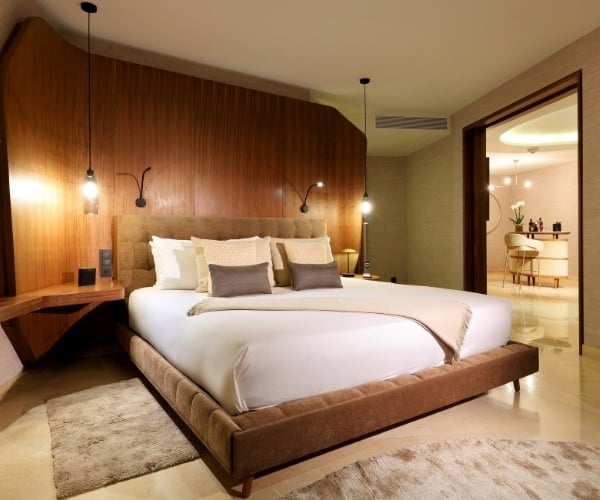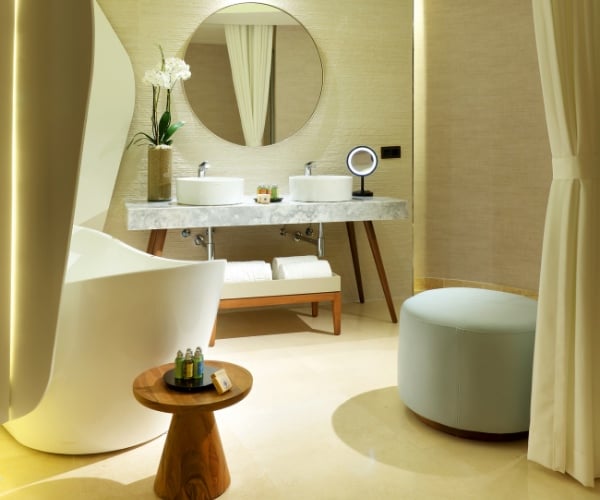 The Ambassador Suite swim up is perfect for couples or groups of friends looking for a fun vacation. There is direct access to the swim-up pool and the suite includes a variety of luxurious and modern amenities such as, video-games and a console, an interactive 50 inch flat-screen TV that comes with pay movies, free minibar items, espresso makers, blackout curtains, soundproof rooms, iron/ironing board, linens, towels, pillow menu, floating chairs, air conditioning, free WIFI, wine climate control, 24-hour front desk service, dry cleaning services, parking included, and 24-hour room service and Turn-Down Service to ensure a fulfilling luxury experience for guests. Additionally, rooms include complimentary bottled water and hair dryers. This suite has a separate lounging area and a second toilet to ensure privacy and relaxation. Bathrooms include separate bathtubs and showers with jetted bathtubs, bathrobes, slippers, and designer toiletries. This hotel also offers business-friendly amenities including, desks, safes, and phones. Housekeeping is offered daily and a nightly turndown service is provided.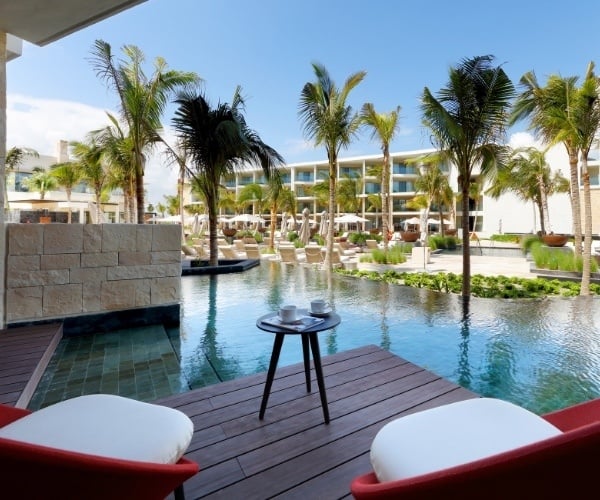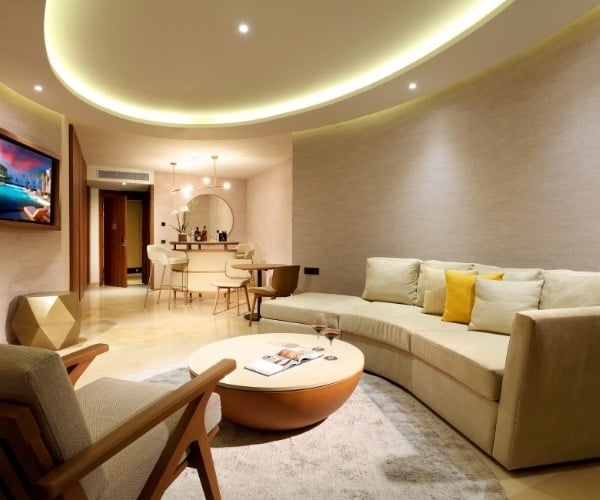 Each suite includes a private balcony or furnished terrace and hydro-massage bathtubs. Staff is multilingual, languages include English, French, German, Italian, and Spanish. There is free self-parking, free valet parking and there's a roundtrip transportation airport shuttle. This hotel is wheelchair friendly and includes an accessible bathroom, wheelchair-accessible concierge desk, parking, and registration desk.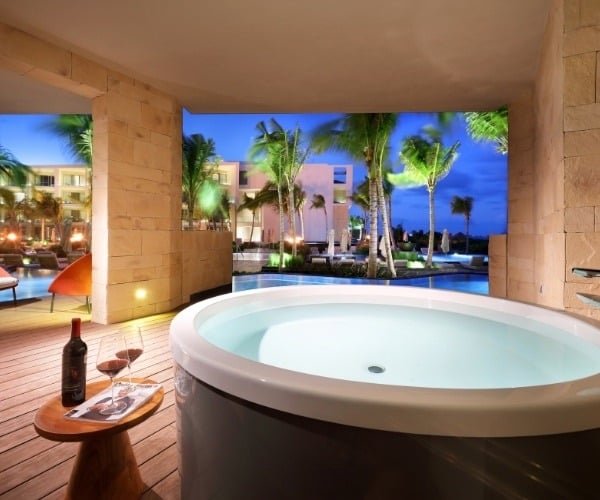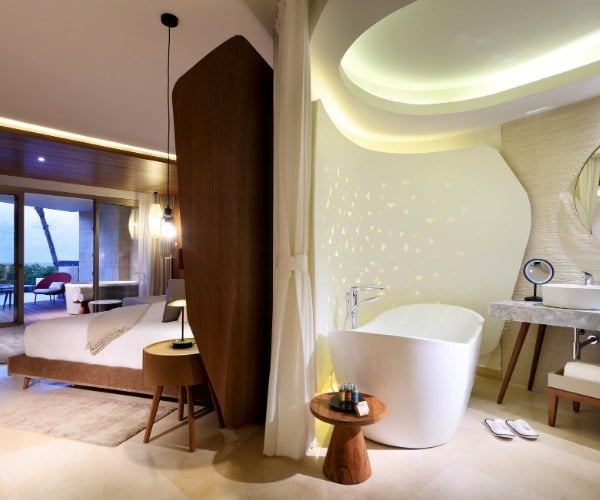 TRS Coral Hotel is only a few minutes from Cancun, is within walking distance to the beach and is home to the Zentropia Spa and Wellness Center. This luxurious spa offers many different kinds of treatments such as, beauty, facial and body treatments, massages, water slides, hot and cold eater whirlpools, cold bath, hot jacuzzi, ice cabins, steam rooms, dry and moist saunas, foot shower with stones and so much more. This space is devoted to relaxation and physical and mental wellbeing. There are special cabins built for beauty treatments and a thermal zone. The Zentropia spa has a team of highly trained professional therapists that will revitalize the body and mind. This hotel also holds gorgeous weddings in the most beautiful setting. The hotel has a chapel and provides you with different Palladium wedding packets. One of the many activities to participate in is joining the exclusive training program at the Rafa Nadal Tennis Centre, where you will learn from instructors. This program is available to guests of all ages and levels. You can enjoy a private individual training session or enjoy a group program of no more than four players. The center has eight illuminated clay tennis courts, one soccer field, one paddle tennis court, bar-cafeteria with TVs, exclusive exposition of Rafa Nadal objects and clothes, and a merchandise store with premium products.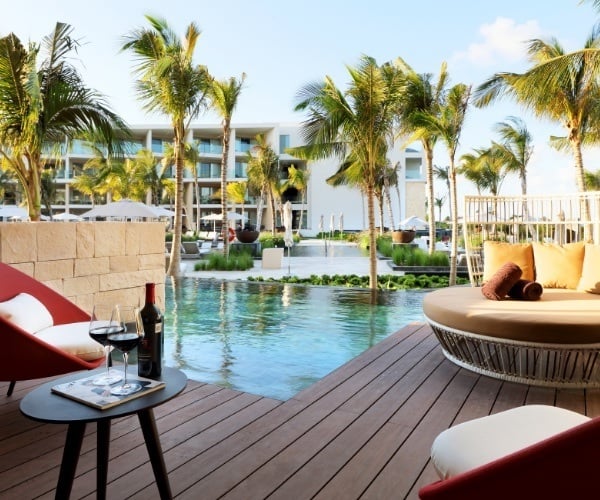 Guests have access to the 24-hour sports bar, as well as the exclusive swimming pool, spa and gym. There is one private beach club, seven à la carte restaurants, one show cooking restaurant and eighteen bars. Each restaurant utilizes products of the highest quality and presents their menus designed by their expert chefs. There are two international buffets and three Asiatic restaurants. At the Chic Cabaret restaurant, the stage comes alive and will leave guests amazed.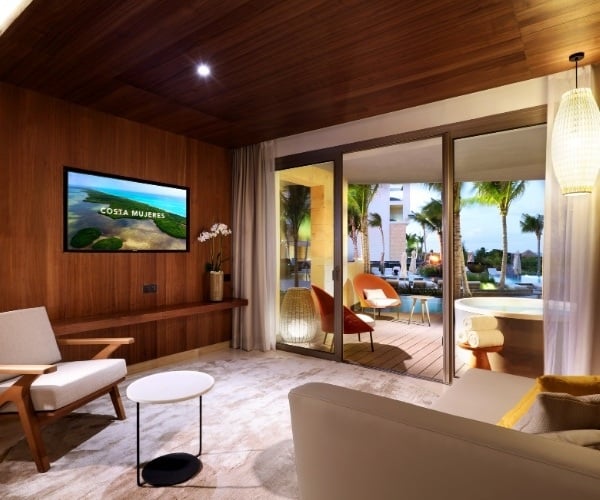 This hotel is located on the sandy beach of Costa Mujeres, a coastal paradise north of Quintana Roo and is home to beautiful coral beaches, and spectacular nightlife near Cancun and Isla Mujeres. In Costa Mujeres, you can take up surfing, swimming, kayaking, boating, or snorkeling with turtles in the beautiful aquamarine waters. The climate here makes swimming possible all year round. You can also visit the Mayan ruins nearby, such as the El Rey Archaeological Zone with its botanical garden and wild iguana population. You can swim in the Cenote Ik-Kil, go on an underground river tour of crystal caves at Río Secreto, or snorkel near shipwrecks and reefs. Golfers can play at Playa Mujeres Golf Course, designed by Greg Norman. There are local markets that have authentic Mexican souvenirs such as, Talavera pottery, dreamcatchers, and decorative Huichol skulls. Coral jewelry, fine silverware, leather goods, and traditional serapes and huipils are the best souvenirs to buy from Costa Mujeres. The nightlife here is spectacular with a great music scene and high-end nightclubs. Guests can take a ferry trip from Costa Mujeres to the beautiful Isla Mujeres for a day trip filled with fun activities. Isla Mujeres is one of the only places in the world where divers can safely observe reef sharks.
If you would like to be featured as 'Suite of the week' on A Luxury Travel Blog, please contact us.