Barcelona is home to some of the most excellent restaurants that this world has to offer, and thanks to its metropolitan community there is an ample range of cuisines and styles to suit every person's needs. For those that appreciate the fine dining experience, there is no better way to pass an evening than by a tasting menu with your partner or friends.
Barcelona excels in restaurants that can offer superb quality tasting menus, so let us aid your search by sharing our top ten tasting menus that this city has to offer.
1. Accés
Known as the "best kept secret in Barcelona", famed for its excellent food and attentive service, Accés Restaurant should be high on your list of must-visits. Based in the heart of Barcelona, in Eixample, Accés offers a contemporary Mediterranean fusion menu full of harmony and contrast.
The owner, Fabian, takes the time to greet and talk to every table that comes to visit, giving a personal touch to your visit. Guests are always astounded by the quality served for the price, with many saying it rivals that of Michelin star restaurants for a third of the cost.
Carrer d'Aribau, 55, 08011 Barcelona
2. Con Gràcia
The philosophy of Con Gràcia is self-proclaimed as stemming from the study of tradition, modernity and technique. The Con Gràcia team's aim is to represent the rich heritage and gastronomy of the city of Barcelona, but with a transformation into avant-garde cuisine.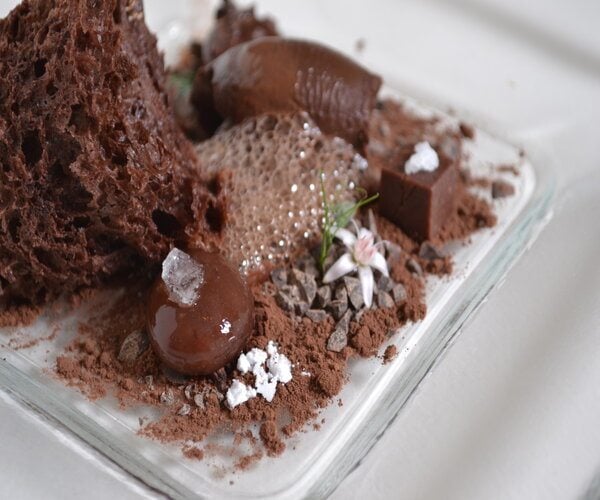 Serving two different tasting menus both at a cost of €65 each for 9 courses, guests can also opt for the wine pairing too. Reviews of this excellent establishment all mention that it is more than just a meal out, but an experience that leaves you wanting to return again and again.
Carrer de Martínez de la Rosa, 8, 08012 Barcelona
3. Disfrutar
Winners of the best chef in Spain award, and fourth best in the world as granted by The Best Chef Awards 2020, Disfrutar need little introduction. Meaning 'to enjoy' in English, this restaurant's aim is to do much more than just enjoy, they claim to amaze, stimulate and express their passion through their tasting menus.
Boasting two Michelin stars, Disfrutar's Mediterranean fusion menu is what many guests call the best restaurant experience they have ever had. Exceptional service and an unforgettable dining experience, Disfrutar earns its place as one of the best Barcelona has ever seen.
Carrer de Villarroel, 163, 08036 Barcelona
4. Uma
Taking its name from the Swahili for "fork", Uma hosts a fabulous international-Mediterranean fusion menu that also earns its spot as Michelin standard. Guests here comment on how accommodating the chefs are for vegetarian/pescatarian dietary needs and do so with ease, regardless of whether the rest of the party opt for meat inclusions.
It would be more appropriate to label the tasting menu at Uma as an experience, from start to finish. With an open kitchen where the chefs can be seen preparing each dish, you truly are able to enjoy the spectacle of their creations.
Carrer de Mallorca, 275, 08008 Barcelona
5. Restaurant Montiel
Located in the trendy El Born neighbourhood, Restaurant Montiel takes pride in its local roots by sourcing local products from small producers and transforming them into exceptional food creations.
Guests describe Montiel as being warm and relaxed in atmosphere, quite casual and therefore more intimate in character. This tasting menu comes in as one of the more inexpensive of the list also, at €72 per person, with an optional wine pairing at an additional €30.
Carrer dels Flassaders, 19, 08003 Barcelona
6. Bistro Helena
Bistro Helena, found on the infamous Via Laietana in Barcelona, is an establishment that aims to adapt the gastronomy of the local products into the international scene. Head chef Alberto Vicente has created a menu that offers the classics of Mediterranean cuisine, with a focus on simplicity, quality, and freshness.
The menu is renewed every season to adapt to the seasonality of local ingredients, meaning every time you return holds new excitement and surprises. Bistro Helena is actually also attached to the luxury five-star boutique of the Grand Hotel Central, perfect for booking a romantic weekend to tie in with your tasting menu experience. Additionally, the hotel has a Skybar, with panoramic views of the city, exclusive to guests until 8pm, but available for a priced reservation after this.
Via Laietana, 30, 08003 Barcelona
7. Koy Shunka
Breaking from the Mediterranean fusion mould of our favourite Barcelona tasting menus, Koy Shunka stuns with its Michelin star-quality Japanese fusion creations. Koy Shunka, meaning 'intense seasonal flavour', is headed by chef Hideki Matsuhisa who has created a menu of Japanese gastronomic excellence, what many guests call the best of the cuisine they have ever sampled.
A positive of Koy Shunka is that guests do not all have to order the tasting menu to be served it, if you arrive with group members that prefer something from the à la carte, this can be served simultaneously. Koy comes in as one of the more expensive of the list, but by far worth a stop to be able to experience the high-quality cooking!
Carrer d'en Copons, 7, 08002 Barcelona
8. Cinc Sentits
Cinc Sentits' Michelin-starred tasting menu has a focus on modern interpretations of Catalan cuisine, with the aim of creating not only a culinary experience, but an experience for the senses too. The restaurant offers three different spaces to dine in depending on group size: dining room, chef's table, and even the option of a private room for between 10 and 24 guests.
Cinc Sentits offers two options: the 11-course tasting menu for €119, and the lighter tasting menu of 8 courses for €99. Their optional wine pairing comes highly recommended, as they offer wines exclusively from Catalonia and Spain, from boutique producers with local grape selections.
Carrer d'Entença, 60, 08015 Barcelona
9. Caelis
Unlike many other restaurants, Caelis offers three selections of tasting menus, one being wholly vegetarian, as well as an additional lunch tasting menu that changes with every new week. This Michelin-starred, Mediterranean-European restaurant prides itself on its passion for the product, innovation, and for new challenges; they push the boundaries on quality and technique.
Caelis is celebrated for serving each course that exceeds expectation of the last, and unlike some tasting menus that leave room for more once finished, guests say they leave feeling both full and satisfied.
Via Laietana, 49, 08003 Barcelona
10. Restaurante Lasarte
Last but by no means least, boasting three Michelin stars, Restaurante Lasarte is led by Martín Berasategui and his team of top chefs who create impeccable Mediterranean/European dishes. They proclaim their purpose to be to create an unforgettable gastronomic experience, using the very best produce offered by nature, sea, and the seasons.
Positioned on the renowned Passeig de Gracia opposite the iconic La Pedrera building, the restaurant is also attached to the Monument Hotel. Due to the high quality of the culinary creations of Berastegui and his team, the tasting menu here will set you back €260, while the Lasarte menu is served at the cost of €230. Guests concur that for the experience and standard of dining received, the price is worth it for an unforgettable evening!
Carrer de Mallorca, 259, 08008 Barcelona
We hope that with our list you can start to have a better idea of where to go, and what you're looking for in Barcelona. Tasting menus allow a different experience to the standard à la carte, it allows for an unforgettable evening spent sampling culinary delights with fabulous, hand-selected wine pairings to accompany. With so many wonderful options to choose from, it truly is a foodie's paradise here.
Sandra Roig is Marketing Director at AB Apartment Barcelona. AB Apartment Barcelona is an apartment rental agency offering over one thousand short and long term apartments across Barcelona.
If you would like to be a guest blogger on A Luxury Travel Blog in order to raise your profile, please contact us.