Located to the north east of Madagascar and strewn with World Heritage Sites, the granite archipelago of the Seychelles clusters together approximately 115 inner and outer islands. While the more remote outer islands can be reached with a local guide or specifically trained captain on board, most visited are the inner islands, including well-known Praslin, La Digue and Mahé. A popular yacht charter destination, most are less than 30 nautical miles apart, delivering short sailing times for easy island hopping. Yachting here offers ribbons of powder white beaches, fringed by palm trees and lapped by crystal clear waters with the opportunity to explore secluded lagoons, colourful reefs and coral atolls. Filled with culture, home to unique flora and fauna and countless points of interest, this tropical paradise is a spectacular location to embrace tranquillity and relaxation.
An ideal starting point for a yacht charter, Mahé is home to 90% of the Seychelles' population and the site of the republic's capital and only port, Victoria. Built in 1840 and renovated in 1999, Mahé's bustling market will give you a feel for the authentic Seychellois way of life, with fantastic fresh produce and spices available. A short sail provides access to the stunning six islets of Sainte Anne Marine Park, one of the largest areas of sea grass where hawksbill and green turtles are often found, alongside bottlenose dolphins. Ideal for snorkelling amongst the coral reefs teeming with marine life, there are also glass bottom boat trips to enjoy.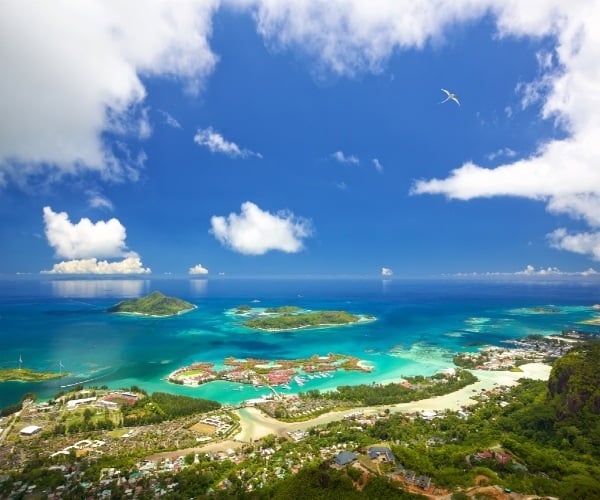 It is said that there is treasure buried on privately owned Moyenne Island, where remains of early settlers' homes and pirates' graves are found amongst the tropical gardens as giant tortoises roam free. Follow the half hour walking trail around the isle for panoramic views and discover one of the most filmed and photographed beaches in the world, where pink granite rocks and white sands create a sublime vision of beauty. Neighbouring Round Island boasts a popular Creole restaurant, Long Island is a favourite for chilled relaxation, while uninhabited Ile Cachée boasts a nature reserve with a superb site for dive enthusiasts.
The fourth largest island in the Seychelles, La Digue takes its name from one of the 1768 exploration vessels in Marion Dufresne's French fleet of discovery and is a nature-lovers haven. Bursting with biodiversity, La Digue hosts the Seychelles' black paradise flycatcher, one of the rarest birds on earth, alongside many other species plus two rare breeds of terrapin. This wealth of nature is echoed in the flora of lush forests where delicate orchids, vanilla vines and Indian almond trees thrive, and stunning gardens are filled with hibiscus and nepenthes alongside swaying palms. Blessed with tranquillity, time stands still on this island and travelling by bicycle is king. Local guides can organise cycling, hiking and rock-climbing tours, or you may like to sign up for surfing lessons, as this is an idyllic spot to learn. Famous Anse Source d'Argent Beach is a must – classed as one of the top three beaches in the world, it is easy to see why with its stunning granite boulders, velvet sand and shallow, clear water, accessed via the beautiful Union Estate.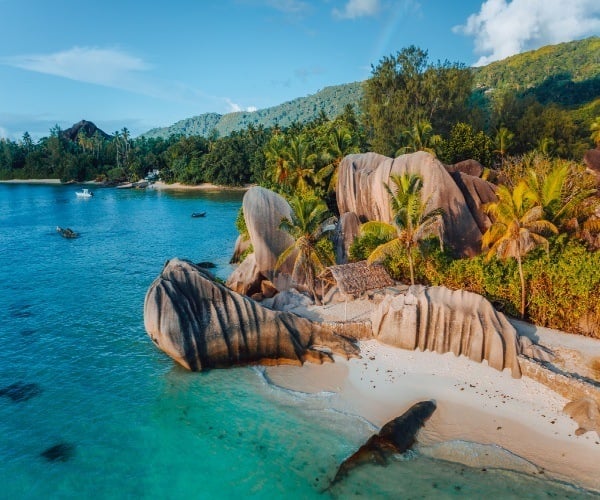 Numerous adjoining satellite islands are also wonderful to explore by yacht, offering private anchorages together with plenty of snorkelling and diving opportunities. To the north is Cocos Island, a marine park established in 1996, set around three small islets with shallow turquoise water. Fringed by large expanses of coral reefs, the waters here  offer an exciting snorkelling experience. Nearby, the picturesque Sisters Islands, namely Grande Soeur and Petite Soeur, are popular for hiking and picnics thanks to their spectacular ocean panoramas, as well as offering prolific underwater marine life to discover. The delights of Félicité, Marianne and Anse Cocos are also worth exploring.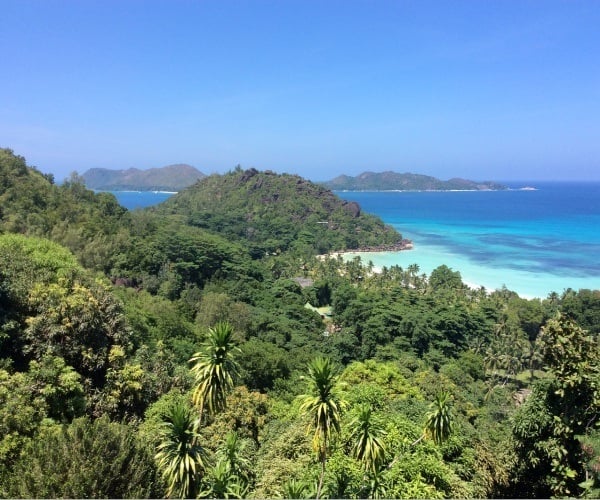 Take a short hop over to the reserve of Curieuse island, a small granite isle noted for the unique coco de mer palms, one of the Seychelles' cultural icons and only found on two neighbouring islands. This is the habitat of the highly entertaining, wild, giant land tortoises, who will come to greet you and enjoy being hand fed. A rugged island once home to a leper colony, you can walk the trail from Baie Laraie to Anse José, passing through thick mangroves teeming with wildlife and past colonial architecture to discover the beach where sea turtles still arrive to lay their eggs. The Raffles Hotel is situated nearby offering an amazing opportunity to relax with a spa treatment or some cocktails! At the end of the day, sail over to St Pierre, a tiny islet that is a firm favourite with swimmers and yachtsmen, providing the ideal backdrop for the spectacular Seychelles sunset and close to Pointe Zanguilles on Praslin's superb Cote d'Or Beach.
Make way to Anse Lazio, on the northwest of Praslin Island, possibly one of the best kept secrets in the Seychelles and the most famous beach on the isle. This is a great spot to soak up sensational views as azure waves lap the powder white shores and an ideal bay to enjoy all the water sports available on board, plus snorkel amongst the coral whilst looking out for turtles. Should you want to head ashore, Le Chevalier Restaurant is a popular stop for lunch, set amongst the shade of palm trees. There are lovely walking paths through the rich greenery of the peninsula, that lead to more secluded bays and vast bands of sandy beaches. The legendary Vallée de Mai UNESCO World Heritage Site on Praslin is so remarkable it was once believed to be the original site of the Garden of Eden. Hauntingly beautiful, the primeval forest is home to over 6,000 coco de mer trees, who in themselves are considered to be among the botanical wonders of the world. Home to six endemic palm species as well as other indigenous trees, this is also the last noted habitat of the endangered black parrot.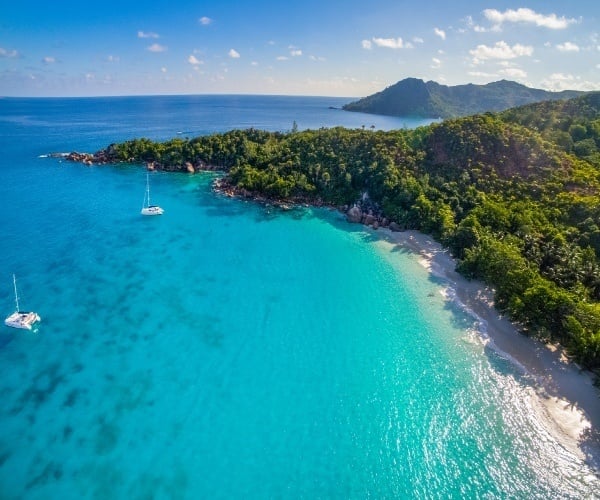 From emerald jungles to secret anchorages, idyllic beaches to dramatic boulders, it is clear to see that the Seychelles deliver an enchanting getaway location that you will want to return to again and again. This extraordinary yachting haven, brimming with breath-taking views and exceptional nature is, quite simply put, the ultimate barefoot escape.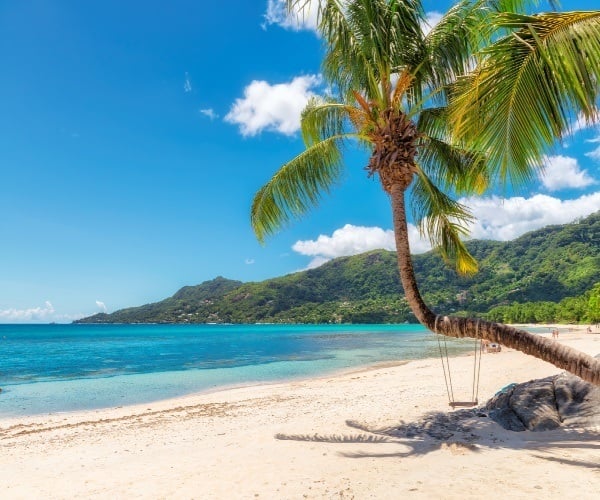 Nicholas Dean is Managing Partner of Ocean Independence. Ocean Independence is a global leader in luxury yachting, providing a bespoke experience across yacht charter, sales and management.
If you would like to be a guest blogger on A Luxury Travel Blog in order to raise your profile, please contact us.