Short on time? That doesn't mean you can't make an escape to take a much-needed break from everyday life. In fact, you can pack plenty of luxury into a weekend if you plan accordingly. The trick is to spend as little time traveling and as much time enjoying yourself as possible, because when time is limited, every second counts.
One of my favorite spots for a getaway is Chicago. It feels close to home because it's easily accessible through O'Hare International Airport from almost any point in the US. Stay in the city in an upscale hotel, and you'll be in close proximity shops, excursions, and dining galore, plus the posh accommodations ensure you'll be soaking up luxury through the entirety of your trip.
Another way to optimize your stay is to plan an agenda to check off the most important items on your must-see list. Not sure where to start? You're in luck! Ahead is an itinerary which – in my opinion – offers a taste of the best things the city has to offer.
Author's note: Before booking your trip, I highly recommend checking each location's website to view up-to-date information regarding COVID-19 restrictions and protocols.
Your Chicago weekend itinerary:
Saturday
1:00 pm – Lunch at Manny's Deli
Have some time to spare before check-in? Grab a sandwich that's stacked high from Manny's Deli. A 15-minute drive from the hotel, this is the BEST Jewish deli that I've ever been to — and this is coming from a born and bred New Yorker! Try their Signature Reuben and matzo ball soup, you won't regret it (they have a mouthwatering breakfast menu, too).
3:00 pm – Check-in at Thompson Chicago
I love hotels and consider myself a bit of a hotel snob. Since I prioritize style and luxury, the Thompson Chicago is my first choice. With its exposed brick walls and plush velvet furniture, Thompson Chicago is both upscale and inviting. I booked the 19th-floor luxury junior suite, which boasted posh decor with an equally lavish view. From my window, I could gaze across tree-lined neighborhoods, the Great Lake waterscape, and of course, the city skyline.
4:00 pm – Shoreline Sightseeing Tour at Michigan Avenue
A short six-minute cab ride or 20-minute walk away, you'll find Shoreline Sightseeing's Michigan Avenue dock where boat tours depart almost once every hour. I climbed aboard for an hour-long Architecture Tour, which offers a unique view of Chicago's most famous buildings.
5:30 pm – Cocktails at Salone Nico
Lucky for you, some of the city's best drinks can be found just a few floors down from your hotel room. Before dinner, grab a seat at sultry Salone Nico, the lounge within the Nico Osteria, which is inside Thompson Chicago. There, you'll find light pre-dinner fare, an un-stuffy wine list featuring vintages from Italy and Greece, and classic cocktails  (think: Palomas, Negronis, and Bee's Knees) that are mixed up right.
7:00 pm – Dinner at Blue Door Kitchen & Garden
Once home to Chef Art Smith's Table Fifty-Two, the acclaimed cuisinier (and former personal chef to Oprah Winfrey) re-opened the space as a farm-to-table restaurant that prioritizes seasonal ingredients and sustainability. With fresh foods sourced from Midwest farms — including the namesake Blue Door Farm, once Winfrey's property — Chef Smith crafted a menu of comfort foods with his artistic twist.
Some offerings: cornbread served with peaches, whipped cream, and pecans; macaroni and cheese smothered in Mornay; buttermilk fried chicken with garlic mashed potatoes; shrimp and grits with andouille and tomato stew; and for dessert, hummingbird cake with pecans, coconut rumble, and coulis.
9:30 pm – Rooftop Nightcap at The J. Parker in Hotel Lincoln
If you love the view from your hotel room, you'll be enchanted by an unobstructed look at Chicago through these panoramic windows. So, take a seat and savor the sights and a signature cocktail or two; unique concoctions like the Banana Matcha Gimlet and the Getty's Herb with optional CBD bitters will intrigue your taste buds. Between the city lights and the complex flavors, you'll want to sip slowly.
Sunday
10:00 am – Breakfast at Nico Osteria
Sleep in, then make your way downstairs to Thompson Chicago's onsite Italian restaurant Nico Osteria for a decadent brunch dish to start your day. When I visited, I ordered the Dungeness Crab and poached eggs on focaccia, which I highly recommend if available. If not, they have plenty of other gourmet options like lemon ricotta pancakes with blueberry sauce and eggs Florentine on a rosemary biscuit with sautéed spinach.
11:00 am – Shopping at the Magnificent Mile
What luxurious weekend is complete without a splurge-worthy shopping spree? With the Magnificent Mile just a 10-minute walk away, spend a few hours browsing and buying top brands like Burberry, Tory Burch, Ugg, and so much more. The Mile is also home to malls of high-end retailers; check out the 900 North Michigan Shops, The Shops at North Bridge, and Water Tower Place.
1:30 pm – Lunch at Lou Malnati's Pizzeria
On your way back to Thompson Chicago, stop at Lou Malnati's 1120 North State Street location, which is practically next door to the hotel. There, you'll sample legendary deep-dish Chicago-style pizza done right.
After a quick lunch, you can drop your bags and change for this afternoon's kayaking excursion.
3:00 pm – Kayak Chicago Architectural Tour
Kayak Chicago's home base is a mere 10-minute drive from the hotel, and you'll head there for the late afternoon Architectural Tour. With all experience levels welcome, you'll learn Kayaking 101 including safety procedures and paddle strokes before hitting the water. Once you're a pro, you'll get to cruise along the Gold Coast for a leisurely look at the city's most important landmarks. The tour is three hours long from start to finish.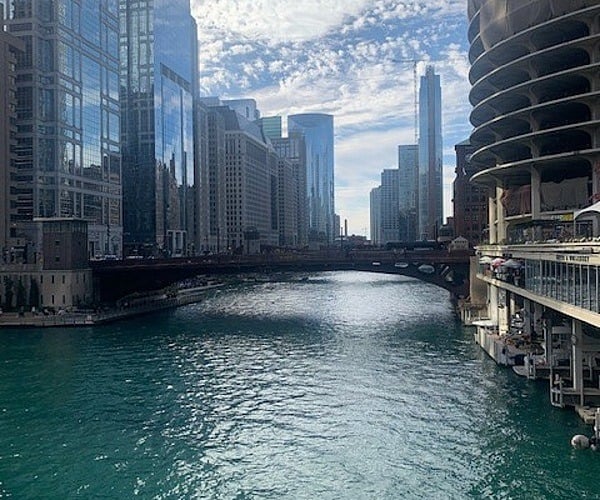 7:30 pm – Dinner at MAKO Chicago
MAKO is a must-stop for sushi lovers, especially after working up an appetite while paddling along Lake Michigan. Opened by renowned sushi chef B.K. Park, it features an omakase menu. This means the chef creates the courses day by day, offering a truly unique dining experience. Beverage pairing is also optional.
Because it's omakase-style, you must make reservations, and currently, they're serving at limited capacity. You can also get your meal to go and enjoy it in the comfort of your hotel room.
Monday
9:00 am – Breakfast at The Original Pancake House
Even though it's check-out day, you can still enjoy a leisurely breakfast. Located directly across the street, The Original Pancake House is a neighborhood favorite and is open by 7:00 am if you happen to be an early riser.
The local chain serves up more than just pancakes; you'll find fresh-squeezed juices, Belgian waffles, crepes, hash brown skillets, omelets, scrambles, and more.
12:00 pm – Check out from Thompson Chicago
All good things must come to an end, but after a weekend full of shopping, sightseeing, and eating, you'll feel as refreshed as if you'd taken a much longer vacation.
You don't have to vacation far or for long to reap the benefits of a change of scenery. Choose a centrally located hotel in a bustling hub and map out your agenda in advance.  With a little planning, you can pack a lot of luxury in a short amount of time for a fun and fulfilling getaway.
Author's note: Some stores, restaurants, and destinations highlighted in this article may have different hours and procedures due to COVID-19 or may be temporarily closed. Because of this, I highly suggest calling or checking the websites of individual locations before planning your trip.
Eric Hrubant is Owner and President of CIRE Travel. CIRE Travel is a concierge style travel agency specializing in luxury vacations and honeymoons, once-in-a-lifetime bucket-list journeys as well as group and corporate travel.
If you would like to be a guest blogger on A Luxury Travel Blog in order to raise your profile, please contact us.