Like a moth to a flame, restauranteurs are inclined to go where the money is. It makes sound business sense. There's no point opening a swish establishment and employing a top rated chef if the clientele isn't there to support the venture. It's no surprise then that most of the Michelin starred restaurants happened to have found a home in Courchevel 1850, arguably the wealthiest ski resort in the Alps.
The Russian's have recently played a big part in making 1850 the resort, in terms of affluence and prosperity. As a consequence 1850 boasts no less than 6 Michelin starred eateries, two of them being 3 starred. Further down the pecking order, St Moritz, another extremely wealthy resort. St Moritz is old money but nevertheless runs Courcheval a close 2nd in terms of starred restaurants, with an impressive six, four of which are 2 starred. If you're feeling flush when we're all allowed to travel again, here are some places to make your taste buds jump for joy.
Courchevel 1850
Courchevel 1850 is a glitzy, ritzy stylish hub crammed with designer shops, top end hotels, Michelin-starred restaurants and stunning chalets. It is definitely the 'people watching' capital of the French ski resorts. Of course it benefits from being the highest of all the Courchevel villages with snow conditions more assured. There are exhaustive accommodation options here from glamorous hotels to some of the world's most impressive chalets, and of course there is a premium price tag to match.
Le 1947 ***
This fabulous restaurant, located at the foot of the slopes, boasts three Michelin stars. Chef Yannick Alléno offers a unique experience inspired by the surrounding mountains and Alpine flavours. The interior has been carefully decorated by Sybille de Margerie, opening the kitchen to the dining room so that you can see the masters at work. Specialities include Modern tartiflette with black truffle and reblochon snow, Gnocchi with féra fish from the lake, black truffle and buttermilk, Scallop vapour with celeriac and caviar, or Chocolate fondant over a meringue mikado, seaweed biscuit and yuzu sherbet.
Pierre Gagnaire Pour Les Airelles **
Chef Pierre Gagnaire and his team have put together a luxurious menu with rare and first-rate ingredients in subtle and unexpected combinations. The luxurious space in the restaurant honours the empress Sissi of Bavaria, known for her love of Hungarian style, with rich silk fabrics, wood-panelled walls, and large chandeliers. They offer a fixed price or a la carte menu with dishes such as Veal filet ravioli with gorgonzola and ginger, Violet artichoke with burrata or Turbot with green olives.
Le Chabichou Restaurant *
This 2 Michelin starred restaurant lies at the heart of Courchevel 1850, and offers you a choice of dining on the terrace, the elegant dining room, the new bistro, or at one of the chefs tables in the kitchen. From here you can watch chefs Michel Rochedy and Stéphane Buron at work, creating their gastronomical wonders right in front of you. As you'd expect there's a great wine list, chosen by sommelier Bruno Cahu and the prices are what you'd expect to pay in this level of 2* Michelin restaurant.
Baumaniere *
This one Michelin starred restaurant is located at Le Strato Hotel, in the heart of Courchevel 1850. Chef Jean-André Charial is the head of the mythical L'Ostau de Baumanière, a two Michelin starred restaurant in Provence. He has now installed himself in Courchevel offering an unforgettable dining experience. The menu is inspired by Mediterranean flavours, with a touch of mountain cuisine. They only use the best ingredients: truffles, sea urchins, giant crab from Alaska, etc. The master patissier turns to classics of French patisserie like the Mont-Blanc. The menu includes dishes like Leg of spring lamb roasted with potato gratin, Lobster from Brittany cooked in chestnut leaves, Ancient vegetables with black truffle, etc.
Le Montgomerie *
Named after the climber who gave the K2 mountain its moniker in 1865, at this fine restaurant you'll enjoy innovative French cuisine. Chef Gatien Demcyna and pastry chef Sébastien Vauxion serve their finest creations at this restaurant, with an elegant and refined interior. A real gourmet luxury restaurant, it is only open for dinner.
Le Farçon *
A firm favourite with locals and holidaymakers alike, both for its high quality cuisine and its reasonable prices. Chef Julien Machet prepares delicious dishes using only seasonal and fresh ingredients. They work directly with producers in order to keep the high quality of their wines, vegetables and other produce. Despite having a prestigious Michelin star, Le Farçon still offers great value for money.
St Martin de Belleville
Architecturally, St Martin de Belleville is a lovely traditional Savoyard village set on lightly wooded slopes, with beautiful views across the valley. This is the perfect choice for those who want a fabulous ski area (and it doesn't get any better than the 3 Valleys), but who prefer to stay in a more discrete, low-key resort than some of the flashier neighbours.
René ***
La Bouitte is a family adventure that has become a legend. After discreetly toiling for years, the father and son team, René and Maxime Meilleur, have created a menu of stunning sincerity, a hymn to Savoie. Each ingredient has its allotted place, cooked meticulously and skilfully: gently fried young pigeon, toasted ragout, mushrooms and wild spinach (Chenopodium bonus henricus) – delicious!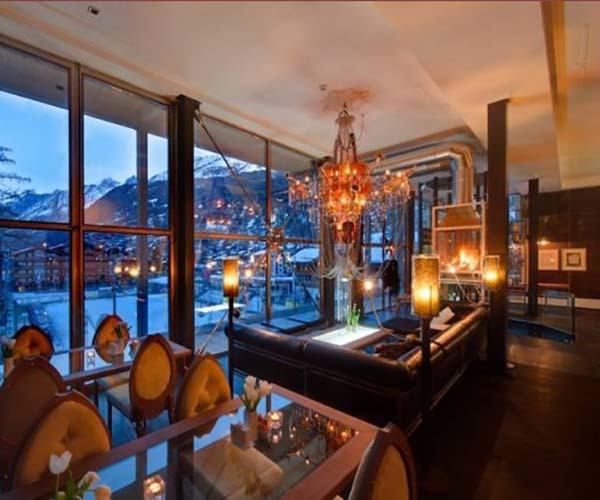 Zermatt
Zermatt sits snugly at the head of a valley, watched over by the iconic Matterhorn, an ageless sentinel and Zermatt's calling card. Surrounded by 38 towering summits over 4,000m, Zermatt justly claims the king of the hills title. The glacier invites you to don your skis all-year-round and the famous mountain restaurants offer you the same friendly Swiss welcome both winter and summer. Paradise for keen skiers and foodies alike.
Apine Gourmet Prato Borni *
The inlay work panelling, opulent Maria-Theresia chandeliers and fine furniture all contribute to the grandeur of this luxury hotel. In the restaurant you can choose between the 'Home' and 'Wanderlust' menus – both feature ambitious cuisine prepared using predominantly local produce.
After Seven *
Accessible via a glazed lift, the interior at After Seven – unmistakably the work of Heinz Julen – is the epitome of smart restaurant design. The open kitchen is a real head-turner and the food it produces is modern, creative and made using top-quality produce.
St. Moritz 
St. Moritz is the glamour capital of the Alps. The original Swiss winter wonderland has been a magnet for royals, celebrities and affluent Europeans since 1864. With its crystal aquamarine lake, emerald mountains and snowy white capped peaks the town and its luxury chalets look a million dollars.
Ecco **
If you fancy treating yourself to some creative Ecco cuisine in St. Moritz, you will need to come in the winter. This is because in summer, the team delight diners at Ristorante Ecco in Ascona instead. Pleasing simplicity meets substance, depth and clarity. What better way to do justice to the select produce used here.
Talvo By Dalsass *
Martin Dalsass doesn't think much of modern frills and flounces. He prefers to concentrate on taste, vibrancy and aroma in his classic Mediterranean fare, starting with the chef's homemade salami that you will be offered with your aperitif. His fine cuisine merits an equally fine setting, which is provided by the warm and cosy, wood-panelled interior of this old 1658 farmhouse.
Cà d'Or **
This is undoubtedly a luxury restaurant, but one with soul thanks primarily to the excellent front-of-house team that works in perfect harmony with the kitchen staff. The food is prepared with great precision and the taste combinations are full of surprises. The excellent wine list includes a number of rarities.
IGNIV by Andreas Caminada **
The name Igniv, the Romansh word for "nest", reflects the warm and homely feel that has been created here. Diners order from a Surprise Sharing menu served by an open and friendly front-of-house team in either the elegant restaurant with its open kitchen or the romantic, historical dining rooms.
The K by Mauro Colagreco *
Unfortunately, this tasteful restaurant in the elegant Kulm Hotel St. Moritz is only open in the winter season. A great pity, as this restaurant is home to the multi-faceted, perfectly balanced and always unexpected cuisine of the Argentine culinary grandmaster Mauro Colagreco, renowned thanks to his 3-star restaurant in Menton on the Côte d'Azur.
Da Vittorio **
In the winter season, the Cerea brothers, Enrico and Roberto – from the eponymous restaurant in Brusaporto – come here with part of their trusted team and cook classic Italian cuisine. The intensely flavoured dishes are, of course, based on absolutely top-notch ingredients.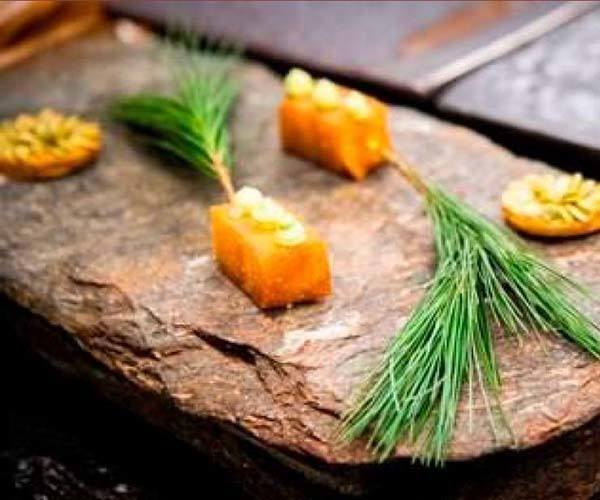 Megeve
Megève – glamorous, chic, charming and so very French. This pretty medieval town was developed as a ski resort in the 1920's as a response to Switzerland's St Moritz and it has continued to be the resort of choice for the well-heeled French.
Flocons de Sel ***
A group of chalets overlooking Megève… It is here amid the peaks that you will find Emmanuel Renaut. The great chef has a passion for the mountains: even though his dishes bear his personal hallmark, they also seem to be exceedingly close to nature! The restaurant is part of a charming hotel complex, where the chef and his wife have left their mark.
The Alpaca Table **
What a promising young chef! His technique with vegetables shows great finesse, and he knows how to restore an ingredient to its original taste and give it all the intensity it deserves. A gourmet interlude with a surprise menu or "plant-based" menu… It would be futile to resist.
Prima *
Now holding the fort alone at this historical Rothschild family chalet, Nicolas Hensinger is having the time of his life with his carte blanche! His fine and inspired creations nod to the produce of neighbouring terroirs (Savoie, Dauphiné, Lyonnais, Valaisan). Meanwhile, his brother, Romain, brings just as much talent to his desserts. There are lovely wines from all over the world to accompany your meal.
Danny Frith is Director at SkiBoutique. SkiBoutique is a luxury ski chalet agency based in Switzerland.
If you would like to be a guest blogger on A Luxury Travel Blog in order to raise your profile, please contact us.