Travel as we know it, has paused, whilst the world fights to recover from the impacts of COVID-19. But as we see glimmers of hope, we can all start to plan and research where travel will take us as restrictions are eased and borders re open. Cambodia has dealt with the situation very well, closing borders early and imposing strict entry restrictions which are still in place. These actions have spared the country from any mass outbreaks, and sees Cambodia as one of the few countries in the world with zero COVID-19 related deaths. So for those of you dreaming about your next big adventure, where better to start than in the 'Kingdom of Wonder' at a luxury tented camp which just has to be seen to be believed.
Shinta Mani Wild
In the depths of the Cambodian countyside, located within a 350 hectare reserve, is a luxury tented camp like no other. Shinta Mani Wild is the creation of Bill Bensley and his talented team that will leave you amazed, revitalised and humbled in equal measures. Amazed at the pristine surroundings, unique experiences and luxurious tents. Revitalised by the creative cuisine, the clarity of the air and the inclusive spa treatments.
Humbled by the commitment to the environment that has been made by purchasing and managing this area of natural beauty, ensuring that it is preserved and protected from illegal logging and hunting of endangered wildlife. You will arrive via a 380m zipline that glides above the treetops, providing a birdseye view of the waterfalls and the river below. Upon arrival, your home will be one of the meticulously designed tents that are each perched next to the river, deep in the jungle, offering the utmost in luxury and privacy during your stay. When the time finally arrives for your departure, you will be left with memories that last a lifetime of this breathtaking resort, including their partnership with Wildlife Alliance, which is refreshing during these times when our planet is suffering from human impact in so many ways.
Wildlife Alliance
'Humanity is failing nature, we have a solution' is the message you will be greeted by on the Wildlife Alliance website, and it is this solution that sees them implement 'direct ranger intervention' to prevent illegal logging and poaching in areas of Cambodia.
The core purpose of Shinta Mani Wild is to protect the surrounding area of tropical rainforest. Yes, it is one of the finest resorts in the region, even the world, but their vision is far bigger than that. Their raison d'être is to ensure that the environment and wildlife within, survive and thrive despite the constant threats that are faced. Key to this, is their financial commitment to the Wildlife Alliance which sees a fully funded ranger station and 8 full time, armed rangers patrolling the area on a 24/7 basis. They have already confiscated hundreds of chainsaws and save multiple wild animals every year, prosecuting the offenders whilst dedicating their lives to this worthy cause. Guests at Shinta Mani Wild can join these real life super heroes on their patrols, and have the opportunity to learn something about the life of a Wildlife Alliance ranger.
Bensley Collection Siem Reap
Welcome home to your ultra luxe villa at Bensley Collection Siem Reap that guarantees to provides a true oasis in the heart of the city. Unparalleled levels of luxury, design features that will leave you speechless and unrivalled privacy all combine to create the ultimate in luxury travel. From the moment you arrive and your butler escorts you to one of the 10 luxury villas, you begin to understand just how impressive Bensley Collection Siem Reap really is.
The villas are beautifully appointed, each boasting a stunning outdoor bathroom, private pool and roof terrace complete with luxurious day bed that is so comfortable you may just choose to sleep there. The decoration, furniture and artwork throughout is custom designed and thoughtfully curated by the Bensley team who truly know no limits when it comes to creativity. The walls of the bedroom are 3D rendered to mimic the robes of Khmer King Jayavarman who was known for his pioneering spirit, a similar spirit which is epitomised by the cutting edge design on display. A truly stunning option in Siem Reap for those that enjoy the finer things in life.
Shinta Mani Angkor
Shinta Mani Angkor is a luxury hotel in Siem Reap that is packed with stylish design features as you would come to expect from a Bensley creation. Originally called Shinta Mani Club until it's recent re branding, you can be sure to enjoy your stay at this upscale, boutique property in the heart of Siem Reap.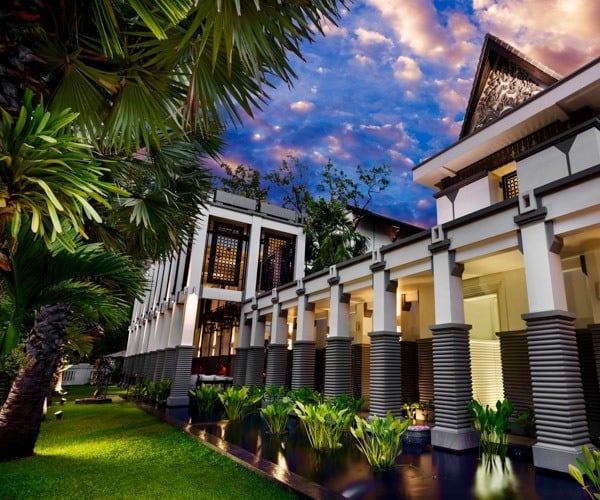 You will be welcomed with a smile by the staff team who are proud to be part of the Shinta Mani family. Their commitment to the excellent Shinta Mani Foundation (which you can read more about below) displays perfectly how they understand that community is key to the future in Cambodia. Guests who stay at Shinta Mani Angkor will be happy to know that their stay will support this community involvement. If you're lucky enough to be one of those guests on your next staycation, or your visit to Siem Reap post COVID-19, be sure to book a table (or iconic swing seat) at Kroya for a Cambodian culinary experience that will be one of the highlights of your stay!
Shinta Mani Foundation
Cambodia is a developing country that is striving to escape the cycle of poverty. Help and support is required for this ongoing journey and that is exactly what Shinta Mani Foundation offer. Their vision is that of a strong and prosperous country where education and opportunities are available to all. Their multifaceted approach includes partnerships with international health organisations to provide medical care, a hospitality training school that empowers graduates to find employment in the tourism industry and interest free loans to local entrepreneurs for future business development.
They also provide much needed direct assistance to those who need it most. That includes building houses (like the one seen above) for a recently widowed young woman with 5 children, and providing water wells and access to clean water for over 1500 local families. Recently, they have started to develop a 3 hectare sustainable farm that will not only supply fruits and vegetables to their hotels, but also generate enough income to be self funding and contribute to the operational costs of the foundation.
All of the above will provide a healthy dose of luxury travel in Cambodia which is what we all need right now. But at the same time, creating that feel good factor because you know that your travel choices are going some way to help people, animals and the planet.
Paul Eyers is Founder of Vegan Food Quest. Vegan Food Quest have become luxury vegan travel specialists as they continue to find, eat and write about the best vegan food in the world.
If you would like to be a guest blogger on A Luxury Travel Blog in order to raise your profile, please contact us.