First of all, arm yourself with a hat and sunscreen with an SPF of at least 30! Once protected from the sun, which feels more African than Italian, you will be free to discover fine sand, wild rocks, deserted and hidden coves in the southernmost region of Italy, Sicily, the second-largest island of the country. In this list, you will find beaches where it is possible to experience the most beautiful and pristine seawaters of this wonderful region.
Scala dei Turchi, Agrigento area
Going towards Agrigento, we recommend allowing a visit to the beach known as "Scala dei Turchi". What makes it so coveted is not the beach itself but the entire surrounding landscape and the unparalleled view "from above".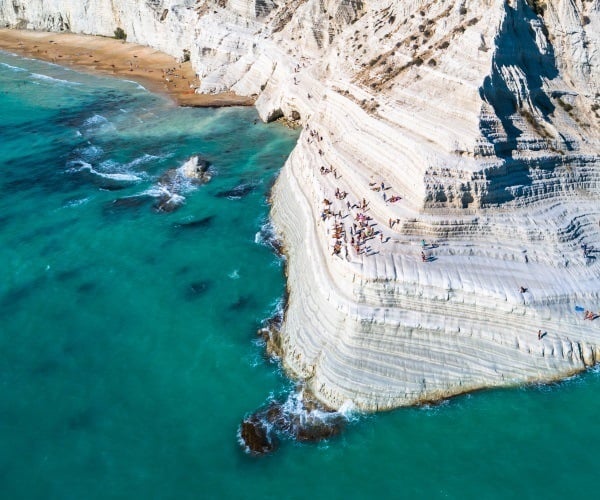 Wear appropriate shoes, and venture to this beach so different from the usual. You will discover that the coastline here has been shaped by the seawater in such a way that it now looks like a staircase, more or less walkable. The Stair of the Turks is an artwork of nature, a sparkling white cliff on the marvellous sea of Sicily that makes for a fabulous experience.
Spiaggia dei Conigli, Lampedusa Island
This particular name means "Rabbits beach"; however, it has nothing to do with rabbits. On the contrary, this beach is named after the islet situated right in front of it.
Spiaggia dei Conigli is located along the southern coast of Lampedusa, that wonderful and virtuous island boasting marine sceneries that cannot be found elsewhere.
Nearby, you will find the Isle of Rabbits, considered a protected area to which you can only have access during the day. This unique islet is definitely a corner of the Mediterranean landscape to be jealously guarded, another pearl of southern Italy that should be seen at least once in a lifetime. Rabbits beach is also the favourite spot of the Caretta turtles who return here every year to lay their eggs.
Calamosche Beach, Noto area
Small sandy beach situated in a protected rocky cove perfect for snorkelling, swimming & sunbathing. The small bay of Calamosche is nestled within the Vendicari Nature Reserve amidst African colours and primitive landscapes. A crystalline sea, a sandy beach and rocky crags framing the sea await you in this enchanted place. In this spot, you will find simple and authentic restaurants where it is possible to indulge in delectable meals under the shadow of large trees. You will enjoy excellent fish dishes and mouthwatering local cuisine, just the perfect stop after a swim at sunset, before returning to your luxury villa in Sicily.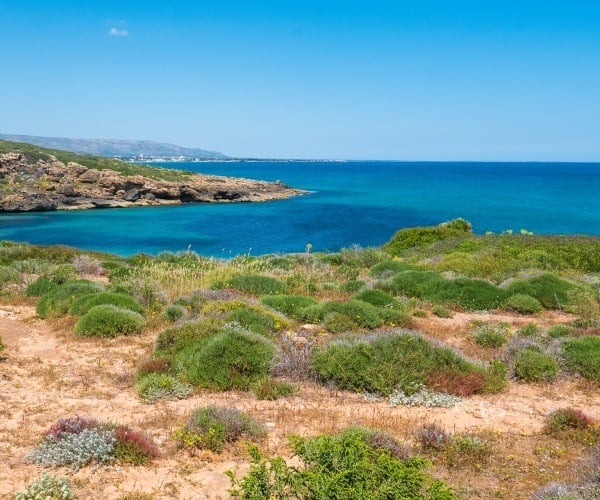 Marianelli Beach, Noto area
Still within the Vendicari Reserve, this beach is more inconvenient to reach, but you will be rewarded for the beauty of the natural setting, for the quiet, and for its crystal clear water. Situated North of the Reserve, Marianelli beach is recommended for those who prefer nature, vast spaces and only a few people around. It is located thirty-five kilometres from the city of Syracuse and is one of the few beaches left as authentically as it originally was, immersed in a landscape made of fields, almond and lemon groves and, approaching the sea, dune hills with unique flora. Free beach.
San Lorenzo Beach, Noto area
We are still within the Vendicari reserve, which is now worth a proper introduction. Vendicari Nature Reserve is a wildlife oasis located between Noto and Pachino, whose territory extends to about 1500 hectares. Inside the reserve, an entire ecosystem lives undisturbed. During your visit, you will find yourself marvelling at breathtaking landscapes, dense vegetation suddenly opening up to a crystalline sea, and extremely long golden beaches, which, at times become rocks overlooking the deep blue sea. From the observation huts, you have the chance to admire flamingos, herons, storks that stop here before reaching their final migratory destinations. San Lorenzo beach is equipped and therefore more suitable for families with children, hence you can bid farewell to absolute silence!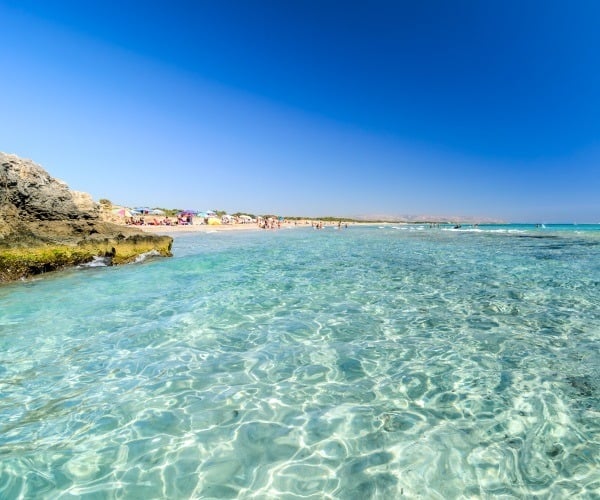 Favignana Island, Cala Rossa
In order to reach the most famous beach on the island of Favignana, it is necessary to follow a path on foot and get to old tuff caves that surround the turquoise waters of Cala Rossa. Do not miss the opportunity to rent a boat at the port of the island to marvel at this awesome nature sight that will strike even more from this point of view. Alternatively, let a skipper take you between the coves to explore all the inlets that form the two splendid butterfly wings in the heart of the Mediterranean.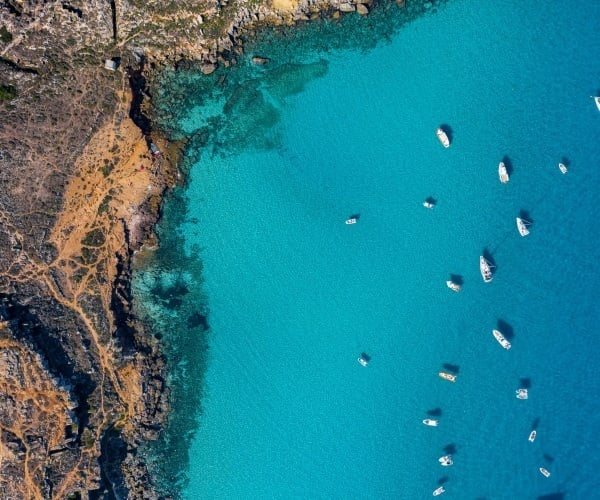 Isola Bella Beach, Taormina
Isola Bella beach is located not far from Taormina, a town on the east coast of Sicily famous for its Greek Theater dominating the coast and creating a unique and exceptional stage for concerts of great international artists. At the foot of this beguiling town lies Isola Bella, a pebble and gravel beach offering excellent beach resorts situated on the narrow strip of land. The seabed here is adored by snorkelers.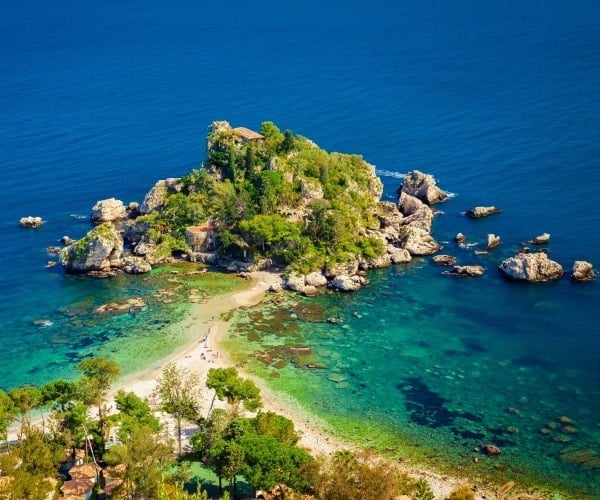 Among fish and underwater plants, also a sign of pristine and swimming water, you will feast your eyes on something you don't get to see every day: an extra experience to add to the exploration of Sicily. The islet that is part of it can be reached on foot with rock shoes, while the eastern side of the beach where the blue of the sea gets even brighter, can be reached via a boat trip.
Lago di Venere Beach, Pantelleria
Named the "Black Pearl of the Mediterranean", this island has a unique charm. Pantelleria is the most difficult island to get to in Sicily, rocky and black. It is located thirty-five nautical miles from Africa, and sixty from Sicily. It is the largest of the Sicilian islands and also hosts an active volcano. Its volcanic origin has formed a repelling and sharp coast, with spiky and jagged rocks. Yet the hinterland hides a surprising beach bordering the lake, where you will find warm salty water almost all year round. Here it is possible to experience volcanic mud and natural thermal waters body treatments. The thermal waters flow spontaneously on the shore. A natural spa, yet another gift that nature wanted to give to this splendid Italian region.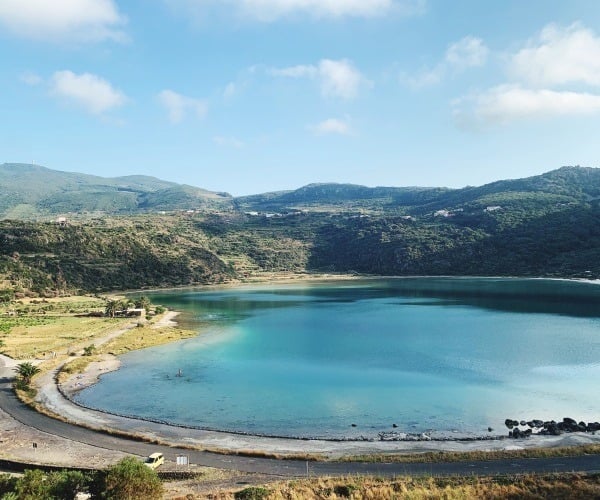 Daniela De Luca is CEO at Home in Italy. Home in Italy is a luxury villa rental company offering high end holiday villa experiences throughout the best regions of Italy since 1993.
If you would like to be a guest blogger on A Luxury Travel Blog in order to raise your profile, please contact us.