Flanked by striking, rugged shorelines to the north and south and dotted with hills, vales, and moors, Devon is one of the UK's most popular holiday counties with a rich and ancient past. This vast and versatile landscape has been occupied by humans for around 30,000 years, but its Areas of Outstanding Natural beauty is full of natural flora, fauna, and wildlife that have graced this fascinating stretch of land far beyond the time of humans…and the fossils found on its aptly named Jurassic coast can attest to this!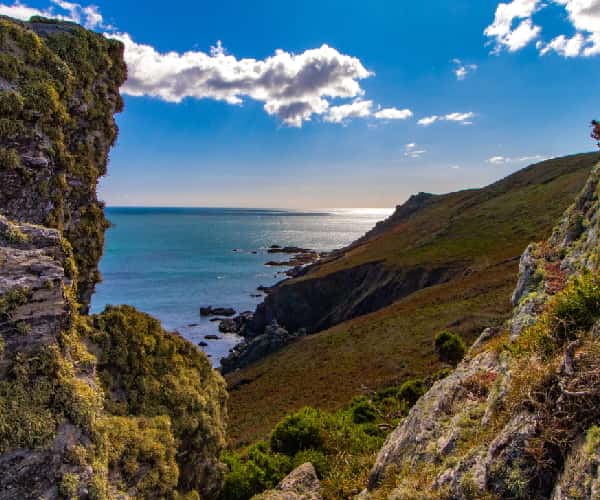 Devon is the perfect British holiday spot. Serviced easily by the M5, with beachside resorts on the north and south coasts and with plenty to see and do in between, as well as being the best place for an afternoon tea on earth, Devon is ideally situated for a perfect British adventure. Here are 11 amazing things to do in Devon besides devouring a delicious scone or two.
1. Discover the English Riviera
South Devon is home to the temperate and perfect, picture-postcard seaside towns of Torquay, Paignton, and Brixham, sheltered from the bustling English channel by the limestone curve of Lime Bay. Popular with the Victorians for being the seaside resort for Naval officers and their wives, this area of Torbay became known as The English Riviera due to its palm tree-lined beach fronts and colourful boardwalks during the time of touring holidays. With a rich maritime culture, beautiful eateries, and cobbled streets tumbling down the cliff faces towards the sea, you could easily think you were abroad on a sunny day in Torbay.
2. Visit Exeter
No trip to Devon would be complete without a visit to its magnificent county town of Exeter. This stunning city has been reformed and inhabited for thousands of years, and evidence of its transformational past is evident across the city. Exeter Cathedral, for example, was founded in the 11th century and is known for having the longest vaulted ceiling in the world, made up of one elongated piece of medieval stone. 70% of the existing walls of the fortified city are remnants of its Roman past, and dotted around the city's cobbled streets are nods to its previously large Jewish population and its brief occupation by the Vikings. There are even a series of tunnels and aqueducts underneath the city, used for practicalities as well as an escape in times of crisis! Indeed, Exeter is a city with an exciting past and is now also a metropolitan hub of boutique shops and international restaurants.
3. Buckfast Abbey is 'the tonic'
Home to the famous Buckfast Tonic Wine, or Bucky, Buckfast Abbey is a stunning 17th-century Abbey built on the site of the original Benedictine monastery built in 1080 in the time of King Cnut the Great. Today it is a working monastery and one of the top tourist attractions in the West Country. As if being set in the stunning South Devon countryside wasn't enough, this jewel in the Devonshire crown is also surrounded by award-winning gardens boasting over 50 different colourful plants.
4. Get lost in the wilderness of Dartmoor
This famous British moor is so much more than the intriguing setting for "The Hounds of the Baskervilles"  – Dartmoor is full of wildlife, history, and outdoor activities. Whether you're there to spot the Dartmoor pixies said to inhabit beautiful Becky Falls, or aspire to be a knight for the day at granite Castle Drogo, the last castle built in England, there's plenty to keep you and your family happily entertained. Ramble across the tors and past ancient castle ruins, enjoy guided walks in the fresh, country air or why not take a cool dip in the many bends and pools in the bubbling river Dart.
5. Explore Kents Cavern
This stone-age site is not just an important site within Devon, it's one of the most important prehistoric sites in Europe, home to ancient humans and 400-million-year-old rock formations. The extensive labyrinth of caves can be found outside Torquay and is home to Ice Age hunt bones, prehistoric tools, the remnants of fires, and cave systems dotted with stalagmites and stalactites which sheltered early humans from the prevailing weather. This spot is so popular that you can now book guided tours for your family.
6. Devon's stately homes
The idyllic Devonshire countryside is the perfect location for a country manor, hence the plethora of distinguished architectural delights tucked down lanes and dotted between extensive grounds across the county. An excellent example of the finest Devonian living is Dartington Hall, a stunning example of a grade 1 listed building surrounded by 1,200 private acres of estate grounds outside the beautiful town of Totnes. Or how about a visit to Powderham Castle, home to the Earl and Countess of Devon, with its rich 600-year-old history, stateroom tours, and extensive deer park on the Exe estuary? A visit to Tapeley Park gardens, with its grade II listed house with a most colourful history, is also a delightful afternoon out, exploring its beautiful stately gardens, picnicking down by the lake or making your way into – and out of – the ancient labyrinth.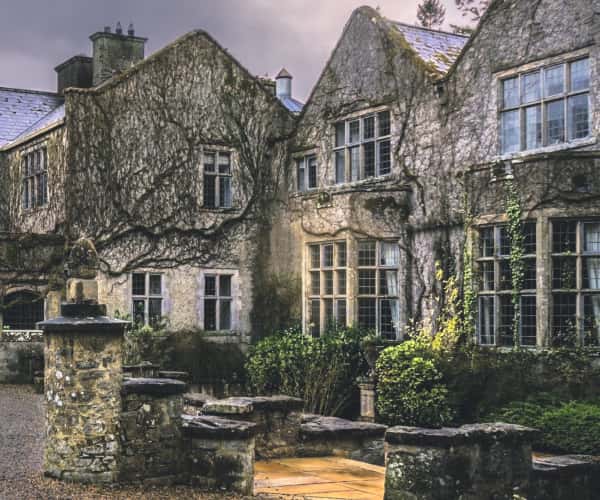 7. Railway heritage
Tourism arrived in Devon in the late 1830s with the advent of its fantastic scenic railway systems. This allowed passengers from nearby cities such as Bristol to easily access Devon's beaches and moorland, and as such, the railways are still a popular way to access the county as well as being a big part of its heritage charm. The most famous railway journey in all of Southern England is the Dartmouth Steam Railway, a 7-mile stretch of track that runs parallel to the shoreline and beyond into the beautiful Dart Valley. Devon also has its fair share of seaside funicular railways, too – namely the Lynton and Lynmouth Cliff line and the Babbacombe Cliff Railway, linking the town of Torquay with nearby Oddicombe beach – an exciting and unusual way of seeing this coastal county's incredible sights.
8. Stay on a boat
Near the village of Salcombe on a southern estuary in Devon sits a truly magical glamping experience in the couple's boat named Oyster.
Originally born as 'Oester', in Tholense Schouw – a coastal town in Holland – in these shallow tidal waters, flat-bottom boats were often found in abundance. Oester is originally believed to have been built in 1962 and is constructed mainly of steel. Dutch marine welders are world-renowned for their craftsmanship and boat-building ability. A strong, dry, and tough little vessel, her design was based on the larger cargo barges that plied the coast of Holland and further afield. Eventually stored away for prosperity, Oester was largely left unused until a chance happening by a visitor to the port.
In the early 2000s, a young Dutchman wandered through the harbour in Tholense. Through his weathered 'sailors' eye', he spied Oester and knew immediately she was the vessel he needed for his voyage. Through the tail end of winter, he worked, into spring and the summer months until she was ready to make a spring sailing across the channel to London. It was here she was moored and subsequently abandoned by her owner, for reasons unknown, only to be fished out of the Thames by another plucky seafarer some years later. She was once again in the midst of being restored when hard times befell her new owner, and she was sold and hauled off to Plymouth, where she sat in the harbour for a short time. Fast-forward to the winters of 2017 and 2018, and a rejuvenated Oyster was taken down to Salcombe and used as a pleasure craft until her current keeper thought of a way that others could enjoy her charms. And so it is that now, she is presented as a unique outdoor accommodation structure, perfect for two people who want to get away from it all, and who want to rise and fall with the leeward tide.
9. The Blackdown Hills
This Area of Outstanding Natural Beauty forms the ridged border between Devon and Somerset. This is England's bucolic beauty at its very best – its viewpoints and valleys are filled with footpaths and bridleways for you to explore this fantastic natural environment. The mosaic of ancient field- patterns are interspersed with small farms, narrow lanes, and streams that run from the chalky plateaus of the ridgetops into the deep cut combes beyond. It is within this stunning backdrop that you can experience one of Devon's most iconic and delicious traditions: a clotted cream tea. At Burrow Farm Gardens, they don't mind which way round you have your jam and cream. The delightful tearooms set in the award-winning gardens are regularly featured in gardening magazines and is a must-stop for a must-have Devonshire treat!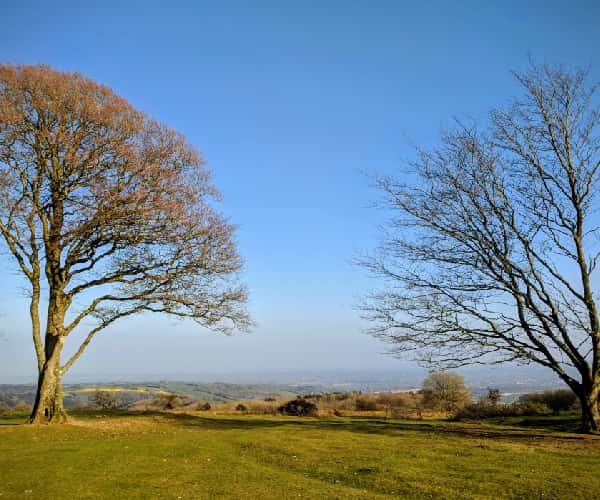 10. River Dart Country Park
While there are many gorgeous corners of Devon to experience its wildlife, wildness, and wonder, there's nowhere quite like River Dart Country Park. Set in 90 acres of the famous Dartmoor, this spot has everything you could wish for in an outdoor activity area for all the family; from adventure playgrounds to obstacle courses, bike trails to ziplining, water zorbs to clay shooting – this is the place for an active day in the fresh air. While the country park itself is payable for admission, there are also many places along the river Dart where you can safely go wild swimming or stop for a picnic on a hot summer's day, too.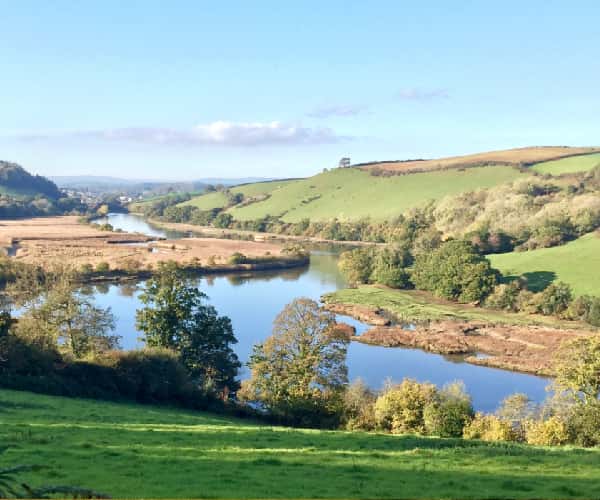 11. A trip to Woolacombe beach
Devon has too many jewels to name just one as its crowning glory, but Woolacombe is pretty close. This multi-award-winning beach is one of the finest in the West and welcomes families, hikers, surfers, and open water swimmers to its sandy stretch year after year. It's easy to see why it's so popular – the three-mile sandy shore embraces great waves from far out in the Atlantic ocean making it the perfect location for watersports. It's also lined with pretty, colourful, Victorian-style beach huts, making it a picture-postcard perfect day spot for sunbathing, picnicking, and enjoying the British summertime with the kids. Voted one of the best beaches in the world by Trip Advisor members, it's the perfect spot to end your tour of delightful Devon.
Tim Rees is Founder and CEO at Quality Unearthed. Quality Unearthed is a world-leading glamping and alternative accommodation agency providing 'forward to nature' holidays, established in 2010.
If you would like to be a guest blogger on A Luxury Travel Blog in order to raise your profile, please contact us.