In today's secular times, when traditional religious ceremonies have fallen like dominoes, weddings have increasingly become ad hoc affairs. My brother married his betrothed on a beach in Koh Tao. They made their own vows and rituals to make it meaningful to themselves and the friends and relatives who attended. The ceremony ended in a special way. Pebbles where selected, hopes and wishes were inscribed and then they were tossed into the ocean midway through the golden hour. If they were trying to eschew any religious attachment I swear god was present in that simple ceremony in the midst of a most beautiful natural setting. After that uplifting moment we all strolled along the beach for a post wedding feast and a very entertaining 'first dance' that they had obviously spent hours perfecting. It was all very memorable and despite the lack of any religious involvement, a very special and unforgettable wedding.
Increasingly couples are moving away from the traditional church service and making it up as they go along. I've attended two weddings here, in Mallorca, that were equally memorable. Villa & Finca owners haven't been slow to catch on to the trend and are offering their spectacular properties to couples wishing to tie the knot in their own special way. Here are five worth considering and perfect for those wanting todo their own thing.
Son Sera
Set in 130 hectares of beautifully maintained gardens, luxury Villa Son Serra is an opulent private estate with views of the sea and both the Tramuntana and Levante mountain ranges. The villa's just four kilometres from the sandy stretch of shore at Son Serra de Marina, and it's perfectly pitched for holidays where privacy, peace and quiet are top of the agenda.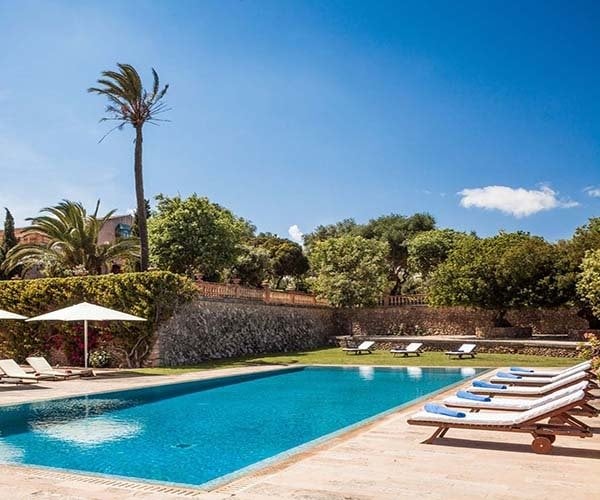 Surveying the grounds from your bedroom's baroque-style balcony, you feel as if you're a character from a sixteenth-century novel, in which the protagonist is, of course, Son Serra. She's utterly unreal. You booked her for a romantic retreat with some of your closest friends, and she's the kind of place which you could easily fall in love with again and again.
Enclosed within the dramatic mountains where tendrils of clouds roll along the level of the peak, the beauty on show here is undeniable. Sunlight saturates the valley in a golden glow, keeping the land abundant in bougainvilleas and jasmine which infuses the air with the scent of serenity.
Alfresco candlelit dinners are devoured on one of the many breathtaking terraces. Spacious and stylish, the mansion sleeps all of you comfortably in its eight large bedrooms, each with their own sitting area and ensuite bathroom.
Mansion Dux
Indulge yourself and your family with a luxury break at Mansion Dux – arguably one of Mallorca's most desirable villas. This stylish property, located in perfect balance between town and coast, is packed with history and luxury facilities to give you the ideal base for your holiday.
This colonial style property is nestled in a quiet part of Palma and is within easy reach of the island's nightlife and beaches, meaning that everything is your fingertips during your stay. It may be close to amenities, with a 10 minute drive to downtown Palma and the beach, and just a five minute drive away from 3 golf courses, but the mansion still enjoys  exquisite privacy and serenity, so you can relax and enjoy your holiday in style.

Travel up the narrow road to the property's front gate and enter your own private oasis of calm. Sitting proudly on a hillside, this manor house was once the residence of noted General Jaime Garau de Montaner.
Completed in 1922, the building was modelled in the Cuban Art Deco style, and boasts an ornate central tower and stately balcony. It has since been refurbished in 2018, and still retains all of its history and charm in features such as the marble entrance stairs, majestic ceilings and patterned tiling.

Feel right at home in a warm and inviting space, with lofty rooms and vibrant accents. The true heart of the house is the large kitchen. With a sense of '20s-era style, this perfectly equipped kitchen with high-end appliances is a culinary-lovers' dream, and is the perfect place for rustling up local delicacies for your loved ones.
In the evenings, gather your family together outside at the alfresco dining table and enjoy a leisurely meal as the stars come out and the crickets softly buzz in the lush foliage. The garden also features an outdoor kitchen, charcoal BBQ, sun loungers and hammocks, outdoor shower and a heated lap-pool with underwater music (should you fancy a late-night dip!).

After a long day of fun in the Spanish sun, retire to one of the 8 luxurious bedrooms on offer. All boast quirky en-suite bathrooms, and all beds can be converted into singles should you need this facility. The master suite also has a private tower terrace where you can enjoy breath-taking views of the surrounding mountains and rugged landscape while indulging in a glass of wine.
Finca Hermosa
Set in a mountainous valley near Sóller, rural farmhouse Finca Hermosa is full of rustic charm. 50 hectares of countryside stretch out as far as the eye can see, giving you free reign over this utter dreamscape.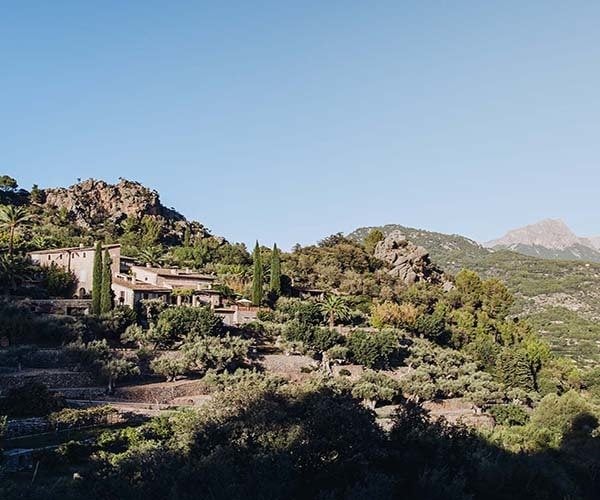 Ah, the annual family reunion. It's not always easy to find a place to please all, is it? Finca Hermosa has you covered though. With entertainment for all ages, you'll be sure to have a full house of smiling faces.
The pianist in the group can provide music to your ears on the baby grand piano, infusing the villa with classical notes befitting of its classy atmosphere. The sporty ones can while away hours on the tennis courts, with their very own casita for keeping refreshing drinks in the fridge. The gamers can challenge each other to pool tournaments and cinephiles can take full advantage of the cinema room. The master chefs can roam amongst mature trees and manicured lawns, handpicking lunch from the kitchen garden, packed with fruit and vegetables for a truly organic culinary treat. There really is something for everyone here.
You appreciate the more relaxing elements of a holiday and can think of nothing better than roaming the expansive grounds, camera in hand to snap those sweeping panoramic views of the mountains. Set against the azure sky, they're like nothing you've seen before. But then again, neither is Finca Hermosa in all its old-world beauty.
You could lose yourself in its charming cobbled courtyard alone, that houses it's own chapel, bursting with colourful flowers, leafy plants and that natural spring full of drinking water to keep the group hydrated. How very wholesome. Indoors, low wooden-beamed ceilings and terracotta floors transport you back to a bygone era, not to mention those striking four-poster beds in the bedrooms. Although all eight bedrooms are utterly sublime, your master suite steals the show with its own fireplace, separate living room and dressing room. You deserve it, having discovered this gem of a villa.
Everyone is in agreement that the olive tree-flanked pool is the pièce de rèsistance – a large saltwater treasure, lined with sunbeds and palm trees for shade. It's difficult to leave its side, despite having Port Sóller and Llucalcari beaches close to your estate. First, you're going to explore the beautiful Mallorcan town of Sóller, with its quaint markets and gourmet restaurants, to add more memories to this holiday's all-round unforgettable experience.
Casa Duquesa
Deep in the blossoming countryside of Porreres stands a timeless relic, reminiscent of a bygone era. An antiquated castillo with acres of rich land on its doorstep, Villa Casa Duquesa is the ideal place to celebrate a special occasion with loved ones.
Can you imagine your wedding celebrations opening to 150 acres of elegant floral gardens greeting you as you touch down on the helipad? If so, it's already apparent that a week at Casa Duquesa will be the most lavish and joyous time of your life. Now, picture walking down a white muslin carpet, along the olive-grove walkway, all the way to your very own private chapel where vows will be exchanged.
As you approach the villa, you admire the sandstone walls and rustic wooden features. Indoors, you're captivated by the refined and noble themes throughout. The hallway walls are lined with black and white portraits of gentry and the lounge is a sprawling quarter full of plants, restored wooden furniture and beams. The regal dining room is decorated with earthenware and a traditional fireplace invites you to enjoy a whisky by its side – which, of course, you're bound to do.
Need a place that can accommodate your intimate pick of friends and family? The large function room does the job, not to mention the numerous terraces and spacious living areas. Two large kitchens mean the chefs will be able to work their magic on the 12-course feast, which will be concocted with the finest local ingredients, sangria and champagne on tap. You can't wait to share the special meal in traditional alfresco fashion, beneath the romantic lighting of the lantern lit terrace.
It's time for some pampering before the big day. You head through the courtyard, complete with its own impressive well, and descend the grand steps to the poolside. You pick sun loungers close to the uniquely hued emerald waters, a stunning colour match to the bucolic setting, and enjoy a few hours of sunshine relaxation.
As the sun begins to set, you head upstairs to get ready for a trip outside the villa. After a soothing soak in the mottled marble bathroom, you step onto the terracotta tiles of the canopied terrace to slow dance with the other half, the baroque balcony overlooking those views of the rolling country and reddening sky.
Els Comellars
Looking for a villa with a difference? We have just what you need. Mallorca's Villa Els Comellars is the fruit of a collaboration between two masters of minimalist design, John Pawson and Claudio Silvestrin, who have since created the Design Museum in London. A fortress, contrasting magnificently with the brilliant blue sky and vibrant green almond groves – it's a splendid colour show of spectacular proportions.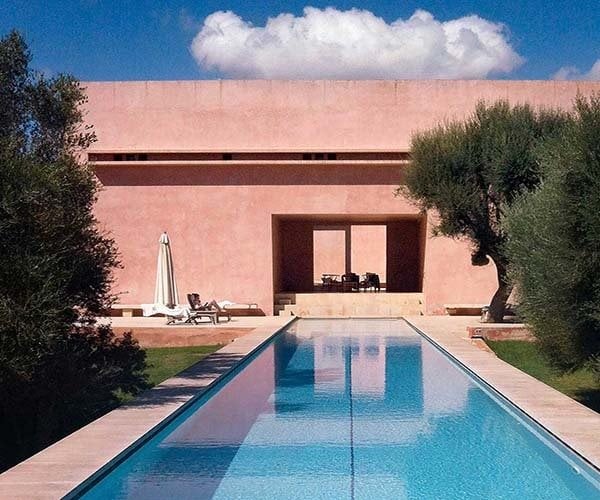 The group forms a long procession, walking in single file down the slender stepped path to the villa. Its towering wall of dusty-pink clay rises up abruptly from the ground, announcing the entrance through a narrow gap. As far as entrances go, you're more than a little intrigued – and it only gets better once you step inside.
An elegant sweep of simplicity, the design of the interior takes centre stage. Walls are white, with magnificent displays of light and shadow presented at each turn. You've arrived here just in time for sunset, and are perhaps more interested in how it plays out across the walls than on the actual skyline itself.
Although Els Comellars seems like a piece of art, with its lofty exteriors and precise lines, this is still very much a home. Plush white sofas and sunbeds are dotted both inside and outside and there's something for all the family here.
Indoors, the lounge and its four white sofas create the perfect space to inspire decluttering of the mind. Rooms are as rooms should be here, with no additional flairs, simply obeying the function they were set out to do in modern style. Take your master bedroom, for example, in which a plush king-size bed and wooden desk are set upon honey-hued tiles. No art is needed, thanks to the mesmerising dance of light on the wall, that cuts shards across one side of the room. The bathroom is dotted with keyhole windows for the utmost privacy.
You head up to the rooftop lounge to study the dramatic views below that stretch throughout the grounds, dotted with almond, olive and fig trees, and out to the Mediterranean Sea. The local offerings are shrouded in as much mystique, with Els Comellars sat between the walled medieval town of Santanyí and the quaint village of s'Alqueria Blanca, both a mere 5-minute drive away. It really is in prime position, with the gorgeous beach of s'Amarador reachable on foot via a stony path that runs from the villa grounds all the way down to the coast.
Danny Frith is Director at SkiBoutique. SkiBoutique is a luxury ski chalet agency based in Switzerland.
If you would like to be a guest blogger on A Luxury Travel Blog in order to raise your profile, please contact us.