One thing is certain, if you spend any amount of time on the slopes at altitude, you're going to develop a healthy apetite. With that in mind, you'd want to find the perfect spot for lunch. If you're skiing in the Trois Vallee area, here are five suggestions you might like to try. I've lunched at all of them and have had great food and a very pleasant time in all five. Give them a go, see what you think.
La Bouitte in St Marcel, near St Martin de Belleville
At La Bouitte, René and Maxime Meilleur, father and son, have distilled the essence of excellence, cooking food with heart and a real passion for the best local products. Magnificent fishes from the Leman lake, exceptional meats from the surrounding farms, divine herbs and berries from the mountains. Maxime loves to go and harvest herbs which is a source of inspiration for what they will cook for the day's lunch and dinner.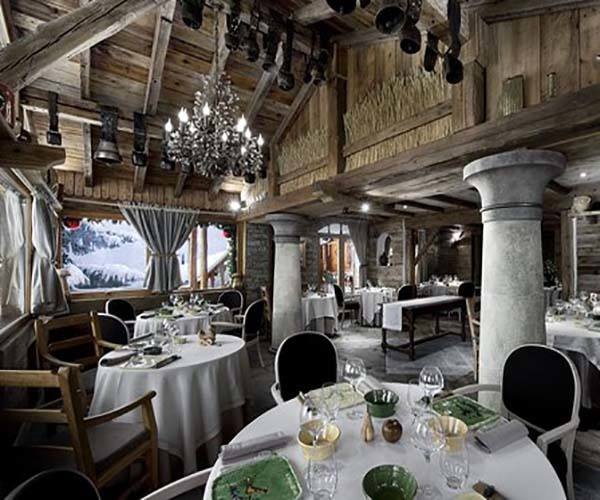 When René and his wife started 44 years ago, La Bouitte was just a restaurant of local mountain style specialties for hungry skiers but they had done it well and their little restaurant was pretty successful. One day when they went to Paul Bocuse in Collonges au Mt d'Or to treat themselves. René had a kind of revelation and decided to turn his restaurant into a gastronomic one. Soon joined by their son Maxime, they started to climb little by little the culinary peaks to finally reach the highest point in 2015 with three amazing Michelin stars.
The menu is pretty interesting because all set course menus are a surprise and you just pick from an extensive list of products and ingredients, all from Savoy. Everything we tried was sensational… starting with excellent mise en bouches before the first starter which was a "little garden of vegetables with a citrus vinaigrette and double cream from Gruyère". This dish was like a gourmet dream with young vegetables cooked to perfection, a little sour sauce to punch the dish and the softness of this delicious cream. So savory and totally well balanced. The main course was maybe the most amazing moment. Beautifully cooked and with an incredible melting texture, arctic char, with crispy skin filled with secret aromates and ingredients along with a velvety sauce made with wine from savoy.
Service was extremely attentive, kind and smily. Waiters and Maitre d'hôtel were so attentive. They all make the guests feel at home and at each dish served, they had a little story to explain.
Finally, a nice dinner wouldn't be perfect without a good wine and the wine list of La Bouitte is encyclopedic, maybe a little pricey, but with the best Grand Cru bottles and a very interesting selection of local wines. We had a crispy and refreshing Apremont which was perfect match with our dinner.
Cave des Creux – Courchevel 1850
Cave des Creux is a mountain restaurant and boasts probably the most luxurious decor and setting among mountain restaurants in Courchevel 1850. Chef François Breda selects quality and exceptional local produce. He cooks Savoyard specialties but also fish, meats and dishes with Asian flavors. The wine list will delight connoisseurs and for the most discerning the famous buffet of homemade desserts awaits you.
A former cheese cellar and alpine sheepfold, the Cave des Creux once served as a shelter for shepherds and their herds. The owners ancestors roamed the pastures of Courchevel long before the creation of the resort. The spirit of the pioneers, builders and visionaries who allowed Courchevel to become an internationally renowned resort is omnipresent through the mountain decoration and the spirit of the place.
Food, service and wine selection are great – but the view is a total highlight. Mountains turn pink as the sun sets.
Chalet de Pierre – Courchevel
Ancient woods, cut stone, a master fireplace … The architecture and decor of this former Maurienne train station are perfectly in line with the cultural heritage of the Courchevel ski resort. Chalet de Pierre is a must-see in Courchevel. It has a magnificent terrace and also a lot of interior space with beautiful views when the temperature is not good.
Located on the restaurant terrace, Chalet de l'Ecailler offers a wide choice of seafood and shellfish. There is no greater delight at the top of the slopes than the huge desserts buffet that runs through the restaurant. Many pies, pastries and fruit decorate this sumptuous buffet that will delight the most discerning. There are many regional specialties on the menu that are worth trying, but I would recommend the black truffle pizza. The dessert buffet is spectacular and the service is very friendly and efficient.
Chalet de Pierre is located on the slopes, but easily accessible from the town, on foot, by Ski or by car.
Le Farcon – La Tania
Julien Machet mission statement is quite simple. "My idea is to rediscover the cooking that is inspired by quality foods from the market, from our natural environment and ingredients grown and delivered by producers with a passion for quality". Julien Machet creates dishes with authenticity. His roots for thirty years, Savoyard informs his soul and his spirit. At the same time Julien is open to meet new, unique, cosmopolitan and original influences.
The Farcon is a place to share the cuisine of Julien Machet which is expressed through a creative process always in transition. For more than 10 years, his aim has been to make possible an awakening of the tastes, always changing, easy to understand and accessible to all, without elitism . To maintain the freshness of the produce, the standard of the dishes and the quality of the service, Julien proposes a unique menu every lunch time and at every dinner. The dishes of Le Farcon have evolved year after year to create a unique menu.
Le Clos Bernard – Meribel
Chalet Restaurant Le Clos Bernard is located in the heart of the Altiport forest in Méribel, accessible by ski, foot or horse-drawn carriage. It's a magical place full of sunshine. Quality service, gourmet menu, grilled meats by the fireplace, regional dishes and homemade creations. In the restaurant, the Chef works with fresh produce and offers you dishes combining traditional flavours and know-how. I have to be fair and balanced here.
Even the finest restaurants will get a bad review from time to time. Le Clos Bernard has lately been having quite a few. I have to say that on the few occasions I've been I've been impressed. Maybe something has changed? Or maybe they are a victim of their own success? If Le Clos Bernard's standards have slipped it will be such a shame as it was always a lovely experience for diners.
Danny Frith is Director at SkiBoutique. SkiBoutique is a luxury ski chalet agency based in Switzerland.
If you would like to be a guest blogger on A Luxury Travel Blog in order to raise your profile, please contact us.