The Belfry Hotel and Resort is not just a haven for golfers. Some guests, having the time of their lives, wouldn't know the difference, in golfing terms, between an eagle and an albatross. It is a resort for all the family, for friends meeting.
Though a visit to The Belfry, set in lush Warwickshire countryside to the east of Birmingham, is an aspiration for golfers. It is the only course to have hosted four Ryder Cups, those epic battles between American and European golfers for the historic silver trophy.
The welcome
A grand high-ceilinged reception, with a chandelier constructed from hundreds of glittering golf clubs, is a pantheon of golfing legends, a hall of fame.
As several staff are available to facilitate check-in, it is a rapid process. Young children are given a welcome pack of crayons and colouring book. Our spa, dining and breakfast bookings are confirmed. A porter is on hand to help with luggage.
The room
The Sunningdale Suite on the second floor, overlooking the lake by 9th green of the Brazabon and the 1st tee of the PGA course, is one of several suites celebrating golf's great courses: Muirfield, St. Andrews, Wentworth.
There is a large entrance hall leading into a lounge, a gallery of black-and-white photographs of the course and the Ryder Cup waiting and glinting in the sunlight. Decorated in light greys and neutral tones, there is a sofa, easy chair, coffee table and dining table, where many a golfing great and caddy could mull over the day's triumphs and disasters.
A six-foot wide Sealy Royal Crest bed, in a bedroom with its own climate-control system, prompts restful sleep between rounds. A silhouette photograph, victorious hands lifting the Ryder Cup against a setting sun, captures another moment of iconic golfing history.
The bathroom
There are two bathrooms. The first has a deep free-standing bath tub with Espa toiletries to hand, heated towel rail and towels.
A second bathroom, hosts the shower, wash basin and a long shelf for storing personal toiletries. And there are yet more fluffy white towels.
Facilities
Light and bright, the Ryder Grill with its white wooden floor tiles and dressers has a warm lived-in country kitchen aesthetic. Lighting is creatively constructed from barrels operating like lit Halloween pumpkins and chandeliers made from empty wine bottles. Most tables give glimpses out across the Brazabon course.
Impressively, there is a separate vegan menu with three options for each course, reflecting the numbers of golfers opting for a plant-based diet.
The main menu covers the bases for golfers bearing their nutritionists in mind. There's protein on offer from lamb, a chicken supreme and a sea bass fillet seared crisply to perfection above layers of white succulent fish.
Amongst the desserts there is a moment of culinary invention. Sticky toffee pudding tastes run through a banana loaf with an airy, bready texture.
A vast spa, featuring Espa products, is the draw for some of the Belfry's guests. As well as warm indoor swimming pool and two whirlpools, there are numerous rooms for massages and treatments.
Back to the golf. The main attraction for golfers is a round or two on the Brazabon course. Next to the Brazabon, the PGA course is also challenging and requires golfers to have a handicap of 24. A third course, the Derby, is open to all.
The PGA National Golf Academy provides an array of driving bays with Top Tracer technology providing immediate feedback on distance hit and spin imparted. Free custom fit sessions are provided for golfers buying new clubs.
Location
The Belfry uses its location to offer packages which include tickets to Twycross Zoo, Drayton Manor and Cadbury World. Nor is it far to Ash End House Children's farm with tractor rides, pony-sit-ins and lamb feeding for younger children.
Moving up a few gears, the Belfry resort is close to The Bear Grylls Adventure featuring high ropes, a free fall tunnel, and PADI approved diving courses. The Snowdome is an indoor snow skiing and snowboarding centre  with an ice rink.
If that is too adventurous then RSPB Middleton Lakes is a 160 hectares nature reserve, offering wetlands, meadows, and woodland in the heart of the River Tame Valley, home to a variety of birds including grey herons and kingfishers.
Other nice touches
It is a resort for all ages, for all the family. Children love the rambling outdoor adventure play area and the mini golf-course too.
For others it is an afternoon retreat for a traditional English afternoon tea or a cocktail-making class. Later in the day, post-pandemic when it is permitted to open, there is the Bel-Air nightclub.
A large shop, with changing room, and a very friendly staff, has everything the golfer needs as a souvenir of a visit to one of golf's greatest venues.
Though, for those in a suite, with a balcony and sun loungers overlooking the course, perhaps the nicest touch is the gin and tonic provided with lime already waiting in the glass.
The cost
Suite prices start from £256 per night.
The best bit
Every corridor is a golfing gallery evoking a sense of golfing history. Even non-gofers feel the passion as they look down fairways snared by bunkers, lakes and trees.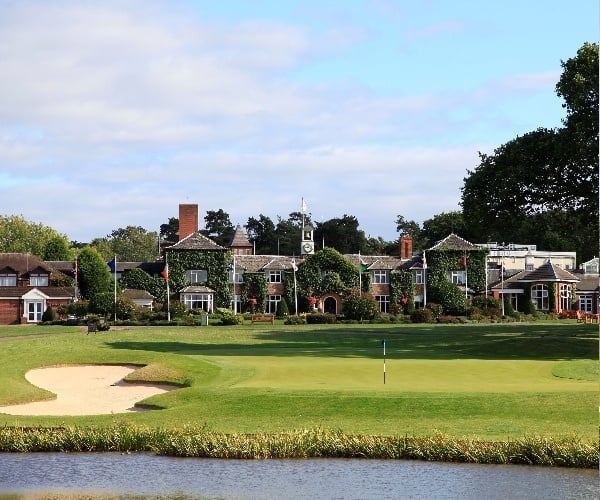 Everywhere there are epic golfing images: a host of groundsmen preparing a green for  the day's play, golfing greats on their haunches reading the line of a putt, faces of triumph and despair.
The final verdict
With over 300 hundred rooms and suites, The Belfry Hotel and Resort is vast, yet service in the Brazabon Bar and Grill is sleek and personal. Away from bustling reception, guests soon find a peaceful spot, be it in the spa, in their room or on the serene fairways.
Disclosure: Our stay was sponsored by The Belfry Hotel and Resort.