North Wales has long been a popular place for visitors and day-trippers, partly due to its accessibility and proximity to the English border, but also due to the stunning coastline that surrounds the mountainous region of Wales.  In this area of North Wales, you'll find the regions of Conwy, Denbighshire, Gwynedd and Ynys Môn (or the Isle of Anglesey).  Each area has a plethora of beautiful beaches, amongst some of the most stunning coastal spots in the UK, and each area also boasts Blue Flag awarded sites.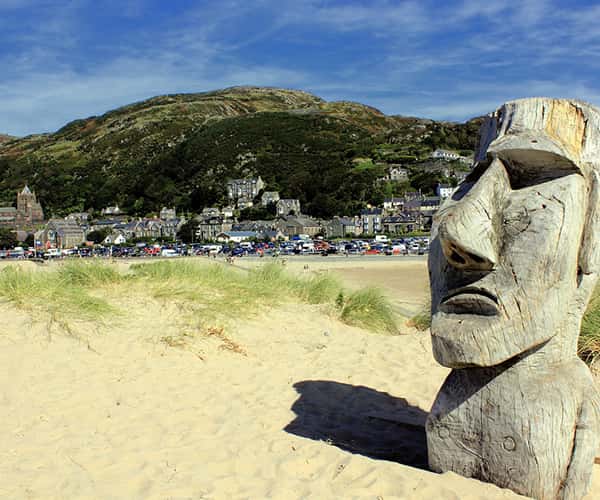 The Blue Flag is a certification issued by the Foundation for Environmental Education to beaches that are well-managed, with good water analysis and no residual industrial water-waste on the beach itself.  The site is also assessed for safety, services, and information, and the beaches are assessed yearly to ensure ongoing environmental considerations.  If you're thinking of visiting North Wales, then you'll be coming to the right place if you like a safe, clean, and scenic coastal break; in 2021, 17 of the 45 Blue Flags awarded to beaches across Wales are located in North Wales.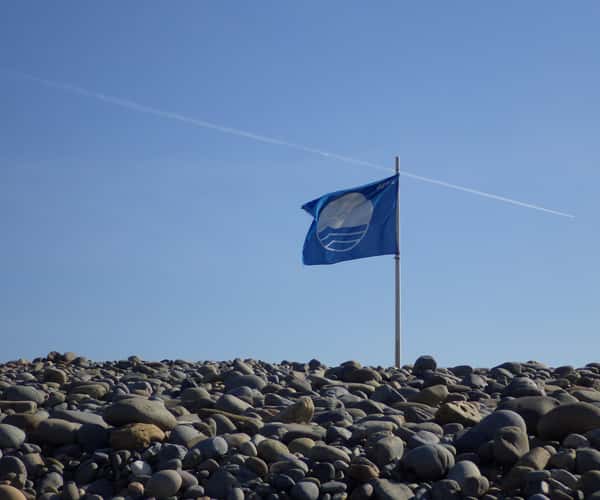 Blue Flag beaches in Anglesey
Accessed by the Menai Suspension Bridge, the island of Anglesey, or Ynys Môn in Welsh, is mostly covered by an Area of Outstanding National Beauty, allowing its 125-mile coastal path to be conserved due to its unique splendour.  It's no surprise, then, that most of its beaches have been awarded the Blue Flag.
The most popular of Anglesey's beaches is Benllech, located on the East coast of the island, and it was recently voted as the fourth-best beach in North Wales.  The vibrant green fields give way to a long stretch of golden sand, snaking its way northward towards mountainous views beyond.  The relatively small seafront area accommodates public toilets, a ramp, and a cafe, making this beach accessible to all and family-friendly.  You can also bring your dog year-round to this award-winning beach.
At the southwestern tip of Anglesey, Traethis far more rugged; the large forest of Newborough opens out to a mile of rolling sand dunes – one of the largest dune sites in the UK.  This makes Llanddwyn a Site of Special Scientific Interest as many birds and insects call these dunes and the mudflats beyond their undisturbed home.  But perhaps the thing that draws people to this particular spot is the incredible views across the Menai Strait and back towards the majestic Snowdonia Mountains.
Other 2021 Blue Flag Awarded beaches in Anglesey include the small, delightful pebble beach at Porth Swtan, or Church Bay, the popular windsurfing beach at Llanddonna near Beaumaris, the 17th-century port to Ireland at Pont Dafarch near Holyhead, and the large, popular Trearddur Bay, with protected bathing areas and yellow-gold sands framed with the blue railing of this seaside resort's promenade.
Blue Flag Beaches in Conwy
Conwy is one of Wales' most historic counties, with the mighty medieval 13th-century Conwy castle sitting almost as proud as the vast regality of Snowdonia National Park's infamous peaks.  Conwy really does have everything, and not to be outdone by its prominent pinnacles, it has its own list of spectacular blue flag beaches to boot.
At Conwy's south-western side is the stunning Victorian seaside town of Llanfairfechan. With the Carneddau mountains acting as a staggering backdrop, the promenade stands proudly along the seafront, forming the start of the North Wales Path.  Beyond the grand architecture of the strand and its genteel multi-coloured houses, the natural beauty of the beach and its popular bird reserve sprawls like a painting.  The Pavillion Cafe and the proximity to the town mean that this beach has great access and amenities, adding to its popularity and charm.
At the opposite north-eastern tip of Conwy sits Llandudno West, cradled by the great limestone headland of Great Orme.  With access to all amenities and dog-walking allowed in winter, this is a great spot for walkers and hikers wishing to explore the unusual fauna of the limestone cliffs.  You'll also spot some unusual activity here; kite buggying, one of the most unusual watersports, is popular due to the expanse of hard-set sand between this beach and Conwy Sands.  You're also more likely to spot a goat here than a seal…that's right, Great Orme is home to wild goats who, during the pandemic, took to the streets of Llandudno once they realised that all human bustle had ground to a halt.
Colwyn bay houses the other two award-winning beaches in this great county; Rhos and Porth Eirias.  While Rhos Bay is a natural harbour that was gentrified by the Victorians to create the long promenade above the rustic shingle beach, Porth Eirias is a state-of-the-art man-made beach – a sandbar was dredged 20 miles out to sea and sand was pumped back to shore to enhance the shoreline and create a new Waterfront for Colwyn Bay.
Blue Flag beaches in Denbighshire
This part of Wales contains the country's oldest known evidence of habitation; Neanderthals lived here more than 225,000 years ago.  This sliver of important ground is mostly landlocked, with a small area to the north housing its only coastline, and yet it still manages to include a Blue Flag awarded beach at the long-loved beachside town of Prestatyn.  The Victorians created holiday camps here, allowing visitors to wash away the grime of the city in 'Sunny Prestatyn's clear, cold waters.  Located a mere half a mile from the town centre, it adjoins Ffrifth and Barkby beaches to create a 4-mile stretch of sandy coastline.  This large tidal range area is popular for sailing and marks the beginning of the Offa's Dyke National Trail, which runs all the way south to Chepstow.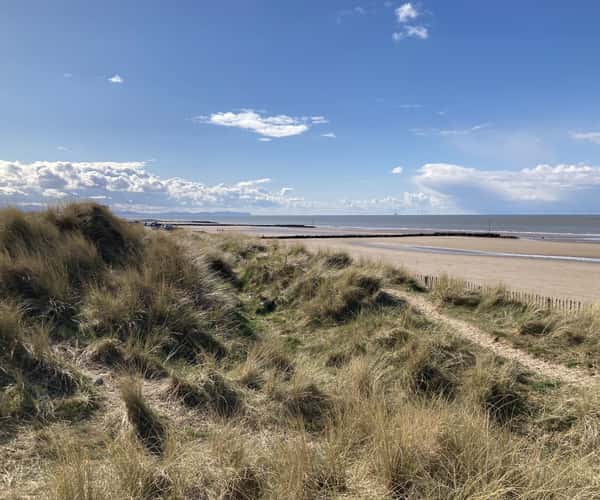 Blue Flag beaches in Gwynedd
Gwynedd is the wildest area of North Wales and is home to the incredibly popular, beautifully rugged Llŷn Peninsula.  It claims the largest area of coastline in North Wales and subsequently is home to many stunning coastal towns and cliffside villages, as well as the majority of the Snowdonia mountain range, shared with Conwy.
Caernarfon is one of the most visited sites in Wales – one of the greatest achievements of the Middle Ages was the erection of its steadfast and sturdy castles, now a World Heritage site.  Not far from this dramatic Norman fortress is the beautiful beach of Dinas Dinlle, bordering the Irish sea with views towards Anglesey and Holyhead.  This place is even more ancient than the nearby castle, with Iron Age fort remains nearby.  Closer to the action, two slipways allow access for jet skis and speedboats, and bass fishing is also a popular sport here.  The blue flag is well deserved; this SSSI is home to many rare seabirds, and this beach is renowned for its sparkling waters.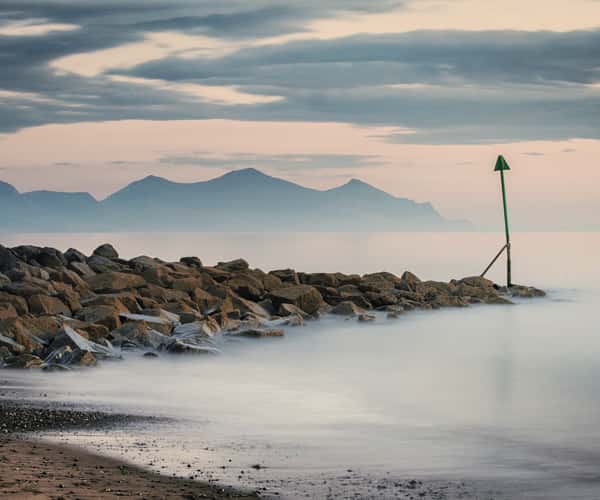 On the southern seaboard of this county lies the ever-popular seaside town of Barmouth.  Abermaw as it's known in Welsh, it's a Blue Flag beach that sits quietly beside the town, looking southward towards Cardigan Bay.  With mixed sand and shingle beach, plenty of rockpools, a promenade with land trains and an impressive pier, this popular holiday destination has been a favourite of many a famous visitor and delighted child alike.  William Wordsworth was so impressed with Barmouth during a visit to the town that he wrote that 'Barmouth can always hold its own against any rival'.
Travelling North, Morfa Bychan is the next Blue Flag beach on Gwynedd's list.  Bychan means Small in Welsh, but there's nothing small about this vast 2-mile stretch of sandy shoreline.  The dunes give way to rock pools which, in turn, give way to caverns.  There are designated areas for bathing and separate ones for boating, and due to easy access to the beach, this is a very popular spot for picnics.
Llŷn Peninsula, arguably North Wales' most popular holiday destination, is home to three of the Foundation for Environmental Education's Blue Flags; Abersoch and Aberdaron are small, quiet, undisturbed beaches at the end of country lanes with small hamlets nearby.
Abersoch is a popular sailing spot as it is a remote and quiet waterway. Llŷn's capital, Pwllheli, has a fantastic beach alongside its market town, as well as boasting one of the best modern marinas in the UK, Hafan Pwllheli.  Due to its world-class sailing waters, Plas Heli, the Welsh National Sailing Academy and Events Centre are located here.
Gareth Robinson is General Manager at Quality Cottages. Quality Cottages is a leading Wales-based holiday lettings agency established in 1961.
If you would like to be a guest blogger on A Luxury Travel Blog in order to raise your profile, please contact us.