There is no shortage of excellent beaches in and around the Catalan capital. Most visitors to Barcelona will be aware of the city beaches, such as Barceloneta, that are just a stone's throw from the centre. While these beaches that neighbour the city are great for a last- minute decision to have a beach day, they often can become more crowded and are not the most relaxing of places to lounge.
For a truly zen experience, on some of the most beautiful beaches in Spain, we recommend taking the trip slightly further out of the city.  The Catalonian coastline is brimming with charming seaside towns and spectacular Blue Flag beaches. This coast runs for over 360 miles, from the Ebro Delta to the south which borders Valencia, all the way up to the French border.
While it is by no means necessary to travel miles away to find a suitable beach, it is always worth making a slight trip to explore undiscovered beauties. These are our top recommendations for the best beaches near to Barcelona, Spain.
Sant Pol de Mar
A long, sandy stretch of beach punctuated by rocky outcrops and verdant green hills; Sant Pol de Mar is one of the most picturesque beaches close to Barcelona. There are several beaches at Sant Pol de Mar, straight off the train platform is the town's main beach, but we recommend travelling further up the coast for some beautiful hidden cove areas.
The water is wonderfully clear along this stretch of sand, perfect for snorkelling. It is also worth exploring the town itself, with its seaside village charm and flower-filled window bays. For a spot of late lunch and refreshments, there are a few beach cafés on the main beach too.
Castelldefels
Castelldefels is just 30 minutes south of Barcelona, and easily accessible from the Passeig de Gràcia station in the city. Found on the stretch of coastline known as the Costa del Garraf, the town has a beautiful, wide beach with a stunning backdrop of the mountains to admire.
Expect to find a wonderfully empty beach on a visit here, as there is over five kilometres of golden sands to share with other beachgoers. Nothing but the sound of waves crashing will break the peaceful silence of Castelldefels beach – a real luxury at just 15 minutes train ride from the hectic city centre of Barcelona.
Caldes d'Estrac
Caldes d'Estrac, also known as Caldetes, was a fashionable spa town for the Barcelona bourgeoisie towards the end of the 19th and early 20th centuries, thanks to its thermal baths and beachside appeal. In winter, it is still possible to come to warm up in the village's thermal baths!
The beach here is long and wide, meaning it rarely ever fills up, even in the height of summer. There is something truly alluring about Caldes d'Estrac, lined by elegant villas and swathes of bright flowers. There is a great selection of beach services, including petánque (boules) playing areas, beachside exercise bikes, and a plethora of beach bars.
Sitges
Found 24 miles south of Barcelona, Sitges is an idyllic town with white-walled buildings and cobbled, hilly streets, that have led it to be nicknamed the 'Saint-Tropez of Spain'. It is a relatively small town but boasts over 17 different beaches to enjoy. The town is known for being LGBT-friendly, and for its famous film festival held in Spring each year.
We recommend a trip to the Platja d'Aiguadolç, which translates to 'sweet water beach', located behind the marina of Sitges. It is a short walk away from the town and has the picturesque backdrop of the cliffs behind. This is a fantastic family beach, with a lifeguard, access ramp, beach chairs, pedalos, and parking.
Bogatell
One of Barcelona's own beaches, nestled to the north of the city, is the beautiful Bogatell. It was specially created in time for the 1992 Barcelona Summer Olympic Games, and today is still a popular spot for outdoor sports players and sunbathers alike.
Bogatell is a quiet beach, frequented mostly by families and older couples. Special attention has been paid to making it accessible for those with limited mobility, including easy-access parking areas, visual and tactile signage, and wooden walkways that reach as close to the water as possible. We love the range of beach bars here too, which have sun loungers and waiters to bring drinks out to guests on the beach.
Tossa de Mar
Located on the Costa Brava coastline, which is famed worldwide for its natural beauty; Tossa de Mar is a must visit for those looking for the best beach spot from Barcelona. The town has beautiful bays, and the coastline boasts breathtaking natural surrounds and rock formations. A real attraction of the beaches here are the picture-perfect backdrops, including the emblematic medieval towers.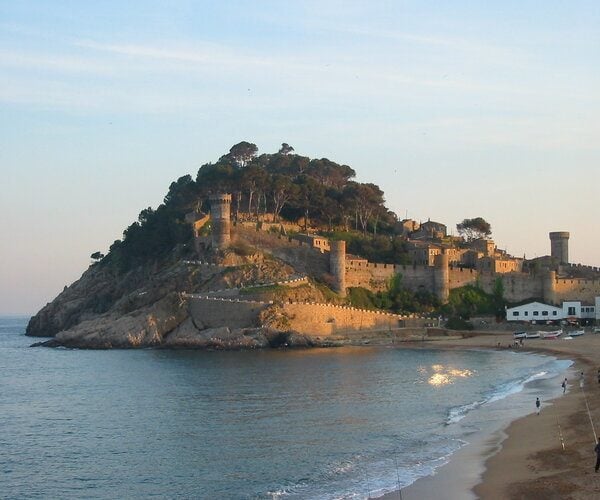 The Playa Gran is the town's main beach, with clear, turquoise waters and a range of facilities. It has a Blue Flag award and was on National Geographics' list of the '25 Best Beaches in the world' in 2013.
Gavà Mar
Situated nine miles south of Barcelona, just next door to Castelldefels, Gavà's beaches offer a pleasant, wild terrain to beachgoers. The beach is bordered by grassy dunes and hills of pine trees in the distance. During the 1950s and 60s, campsites developed along the coastal area, attracting sun-seekers and holidaymakers from Barcelona and beyond.
If a relaxing day at the beach spent reading your favourite book is your plan, Gavà can provide the perfect spot. However, if lazing at the beach does not appeal particularly, it is possible to take windsurfing and kitesurfing lessons, or rent a kayak, paddleboard, or surfboard for the day. It is a beach that can cater to all!
Sandra Roig is Marketing Director at AB Apartment Barcelona. AB Apartment Barcelona is an apartment rental agency offering over one thousand short and long term apartments across Barcelona.
If you would like to be a guest blogger on A Luxury Travel Blog in order to raise your profile, please contact us.