Although Africa boasts an incredible diversity of flora and fauna, there are five animals that are more famous than any of the others. Nicknamed the 'Big 5', these animals have built a reputation as being the most desirable to find on safari. Unfairly many visitors judge their trips on how many of this list has been ticked off, but a safari should not be about ticking things off, it should be about immersing yourself in wild and natural surroundings, taking in everything from the very smallest to the very largest of creatures.
The term 'Big 5' is a phrase coined by former hunters, these are the hardest animals to hunt on foot in the African bush, so it is no wonder that the list comprises of the lion, leopard, elephant, buffalo and rhino.
Below we will explore the best places in Tanzania to find members of the 'Big 5', but if you do visit, make sure you do not forget about all the other wildlife on show, including the 'Small 5' and the 'Shy 5' plus so much more!
Lion
Starting with the most famous of the 'Big 5' is an easy place to begin. Lions are perhaps the most sought-after animals by guests on safari. Be it a pride with cubs or a huge male lion roaring to determine his territory, any encounters with lions are extraordinary, especially if they are not sleeping, something of which they do for around twenty-hours per day!
It may come as a surprise that such a beautiful and legendary animal is under threat across Africa. From snaring to human settlement encroachment, Africa's lion population is unfortunately declining, however Tanzania has some of the largest lion populations on the continent and there are some great success stories in the country.
Whilst lions can be seen in almost all of Tanzania's game reserves and National Parks, an area that stands out more than most is the Eastern Plains of the Serengeti. Until recently this area was home to big cat researchers who spent their time studying and monitoring the populations of the local felines. With an abundance of prey and the ideal landscape, the Eastern Plains has seen lion populations thrive.
With Namiri Plains being the only camp within a two-hour radius, time spent on the Eastern Plains not only promises to be a big cat haven, but it will also offer some of the most unique and exclusive lion sightings in the Serengeti.
Rhino
Whilst lions are the most desirable member of the 'Big 5' to guests, unfortunately it is the rhino that comes under the category 'most desirable for poachers'. With horns that are worth in weight more value than gold on the black market, poachers will do anything to get their hands on this commodity which has no scientific value for the cures that it is proclaimed to have.
Normally talking about rhino locations would not be advised, however it is common knowledge that there are rhino in the Ngorongoro Crater and it is here that offers the best place in Tanzania to see these beautiful odd-toed ungulates. Protected by a first-class, 24/7 anti-poaching team, the conservation authorities have ensured that a healthy population of the Eastern black rhino has been maintained in the Crater. Seeing these prehistoric creatures is something that should not ever be taken for granted and with their numbers dwindling in Southern Africa, these well-protected strongholds are more important than ever for the survival of such an iconic species.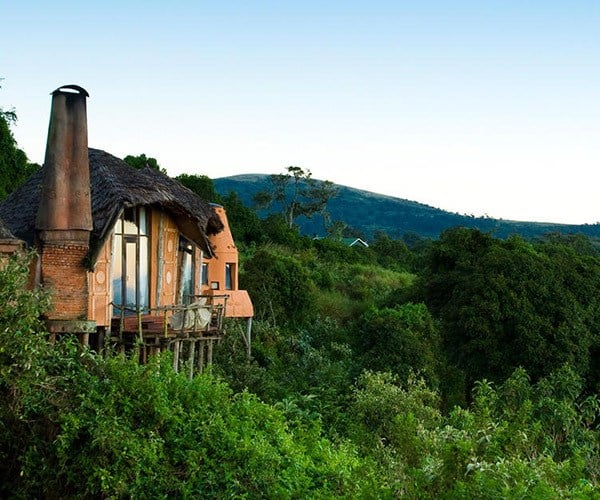 There are a plethora of options on the Crater's Rim and in the surrounding areas, ranging from the most luxurious Crater Lodge, run by &Beyond to the fantastic value Ngorongoro Farm House based in Karatu.
Elephant
The largest mammal on Earth needs little introduction. Unlike the rhino which is now on the brink of extinction, thankfully elephant numbers have increased in recent years in East Africa. A clamp down on poaching and increased conservation efforts have allowed these megaherbivores to flourish. From the mighty tuskers in Amboseli to the watery Okavango Delta, elephants can be found in numerous countries across the continent and Tanzania is no different.
Whist most reserves and National Parks are home to fantastic elephant populations, the large concentration of these charismatic and enigmatic animals is Tarangire. Visited by very few guests, Tarangire is a pocket of serene wilderness in Northern Tanzania. As the dry season progresses elephants from the surrounding areas are drawn to the life-giving waters of Tarangire's rivers and swampland. The result is some unbelievable elephant sightings and herds in their hundreds. Around every corner you are bound to be enchanted.
Staying in a lodge situated in the heart of the park is the best way to experience the magnificence of such a place. Kuro Tarangire is one such camp. Peaceful, serene and tucked under acacia trees, it really is a mystery why more people do not visit this spectacular area.
Buffalo
The most dangerous member of the 'Big 5', the buffalo is renowned to be an unpredictable and aggressive animal, none more so than the 'dagga boys' that spend their days lying in mud wallows waiting to charge anything that comes into vision.
Yet even for all their hostility towards onlookers, buffalo can make for some incredible wildlife sightings, especially when they congregate in large herds. Like lions and elephants, buffalo can be found in numerous reserves across Tanzania, however it is Ruaha where buffalo guests undertake pinnacle buffalo viewing.
As the dry season takes a hold on Ruaha's landscape, the river courses slowly dry up resulting in huge concentrations of buffalo. Some herds number well over a thousand individuals that constantly search for enough nutritional vegetation to maintain their energy levels. Come the end of September and into October, the buffalo tend to be weaker and therefore more vulnerable. Constantly pursued by lions, incredible battles between these two species is a battle from to behold and it is no surprise that wildlife documentary makers from across the globe come to Ruaha to witness such spectacles.
You are spoilt for choice with lodges in Ruaha, from the family run Ikuka to the isolated and secluded Jongomero, there is a luxury camp that will suit everybody's needs.
Leopard
The most elusive member of the group, leopards will only be found if they want to be found. Arguably the most beautiful of the cats, leopards are stocky and powerful relying on their camouflage and power to bring down prey before dragging it up into a nearby tree, out of the reach of other predators.
Although leopards are pretty tough to find on safari, your best bet is heading to areas where the habitat is suited to these incredible felines. The Kogatende region of the Serengeti is one such area. With the meandering water course of the Mara River, as well as its tributaries, there are plenty of drainage lines, rocky outcrops and thickets for leopards. Add to this an abundance of prey and leopards have the perfect recipe to thrive.
There are some incredible lodges in Kogatende, as the migration reaches this area, mobile camps like Serengeti Safari Camp arrive in the area, yet lodges such as the permanent Sayari ensures that no matter the time of year you visit, you can be sure of an enthralling safari.
Marc Harris is Managing Director of Tanzania Odyssey. Tanzania Odyssey is a leading tour operator that has specialised in Tanzania since 1998.
If you would like to be a guest blogger on A Luxury Travel Blog in order to raise your profile, please contact us.