The best camps in the Selous
The Selous was
Tanzania
's largest game reserve, covering an area of over fifty-thousand square kilometres plus many kilometres of additional buffer zones. Designated as a UNESCO Heritage Site in 1982, this pristine wilderness is home to a beautiful array of wildlife, a brand-new hydro-electric dam to benefit the local communities and now has TANAPA as its custodian.
Renamed Nyerere National Park in honour of the first president after independence, this National Park finds itself located a short internal flight from Dar es Salaam and makes for the perfect safari component in a safari and beach itinerary. Due to its vast size, no matter where you stay here, you can be sure of a game viewing experience that is away from the hustle and bustle of the North and combines boating safaris, walking safaris and your regular vehicle safaris. Add into the mixture the option of visiting the hot springs, picnic lunches and days exploring the vast watery landscape then you could argue the Selous offers the most varied safari experience in Tanzania.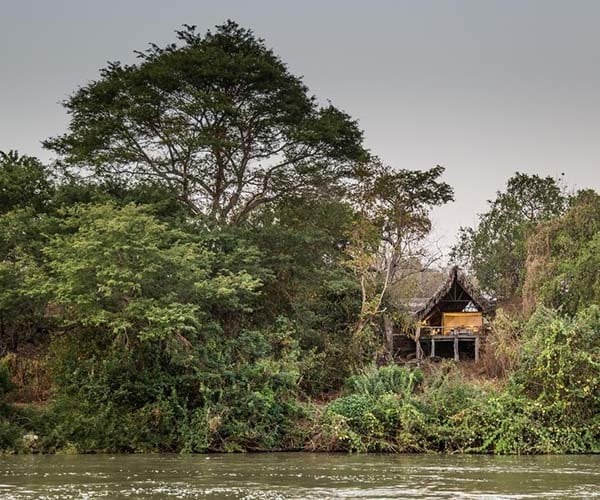 And to put the cherry on top of the cake, it is a strong hold for the African wild dog. With a fantastic population of these charismatic canines, if wild dogs are on your bucket list, then the Selous should be a must-visit. Whilst the Northern parks of the country teem with different lodges, there are only a handful found in the Selous and below we will take a look at the best five.
Siwandu
Located on the edge of Lake Nzerakera, the watery landscape begins fifty metres from your doorstep. Offering uninterrupted views across this beautiful scene, Siwandu comprises of ten extremely spacious and elegant canvas tents that allow guests to enjoy early mornings and late evenings in the comfort of their room. With an elevated lounge and dining area, there are panoramic views across the lake whether you are having dinner or enjoying a pre-game drive snack.
During the heat of the day, guests can make use of either of the two swimming pools, opt for a full-day safari or decide that a pontoon picnic is the best setting for lunch. If reading a book nestled into a comfy sofa is more to your taste, then this is also possible. The elevated lounge area not only provides beautiful views but a serene and tranquil environment in which to enjoy a chapter or two of your favourite book.
Beho Beho
The most luxurious camp in the Selous sits atop a deep and lush valley offering views for miles across Selous' vibrant landscape. Even though there is a main pool, the added intimacy of a plunge pool for each of the ten bandas makes it perfect for honeymoons or couple's getaways.
Whilst the main area comprises of a very comfortable lounge area, a snooker table and a very well stocked bar, there are a variety of beautiful locations for a dinner amongst like-minded travellers and expert guides. For multi-generational families, Bailey's Banda is a private homestead that allows the exclusivity of your own home. Accompanied with its own private vehicle and guide, the two very specious en-suite bedrooms, private pool and lounge area maintain that home-from-home feeling. Although it is a great option for larger groups or families, the sophisticated and calm ambience makes it unsuitable
Sand Rivers
Set on the banks of the Rufiji River, Sand Rivers is the perfect location for a relaxed and luxurious safari. With exquisite views of pods of hippos that call the Rufiji home, Sand Rivers caters for everyone.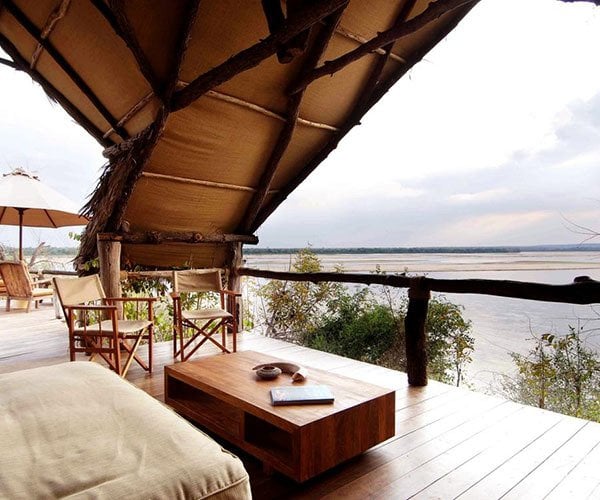 The five riverside rooms are accompanied by three hill-side suites, and all are airy and spacious giving guests the feeling of being immersed within the wilderness, yet still providing every amenity one could wish for. The pool and bar areas offer panoramic views where time in between game viewing activities flies by far too quickly and activities like boating safaris, picnic lunches or game drives take place in some of the best areas of the National Park.
Lake Manze
Certainly not the most luxurious option in the Selous, but providing an authentic and rustic safari experience is Lake Manze. Mirroring its sister camp Old Mdonya River Camp in Ruaha National Park, Lake Manze prides itself on its back-to-basics ethos. With no Wi-Fi, and tents powered by solar energy, this camp takes you back to a by-gone era of safari.
Situated on the edges of one of the Selous' lagoons, hippos honk at night and there is the occasional pachyderm visitor during the day as they go to the water's edge to quench their thirst. For guests who want to quench their thirst, the well-stocked bar area coupled with the lounge area makes for the perfect place to sit back, have a drink and enjoy the tranquil setting in which the camp is set.
Roho ya Selous
Offering an under-canvas feel yet supplying the luxuries one expects with a camp run by Asilia, Roho ya Selous comprises of eight canvas tents, one which is designed for families.  The apt name translates to the 'heart of the Selous' which is where the camp is based. Balancing adventure with comfort, Asilia offers the highest of service and hospitality that they are renowned for.
With Lake Nzerakera on its doorstep, you never know what wildlife you may spot from camp. However boating safaris, walking safaris and vehicle safaris are all offered here, with the additional option of fishing, there is something to keep every member of the group amused. No matter where guests choose to stay in the Selous, they can be sure of an intimate and off the beaten safari adventure with a beautiful variation of game viewing activities.
Marc Harris is Managing Director of Tanzania Odyssey. Tanzania Odyssey is a leading tour operator that has specialised in Tanzania since 1998.
If you would like to be a guest blogger on A Luxury Travel Blog in order to raise your profile, please contact us.
Did you enjoy this article?
Receive similar content direct to your inbox.