Italy, a land that has always been a major attraction for tourist from around the world, and for good reasons. Who doesn't love a country where the most amazing food is always around the corner, historic buildings, sites and names are more frequent than the Piccadilly line in London and where people always seem to sing while they're actually just talking? Of course, going to Italy is great, but when you do so and stay in one of their best hotels, you just upgraded your trip from great to unforgettable. And that's why I made this top 3, to make sure you'll not only remember that amazing pasta in the countryside, but also the warmth and hospitality which Italians are so well known for in some of their most idyllic and iconic hotels.
Cipriani, A Belmond Hotel Venice
It doesn't come any better than this. Located in the historic city of Venice, across the water from St-Mark's square sits the beautiful and sophisticated Cipriani. From the moment you arrive, Roberto greets you in the most sincere and Italian way, like a family member who's been away for a while. Home to all the A-listers who fly-in when they visit Venice, this place has everything you could wish for in a city hotel, and then some. The amount of space they have is truly luxurious, especially when keeping the central location of Cipriani in mind. This allows them to offer larger rooms and suites, an olympic sized swimming pool, lush gardens to stroll around, a tennis court,….the list is endless. They even have a small vineyard which is ideal for a romantic dinner during those endless summer evenings.
Talking of culinary delights, Cipriani has 2 amazing restaurants, both serving some of the best food in Venice. Oro, their Michelin-starred restaurant has no set menu but will use the best local ingredients to serve you a mesmerising dinner while Cip's club is located on the other side of the property and has arguable the best view in Venice to enjoy lunch or dinner. Cipriani is also the birthplace of the carpaccio (obviously it's still on the menu and I can highly recommend it) and the world famous Bellini cocktail. The latter will be freshly made for you by the world famous Walter who's been running the bar for over 40 years and learned the original recipe from the creator, Giuseppe Cipriani, himself. Truly delicious!
But the stars of the show are the staff who will go far and beyond to make sure your stay is going to be memorable. Their smile is omnipresent (even when wearing masks you can still see the twinkles in their eyes) and the Italian flair is never too far away. To give you an example of just how far they are willing to go in order to make your time as enjoyable as possible, you need to experience breakfast on the terrace. Yes, you'll enjoy the amazing views over the lagoon, the constant passage of boats telling you the story of daily life in Venice and so on….but what you won't see is pigeons trying to steal that freshly made Cannoncino Veneziano or attempting to snitch away that piece of yummy pastry. Why? Simple, nothing is too much for the comfort of their guests so Cipriani has a full time falconer who's making sure there are no uninvited guests joining at the table. Good luck finding that level of luxury anywhere else!
Rosewood Castiglion del Bosco, Tuscany
Nestled in the heart of the Tuscany, surrounded by rolling hills covered in vineyards and lined with cypress trees you will find this unique property that's spread across multiple buildings and villas. In total is comprises 42 suites and 11 beautiful villas, all of which are in line with the local Tuscan style and each one feels authentic yet very luxurious. It's the ideal place to escape the rush of the city, explore the region with family and friends or just enjoy the stunning scenery while indulging into the many culinary treats which can be found in the area, of which wine is just one example.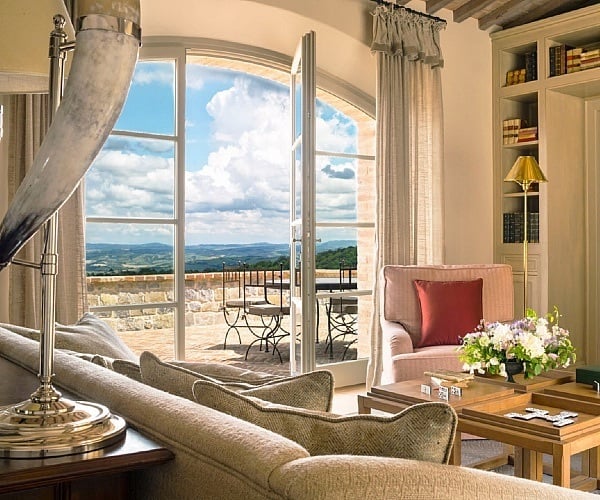 The style of the suites and villas is rustic with soft tones, blending the colours which you'll see outside with those on the inside. Four poster beds are common in most of the accommodation, yet so are the modern trims which might not always be visible to the eye, but the best things in life are often hidden away, isn't it? The suites are more suitable for couples who want to have a romantic getaway, while the villas often accommodate up to 12 guests which is just perfect for the whole family or even a group of friends who want to celebrate an engagement in style. Private pools for each villa is of course a given.
While in-villa dining might be popular for many of the guests, the two restaurants at Castiglion del Bosco are certainly also worth a visit. Especially combined with the amazing views from the Osteria La Canonica it a no-brainer as it will feel like you are tasting what your eyes are seeing all around. There's also La Canonica cooking school where you will be able to learn how to make that amazing fresh pasta or pizza following the traditional Italian recipes, but also Tuscan dishes which might not always be well know to international guests are taught over here. My personal favourite among the countless experiences which are on offer must be the truffle-hunting expeditions followed by a Brunello di Montalcino wine tasting. Life doesn't get much better than that.
Il Sereno, Lake Como
When you just want to relax and enjoy your luxurious hotel while taking in the surrounding area, then Il Sereno is the perfect place for you. Located on the shores of Lake Como, this stylish and modern all-suite hotel certainly knows how to create the wow-factor and become almost as stunning as the famous lake which only emphasises its beauty. Would I come here with my kids…probably not, but if I'm looking for a stunning place to stay as a couple in order to unwind, rejuvenate and enjoy some of the luxuries on offer, then Il Sereno certainly fits the bill.
While all the 40 suites have an abundance of space, some just stand out with their massive terrace from which you have a panoramic view over the lake and its surrounding mountains. If all of those views wake up an appetite you're in for a treat at their Berton al Lago restaurant which has received a Michelin star. And if the tasting menus don't leave you speechless, their superb wine cellar with countless award-winning wines will certainly do. But we all know not to count calories when visiting Italy, don't we?
However, if you like to stretch your legs a bit or give yourself the impression that you're exercising a bit to compensate all the amazing food, then the lush gardens designed by Patrick Blanc are certainly a great starting point. Of course, Lake Como itself is also ideal terrain for some wonderful hikes but if you rather prefer a different vantage point than why not take one of the Riva boats to cruise on the lake while taking it all in. For those who are like me, I would just try it all and end my day at the spa where your muscles will be treated to a wonderful vacation themselves.
Palazzo Avino, Amalfi coast
Located in a 12th century private palazzo, this hotel has everything you need if you are looking for a luxurious holiday in one of Italy's most sought after areas….the Amalfi coast. Perched upon the cliffs, the 350m elevation gives the guests a view to die for (yes, even James Bond would reconsider his normal practices). Views of the little fishing villages and the Mediterranean Sea are always a great way to enjoy your morning coffee or afternoon cocktail.
There are 33 rooms and 10 suites, and if you really want to make the most of the views I suggest going for one of the suites. All of them have breathtaking views though some of the deluxe rooms match that so it's all about what your preferences and needs are. Either way, you will enjoy any of the rooms as they are light, welcoming and have all the luxuries you need to make the most out of your stay.
But why stay in your room when there is so much to experience in and around the hotel. The almost obvious Michelin star restaurant together with a wild variety of other dining options is just one way of spending your time. I'm particularly fond of the Lobster and Martini bar where you can taste the local lobster with a drink of your liking. My choice goes to a nice local prosecco or champagne, but why not spice it up with a martini or cocktail indeed. Life is all about taking risks, isn't it? The spa is certainly also worth a visit but if the weather is fine I suggest you take the complimentary shuttle and go to the Clubhouse by the sea. Palazzo Avino has it's own little slice of Mediterranean heaven as guests can enjoy beach platforms, a pool, changing rooms and so on right next to the water. What more could you ask for?
Belmond Grand Hotel Timeo, Taormina, Sicily
Another Belmond property and another hotel that uses its views to enhance the overall experience. Grand Hotel Timeo was the first hotel to be built in the city of Taormina, giving it unprecedented choice of location and views over the famous Etna volcano. As a result, many famous guests came over to enjoy everything the hotel had to offer, and that's more than just amazing views. The rooms and suites breath that southern soul with nice antique details, marble bathrooms, luxurious linens while still remaining airy and light which makes them perfectly suitable for the heat during the summer months.
Of course, most of them use the views as their main focal point but it doesn't always have to be like that. Then again, it's hard not to get exited about having breakfast on your own terrace while taking it all in. Talking about food, Grand Hotel Timeo doesn't hold back when it come to that. Imagine a Michelin restaurant (named Otto Geleng) where you can enjoy Italy's most amazing food with just 15 other individuals. I mean, it's already an incredible experience on its own, but by making it so intimate they just elevated it even more. Ristorante Timeo though is a worthy alternative with stunning backdrops and dishes that represent the best of Sicilian food.
But what really stands out at the Grand Hotel Timeo is the connections it has all around the hotel which it uses to enhance the stay of its guests. Having breakfast at Palazzo Castelluccio with the owner before it opens for the public? No problem, the hotel will arrange it for you in a heartbeat. Not looking forward to climb Mount Etna to have a birds eye view over this active volcano? Completely understandable as you're probably still full from dinner the day before so let the hotel arrange a helicopter flight for you in order to have the best views and at the same time check a few other sights along the way.
As you can see, Italy is always a good idea, with an abundance of luxurious hotels where your experience can only be amplified. Now… where is my Prosecco?