7 packing tips for your first African safari
If you're considering taking the plunge and going on your first African safari, then get ready for an unforgettable ride, one that for many is the mark of having truly lived! While each place on this diverse continent can be so different to the next, the wilderness of Africa in general is filled with raw beauty, iconic wildlife encounters and thrilling experiences. With its variety of adventures, cultures, habitats and wildlife, Africa has a way of taking hold of your heart. So don't be surprised if after your first safari African safari, you find yourself wanting to return again and again. As British journalist, Brian Jackman once said, "everything in Africa bites, but the safari bug is worst of all".
Like with any new endeavour though, it can be pretty daunting to imagine yourself on a completely new continent, but don't doubt your decision (it's a great one!). Just make sure you find out as much as you need to feel at ease and ready so that your trip is memorable for all the
right
reasons. An important part of getting your safari holiday 'right', is packing the right things. Going on safari is a diverse experience and versatile packing is key to a successful trip. That's why we have put together a handy list of some of the most important, although often forgotten, items you'll need to pack into your luggage before heading off on safari.
Notebook
There might be no better time than a bush getaway to go on that much-needed digital detox. If you intend taking a hiatus from the digital world, you might still want to record your experience, which will mean going old school. Small and lightweight, a notebook can be carried everywhere and pulled out at any moment to journal the memorable moments of your safari.
Binoculars
And of course, if you can't see the action that's happening in the distance, you could be missing some exciting details in your daily journal entry. So be sure to pack a good set of binoculars – and don't forget them in your room when you go out on a game drive or bush walk.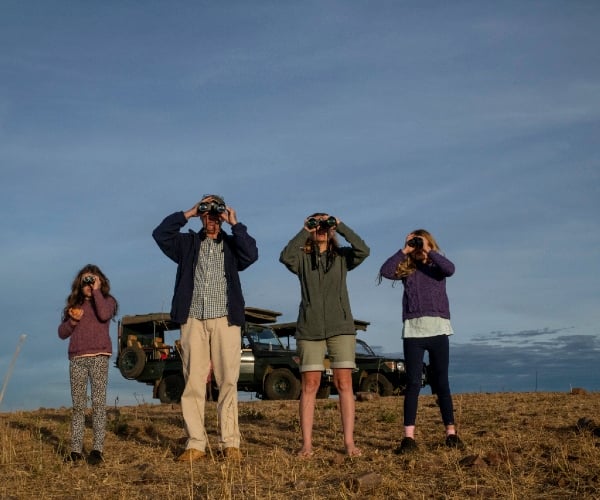 Scarf
It might seem something of little significance while packing it but when you go on your first game drive at dawn, you'll be glad you packed a scarf. It will become your go-to not only for chilly early morning game drives, but also for evening sundowners when a breeze picks up as you sit at the top of a hill or next to river. Functional reasons aside, there is of course that element of delicate style and luxury that a scarf adds to a dinner outfit.
Sports bra
Yes, we said it. Ladies, if you're going on safari, you're going off-road. And while the vehicle is made as comfortable as possible and the guide drives carefully, the ride will be bumpy and possibly fairly long. The bumpy game drive is still absolutely worth it. And it can be made more comfortable with a quality sports bra that is designed for high impact. It will also be useful if the lodge you're visiting has a gym or is holding yoga or other fitness classes.
Soft bag and combination lock
When packing for safari less is definitely more. Investing in a strong but lightweight, soft duffel bag will make it much easier to store luggage neatly into the transfer vehicle or small charter flight. Before checking your luggage into the airplane hold, secure all the zips with a combination lock for extra security and peace of mind.
---
IMPORTANT NOTICE: If you are reading this article anywhere other than on A Luxury Travel Blog, then the chances are that this content has been stolen without permission. Please make a note of the web address above and contact A Luxury Travel Blog to advise them of this issue. Thank you for your help in combatting content theft.
---
Neutral coloured clothing
Camouflage pattern is strongly advised against, as some African countries reserve this pattern for military personnel only. In order to blend in with the environment when out on game drives or guided walks, it's important to wear neutral coloured clothing such as khaki, olive and brown. Stay away from dark coloured clothes as they will absorb heat and attract pesky tsetse flies. In bold, bright clothing, you'll stick out like a sore thumb in the wilderness. You'll want to blend into your environment wherever you go.
Long, cotton pants and shirts
Malaria isn't found in all African countries but where it does occur, it's advised that travellers to those areas take prophylactic medication to ensure your safari isn't ruined by a bout of malaria. You can take extra precaution whilst in the bush by wearing long pants and shirts, applying insect repellent regularly, and sleeping under special nets. The latter two will be supplied by the lodge you stay, although it does no harm to pack your own insect repellant.
It may be difficult to decide exactly what you need for holiday, particularly when you are going to a completely new country. The tendency is to often pack more so that you are covered for all types of weather and other requirements. But this is not always the best approach, especially if your transfer is by private charter plane or a fairly length drive. For more essential information on how to ensure your safari experience is a carefree and comfortable one,
read this blog
for answers to some of the most frequently asked questions about safaris in Kenya and beyond, throughout Africa.
Calvin Cottar is Director and Owner at Cottar's 1920s Safaris. Cottar's 1920s Safaris is an award-winning luxury 1920s safari camp and private bush villa located in the famous 'seventh' natural wonder of the world, the Maasai Mara in Kenya, and owned and managed by the oldest established and continuing safari family in Africa.
If you would like to be a guest blogger on A Luxury Travel Blog in order to raise your profile, please contact us.
Did you enjoy this article?
Receive similar content direct to your inbox.