Thanks to its location on the mid-Atlantic ridge where tectonic plates diverge, Iceland is famous for its geothermal energy and is home to not only volcanoes, but also geysers. The most famous geothermal area in Iceland is Haukadalur Valley, which is one of only a handful of places in the world where you can see geysers. Not only that, but there are also hot springs, fumaroles and mud pots. And for those of you not familiar with all of these terms…
A hot spring, also known as a geothermal spring or sometimes even a hydrothermal spring, is simply a natural spring that emits hot water due to geothermal energy generated from below.
A geyser is a kind of hot spring in which the water reaches boiling point and periodically erupts withn a more violent discharge of water and steam.
A fumarole is an opening on the earth's surface (or any planet for that matter) where steam or volcanic gases are emitted.
A mud pot is a hot spring or fumarole where water is in short supply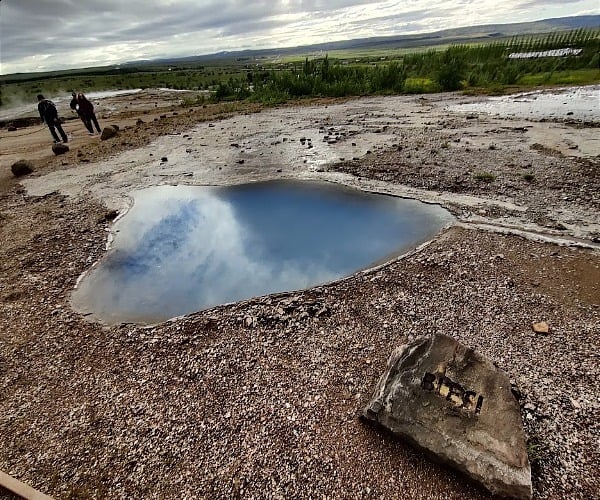 The Haukadalur Valley is easy to get to and is only a 1.5 hour drive east-northeast of Reykjavik, located on route 35 on the Golden Circle route, with parking just across the road.
Of course, it's geysers that tend to 'steal the show' and there are two of note in the Haukadalur Valley. These are Geysir and Strokkur.
Geysir
Geysir – also sometimes known as Great Geysir – is the much larger of the two, and arguably the most famous geyser in the world, but rarely active. And by that, I mean it can be years between eruptions – the last time Geysir erupted was in February 2016 but this was its first eruption since the year 2000. It does, however, mean that technically-speaking it remains active, albeit infrequent.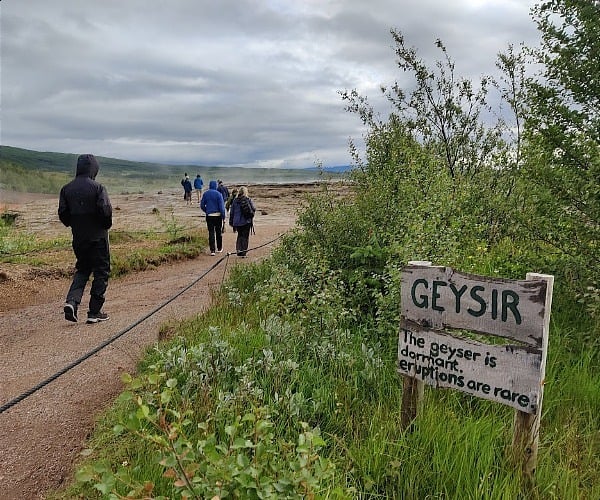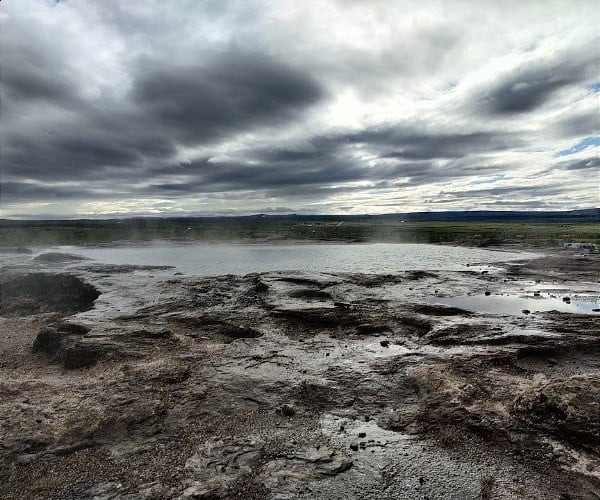 Strokkur
Just 100 metres away is Strokkur which is much more active of the two and one of the most persistent geysers in the world. It is said to erupt every 6-10 minutes. Whilst this was largely true, we found that the time between eruptions could actually be quite irregular and at one point saw around three eruptions (of varying size) in around a 1-2 minute period.
An eruption begins when a pulse of steam rising from below pushes up the water in the pool forming a large dome of water through which the steam bursts, forcing the water in the pool skywards. Here you can see the dome starting to form…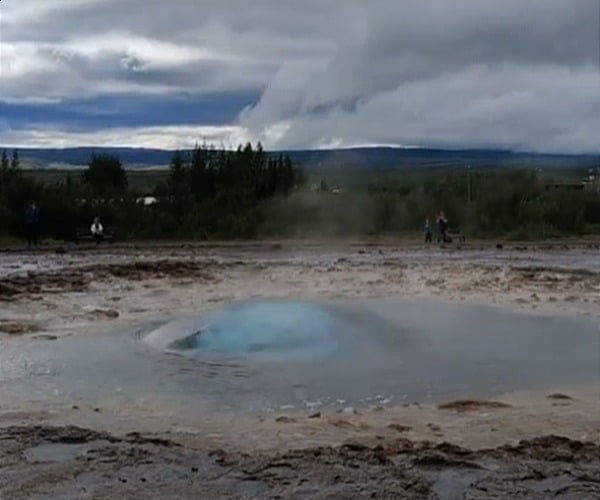 …before the 'bubble' bursts…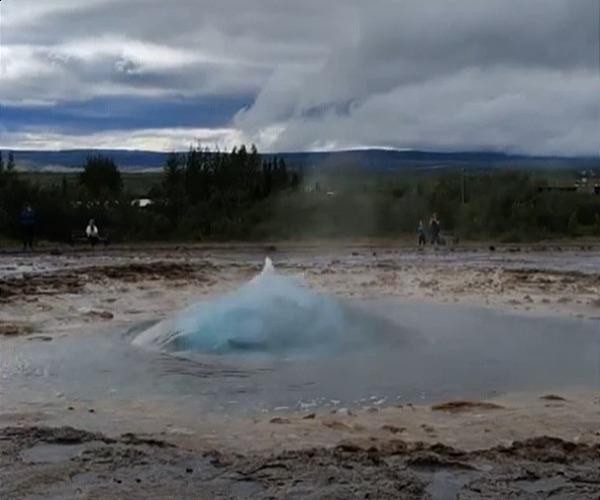 …and steam blasts upwards…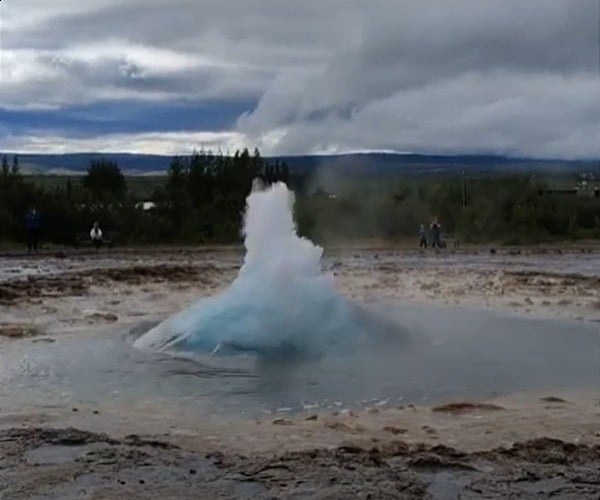 …with some force!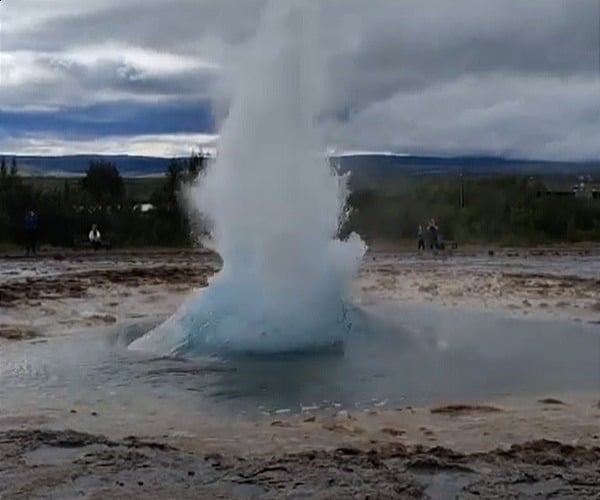 As you can see, it's quite a spectacle!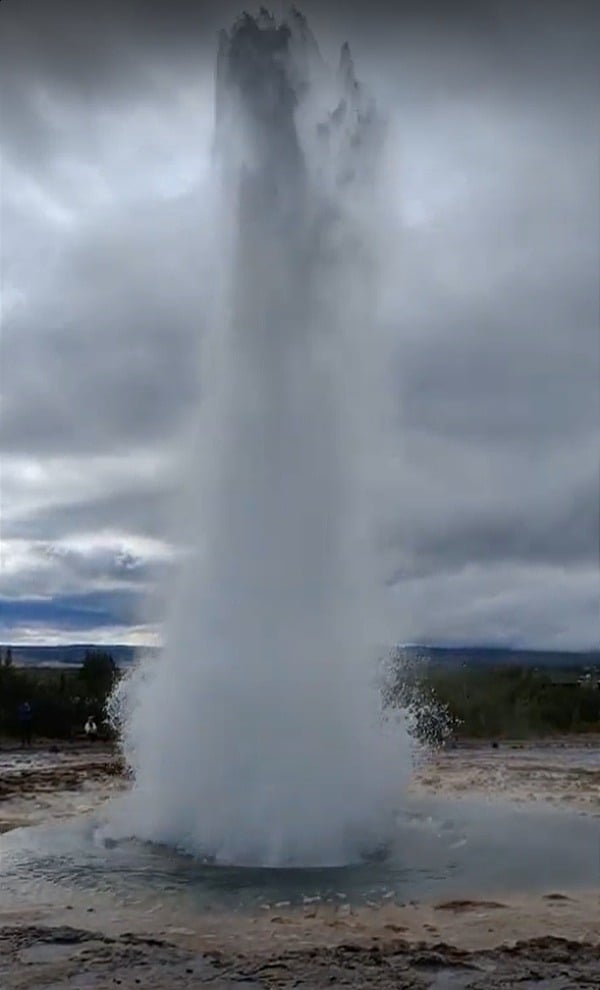 ---
IMPORTANT NOTICE:
If you are reading this article anywhere other than on A Luxury Travel Blog, then the chances are that this content has been stolen without permission.
Please make a note of the web address above and contact A Luxury Travel Blog to advise them of this issue.
Thank you for your help in combatting content theft.
---
Once you have admired both Geysir and Strokkur from ground level, you can wander along the marked paths exploring other marked hot springs before heading up a hill to admire the site from above.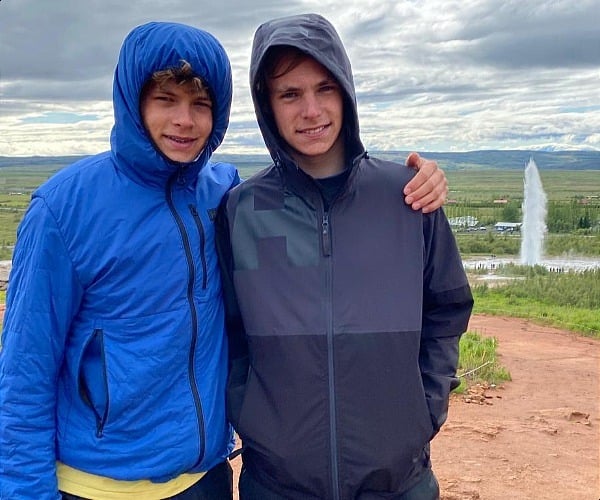 Eruptions usually reach a height of around 15-20 metres, but can be anything up to 40 metres. Back in the early 19th Century, eruptions were estimated as being as high as 60 metres.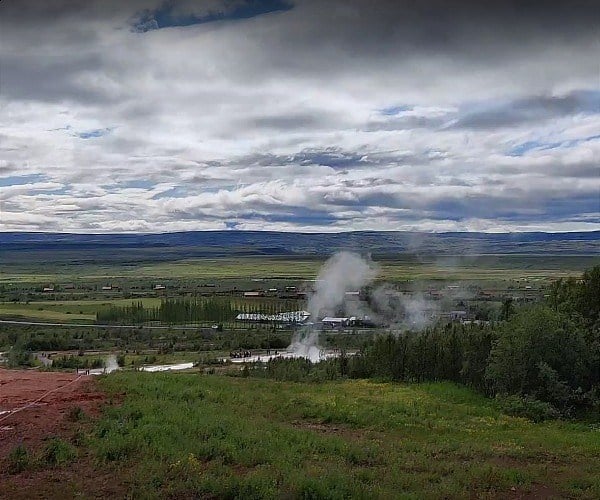 Planning a trip to Iceland yourself? You can watch a video from our trip to Iceland here. You will see footage from Strokkur and the Haukadalur Valley between 2m 12s and 2m 22s:
Disclosure: Our trip to Iceland was sponsored by Helly Hansen.