The first ever Himalayan Vegan Festival
The first ever Himalayan Vegan Festival was initially scheduled for 2021, but the global health pandemic led to postponement. Initial plans were for the festival to take place on consecutive weekends in Kathmandu, Nepal and Thimpu, Bhutan, but due to ongoing travel restrictions in Bhutan the decision was made for Nepal to host both weekends. So after more than two years of planning, postponements and rescheduling, the Himalayan Vegan Festival finally took place over two weekends in Kathmandu and Pokhara in Nepal.
The list of speakers was impressive and included Dr Susianto Tseng, the President of World Vegan Organisation, and Maneka Sanjay Gandhi, Indian parliamentarian and founder of People for Animals. We were truly honoured to be featured alongside so many experts in their field who had travelled from around the world to share their knowledge and experiences. The list of esteemed speakers also included a trio of plant based food innovators, Seth Tibbott, the vegan food pioneer and founder of Tofurky, Derek Sarno, vegan chef and co-founder of Wicked Kitchen, and Abishek Sinha, CEO and co-founder of GoodDot, the leading plant based meat producers in India.
Also present and speaking at the festival were Ken Spector from HappyCow, the go-to website for vegans worldwide, award winning conservationist and founder of Save Elephant Foundation and Elephant Nature Park in Thailand, Lek Chaillert, and Dr Harsha Atmakuri, the director of Maa Ka Doodh, a ground breaking documentary which exposes the dairy industry in India. The chance to attend the world premier whilst in Kathmandu was an opportunity we didn't want to miss, along with other delegates we packed out a local theatre to watch this challenging and thought provoking documentary.
Having worked throughout the region, supporting hotels, resorts and restaurants in their efforts to embrace the fast growing demand for vegan and plant based food, I was invited to lead a series of talks and workshops with guests and hospitality professionals attending the festival.
Whilst in Kathmandu, festival delegates were hosted by The Soaltee Kathmandu who offered a perfect base for the duration of the festival. Considered to be one of the finest hotels in the city, they had previously welcomed groups, conferences and guests from around the world with a wide range of dietary requirements. They certainly embraced the vegan concept and delivered a wide array of plant based cuisine during our stay. We loved that they created a vegan counter at breakfast and we also loved the chance to eat idli every morning, the perfect start to the day.
We were made to feel very welcome by Ms Pratiksha and Mr Sharma during our stay at The Soaltee, we enjoyed talking to them about future plans to offer more vegan food, and they also invited me to a special vegan lunch prepared by Chef Vinay Singh. Having the chance to enjoy a true taste of his culinary creations was a highlight of our time at The Soaltee, the momos were divine and the pea and potato cakes served with a trio of chutneys certainly hit the spot too.
When they contacted us after the Himalayan Vegan Festival with the exciting news that they were hosting their own 10 day vegan festival to coincide with World Vegan Day we were over the moon. We can't wait to have the opportunity to return to Kathmandu and see how they've continued to develop their plant based offering at The Soaltee.
Pokhara had lots to live up to as a host city after the excitement of Kathmandu, but they had an ace up their sleeve. The simply mesmerising and ever changing lakeside and mountain vistas will live with me forever, and I'm pretty sure that the other delegates feel exactly the same. Whether during a lakeside boat trip to soak up the sunset, or an early morning ride on the Annapurna Cable Car to admire the views with fellow delegates including Yukari and Priyanka, everywhere you look in Pokhara will make you feel alive, we are excited to return and explore the area further.
---
IMPORTANT NOTICE:
If you are reading this article anywhere other than on A Luxury Travel Blog, then the chances are that this content has been stolen without permission.
Please make a note of the web address above and contact A Luxury Travel Blog to advise them of this issue.
Thank you for your help in combatting content theft.
---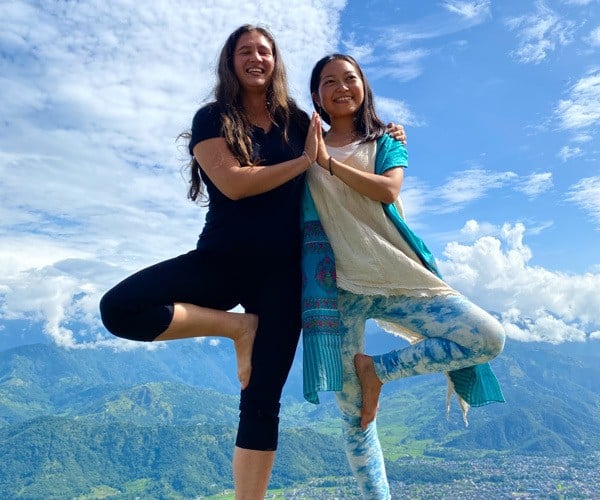 Also being well versed at hosting large and diverse groups, the excellent Pokhara Grande was our home during the festival weekend in Pokhara. They excelled themselves by ensuring that the festival delegates were not only welcomed with that famed Nepalese hospitality, but the executive chef and his team worked tirelessly to create delicious vegan food including vegan croissants for breakfast! It's not every day that we get to eat vegan croissants so we certainly made the most of the opportunity. Our breakfasts at Pokhara Grande also featured regional favourites such as dosa and idli which always make us happy. Other meals saw us enjoy a wide and varied selection of vegan curries and stir fries, meaning that going hungry during our time at Pokhara Grande was never going to happen.
The festival wouldn't have happened without the generous sponsors that included the award winning Vegan Travel Asia who are the leading vegan tour operators in the region. Offering small group tours that support communities whilst respecting the environment, it's no surprise that they were recently the winners of 'Asia's Responsible Travel Award' at the World Travel Awards for the second consecutive year. We've been working with them to create vegan tours in Cambodia which launched in December 2022, whilst in October they led the first ever vegan trek to Everest Base Camp, supported by vegan mountaineer Kuntal Joisher, the first vegan to summit Mount Everest.

The first ever Himalayan Vegan Festival was an incredible experience and we were blessed to have the opportunity to be involved and meet so many inspiring vegans from around the world. For anyone considering a vegan travel adventure to Nepal, then we are sure that any time spent in both Kathmandu and Pokhara will deliver on so many levels, they were the perfect host cities. This was our first glimpse as to what Nepal has to offer, and we are excited to continue our own vegan travel adventure to Nepal in the very near future.
Paul Eyers is Founder of Vegan Food Quest. Vegan Food Quest have become luxury vegan travel specialists as they continue to find, eat and write about the best vegan food in the world.
If you would like to be a guest blogger on A Luxury Travel Blog in order to raise your profile, please contact us.
Did you enjoy this article?
Receive similar content direct to your inbox.