What do Belvedere Palace, the Opera Ball and Europe's largest music festival have in common? A milestone birthday in 2023!
Austria has plenty to offer in 2023! From its legendary skiing races to Belvedere's 300th birthday, the 150th anniversary of the Vienna World's Fair and Europe's largest free music festival, the Donauinselfest in Vienna, which turns 40 this year – check out the 2023 highlights below.
Sports
The Skiing World Cup 2023 is in full swing with all eyes on Kitzbühel (20-22 January) and Schladming (24 January) for the Hahnenkamm and Planai night race, while St. Anton am Arlberg hosted the women's downhill race and Super-G (14-15 January) and the FIS Alpine Junior World Ski Championships (16-25 January). And let's not forget about the Ski Flying World cup at Klum, Styria (28-21 January).
But it's not all about winter sports! Innsbruck-Stubai is getting ready for the World Mountain and Trail Running Championships (6-10 June). The sporty event, the highlight of a 10-day-festival held in some of the most scenic places in the Alps, will see athletes from around the world compete in four different categories: vertical, trail short, trail long, and mountain classic. Fans can watch the competitions and take part in trail running workshops.
Traditional balls
The 80th Vienna Philharmonic Ball takes place on 19 January turning the Musikverein into Vienna's most elegant ballroom for one night. It's beloved among fans of classical music and one of the highlights of the Viennese ball season every ear.
2023 marks the 65th anniversary of the legendary Vienna Opera Ball. The event on 16 February will see 5,000 guests – including many international state guests – dancing the night away at the State Opera. This year's motto is "Solidarity", with a small part of the ticket price going to charity.
Arts and exhibitions
In 2023, Vienna celebrates the 150th anniversary of the 1873 Vienna World's Fair with a number of special exhibitions. The marathon kicks off on 2 May with "Women at Work – 150 Years of the Women's Pavilion of the Vienna World's Fair" at the Vienna Museum of Technology (TMW) followed by an exhibition on J. & L. Lobmeyr, the traditional Viennese manufactory for crystal glass and chandeliers, which was part of the World's Fair in 1873 and celebrates its 200th anniversary in 2023, at MAK – Museum of Applied Arts (from 7 June) and an exhibition about Orientalism in the 19th century (from 21 June).
Vienna's Belvedere Palace turns 300 this year and marks the occasion with several new exhibitions. Among the highlights: "Klimt. Inspired by Van Gogh, Rodin, Matisse…" about Klimt's artistic heroes at the Lower Belvedere (from 3 February) and "On the New. A diverse range of fifty artists and twenty project spaces" about Vienna's current art scene (starting on 6 April at Belvedere 21).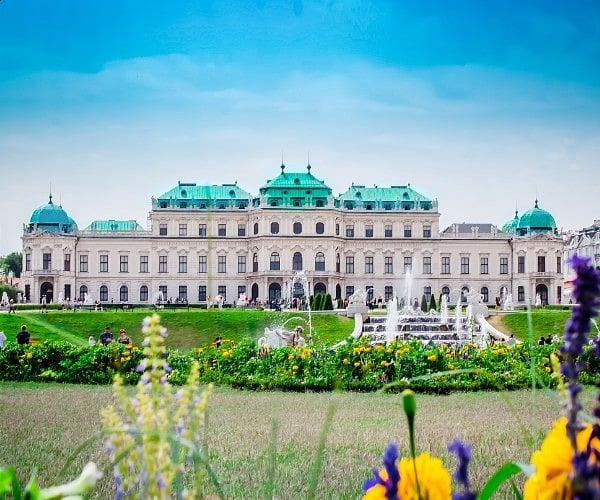 The Musiktheater Linz, one of the most modern opera houses in Europe, celebrates its 10th birthday with a mix of operas, musicals, and plays.
Music festivals
Europe's largest free music festival, Vienna's Donauinselfest (Danube Island Festival), celebrates its 40th anniversary from 23-25 June. The XXL event will see the artificial Danube Island turn into an open-air party zone for three full days, with numerous national and international music acts (line-up to be announced in spring) on eleven stages. In 2022, more than 2,5 million people attended the festival.
Linz meanwhile has a brand-new music festival called Lido Sounds right at the Danube, which is bound to be an instant crowd-pleaser. Expect two stages, more than 30 acts and 30.000 fans from 16-18 June. Florence + the Machine and German punk band Die Toten Hosen are headlining.