Most people who visit India carry an itinerary in their hand. These itineraries usually list the most well-known places to visit in India. But what if you have already visited these places? Maybe you are someone who is looking for a little adventure and wants to explore the more unexplored parts of the country. Here are seven lesser known monuments in India that you should consider visiting today.
1. Chand Baori Step Well, Abhaneri
A beautiful step well, tucked away in a village called Abhaneri, this destination is situated in Rajasthan. If you visit this step well, you'll find that it's around 30m deep. This makes it both one of the largest as well as one of the deepest step wells located within India.
2. Belur & Halebidu, Karnataka
This destination is situated in Karnataka. Belur is a town that you will find within the southern state of Karnataka. Here, you will find a renowned temple that's dedicated to Vishnu. Belur also has buildings reminiscent of Hoysala architecture. There's also a large temple that has survived from the 14th century, where you can find vestiges of the tradition of the Karnataka-Dravidians.
Halebid is situated in the Hassan District of Karnataka. It used to be known as Dwarasamudra and was the capital of the Hoysala empire in the early 11th century. In the 14th century, the Delhi Sultanate looted this region, after which it became known as Halebidu. Here you'll find some of the best examples of Jain and Hindu temples. Traditional Hindu artwork also thrives here. The Hindu and Jain traditions can blend here, with Hindu temples having Jain reliefs. Jains too incorporate Hinduism in their tradition. Visiting the Hoysaleshwara Temple is a must, if you're visiting Halebidu
3. Kanch Mahal, Sikandara
The Kanch Mahal is situated close to the tomb of Akbar, in Sikandara. The architectural style showcased here is very typical of those found during the Mughal periods. The Kanch Mahal is shaped like a square. Originally, there was a garden that circled this building. There were water courses making their way through the garden as well.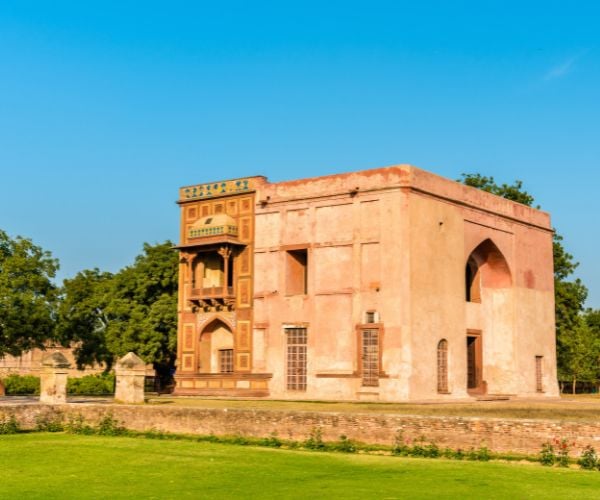 The Kanch Mahal used to be a resort for the ladies. But it was also a hunting lodge used by Jahangir, the emperor. It was he who built this beautiful structure. According to historians, this structure was built between 1605 and 1619.
4. Bada Bagh, Jaisalmer
Also known as Barabagh, this is a garden complex that can he found around six kilometers to the north of Jaisalmer, within the state of Rajasthan. The Bada Bagh overlooks a luscious grove of mangoes. The Maharajas who built the Bada Bagh also created cenotaphs that can still be seen today. On these cenotaphs, you'll find information not just on the Maharajas of the region, but also their families.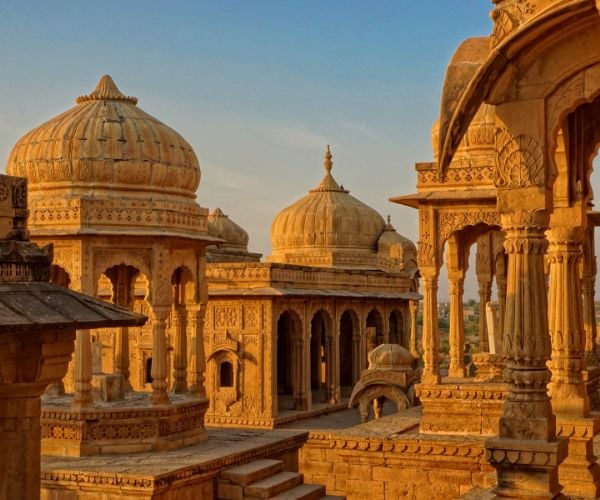 The construction of the Bada Bagh is said to have taken place in the 18th, 19th as well as the 20th centuries.
---
IMPORTANT NOTICE:
If you are reading this article anywhere other than on A Luxury Travel Blog, then the chances are that this content has been stolen without permission.
Please make a note of the web address above and contact A Luxury Travel Blog to advise them of this issue.
Thank you for your help in combatting content theft.
---
5. Basgo Monastery, Leh
This destination is also known as Basgo, or Basgo Gompa. The Basgo Monastery is located in the Leh District of Ladakh. Originally, this monastery was built for Namgyal rulers in 1680. It used to be a political and cultural center of Ladakh.
In the 15th century, a palace would be built in Basgo. The Basgo Monastery can be found on the top of a hill. This hill looks over the ancient town ruins, and you can find a Buddha statue as well as murals here. The temples you'll find here include the Chamba Lakhang, the Chamchung, as well as the Serzang temples. These are dedicated to Maitreya Buddha.
6. Marble Palace, Kolkata
The Marble Palace is a large palatial mansion that was built during the 18th century, situated in North Kolkata. It's known for being one of the best preserved historical houses that you can find in the region. The Marble Palace is famous for having marble floors and walls, which is where it gets its name from.
There are several lesser known places that you can explore in India, even if you've visited the country before. Learn more about Indian history and immerse yourself in local cultures, by visiting the seven destinations mentioned in this guide.
Jay Kajaria is Founder of Bespoke India Holidays. Bespoke India Holidays is an award-winning company that specialises in creating luxury trips to India and the subcontinent.
If you would like to be a guest blogger on A Luxury Travel Blog in order to raise your profile, please contact us.