Home > Travel Guides > Morocco Travel Guide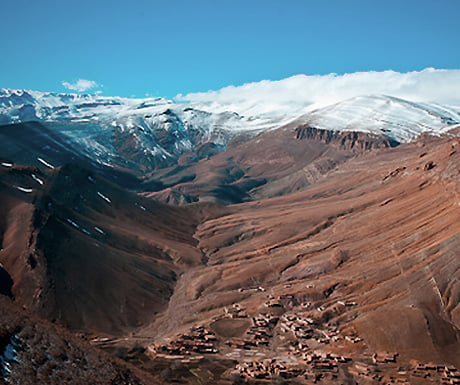 LUXURY TRAVEL
Morocco Travel Guide
Morocco is a gateway to Africa which has enticed visitors for centuries. From the glistening Mediterranean in the north to the towering Atlas Mountains in its core, this is a land of contrasts, where ancient ways of life mix with modern luxury, fantastic food and welcoming people.
Introduction to Morocco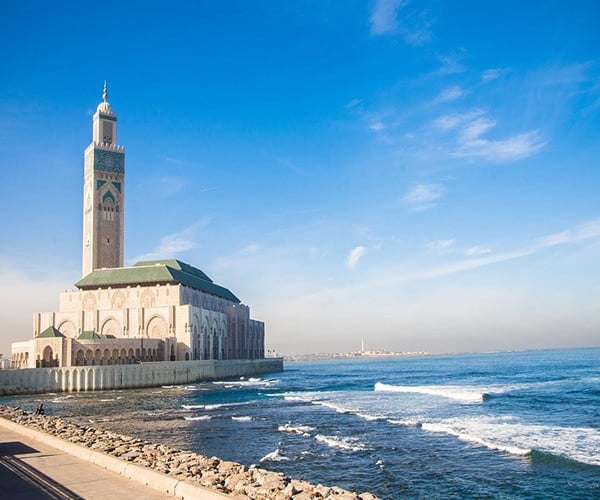 Taking its place at the north west corner of Africa, Morocco is an interesting meeting point with Europe. It is perhaps one of the easiest ways to experience Africa, thanks to its tourist-friendly nature, easy access by air and sea, and good selection of resorts, hotels and sights to see.
But this really is true Africa. It is a country of ancient walled cities, minarets, maze-like souks, vast sandy deserts and heat.
The northern shore of Morocco is within sight of the coast of Spain and the Rock of Gibraltar. Then, along its western edge the wild Atlantic Ocean beats the shore and sunny beaches. The southern portion of the country is, however, a landscape occupied by the Atlas Mountains, where civilization is sparse and adventure awaits.
While Morocco has many familiar cities, like Agadir, Casablanca, Rabat and Tangier, it is cities like Marrakech, Fes and Essaouira which draw the largest crowds thanks to their visitor-friendly charm and good supply of things to see and do and agreeable places to stay.
Wherever you go, you will find beautiful architecture and traditional Africa mixed with the French and Spanish cultures which have long influenced Morocco.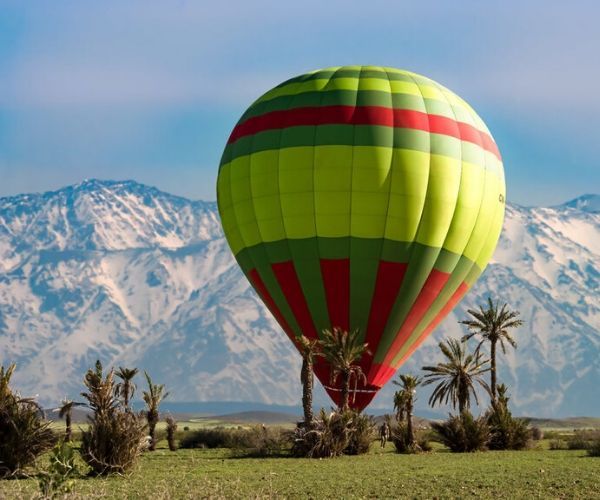 History of Morocco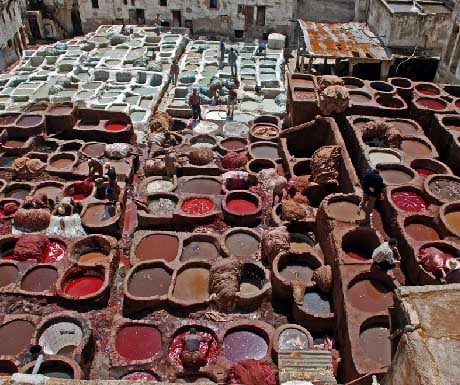 In keeping with the history of Africa as a whole, the area of land occupied today by Morocco has a history of human habitation going back hundreds of thousands of years.
Its fertile lands and coastlines were a welcome oasis from the deserts further inland, and so attracted early humans.
Early settlements were established by the Phoenicians who were well established in the Mediterranean region around 600 BC, and Morocco was later added to the empire of Carthage. It was established as an independent country around 225 BC.
The arrival of the Romans in 33 BC brought Morocco (known as Mauretania at the time) under the control of Rome. The Mauretanian capital of Volubilis near Mekenes grew under Roman rule, and its ruins can still be visited today.
The Berbers managed to re-take control of much of the country in the 3rd century AD, leaving the Romans to occupy just a few coastal cities. These northern regions were further established under Byzantine control, seeing cities like Tangier fortified. But in the middle of the 7th century Islam reached the region and it was annexed as part of the Muslim part of North Africa previously part of the Eastern Roman Empire. The Berbers accepted Islam, but retained a lot of their customs.
As the centuries progressed, Morocco's sphere of influence spread much wider. Various Berber dynasties gained power, and Morocco spread into southern Spain, Portgual and across much of North Africa. This lasted until the 15th century, when Muslim rule was ended in the Iberian peninsula.
The influence of today's ruling Alaouite dynasty began in 1631, but during the 20th century Morocco was to experience life as a colony of both France and Spain. The country became a protectorate of France in 1912, while Spain became protector of the Mediterranean coast and Saharan region. It led to thousands of people moving to Morocco and taking over large tracts of land, while the Sultan was exiled.
Yet Morocco yearned for independence and at times violence and riots erupted. Negotiations eventually led to the return of Sultan Mohammed V in 1955, with independence regained the following year.
Where to stay in Morocco
Morocco is a land of contrasts, from ancient cities and narrow streets to beach resorts, searing deserts and high mountain ranges. Choosing where to stay will take some careful planning, but the decision can be made easier if you have a plan in mind.
The most visited city in Morocco is Marrakech. This ancient city has many tourist attractions, great hotels, restaurants, a traditional souk and entertaining nightlife. It is also easy to reach, and centrally-located meaning you can easily take day trips to other regions while using it as a base.
The other popular, but smaller, city is Fez. This ancient capital is picture-perfect and full of smells, sounds and colours evocative of North Africa. Its architecture is some of the best in the country, and the hotels, street food and attractions are among the country's best.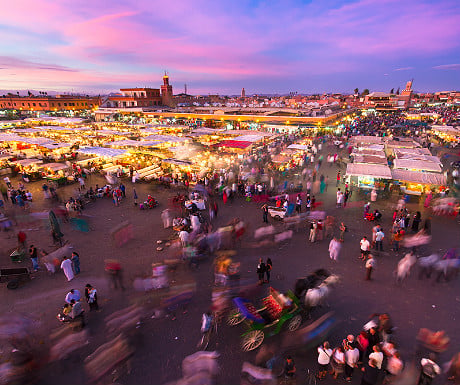 The large cities of Casablanca, Tangier and Rabat all have sights to explore, fine hotels and eating options, but are not as popular among visitors to Morocco.
Along Morocco's west coast are the Atlantic beach resorts towns. Essaouira has all you'd expect from the country, like a medina and traditional architecture, but it feels more European and has many beach resorts to enjoy.
Similarly, Agadir is more modern than much of the rest of Morocco. But it has a fantastic beach setting with many relaxing resorts to enjoy.
Then there's the mountains and deserts of inland, southern Morocco. This region is home to the mountain Berber tribes and their traditional culture which can be seen and experienced in villages all over the rocky and sandy landscape. A good place to base yourself is at Ouarzazate, a town with good hotels and amenities, and which is closer to the mountains than Marrakech. The High Atlas is a UNESCO World Heritage region where you'll see mud buildings, old souks and wonderful vistas. It's easiest to visit as part of a day tour, but you can stay in the many desert and mountain accommodation options to enjoy the region to its best.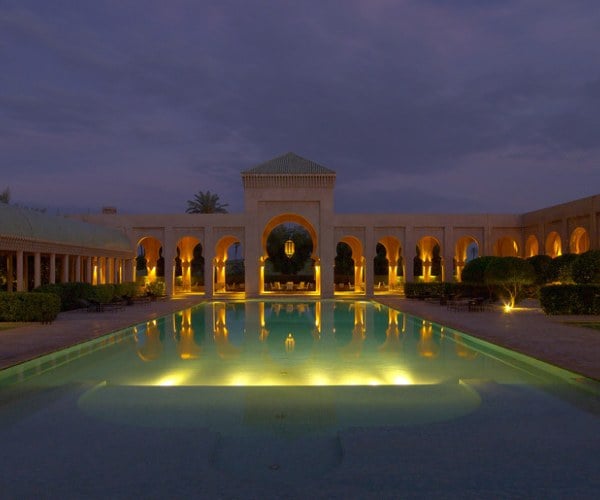 Accommodation in Morocco
Most of these riads are privately operated by locals or expats, and have nothing to do with the big chain hotel brands. But they have been beautifully styled, mixing traditional Moroccan décor that you'd find in a home with all the luxury elements of a top hotel, like elegant ensuites, rooftop pools, garden rooms, giant beds, WiFi and wonderful service.
All cities feature these riads, and they're never very big so you should book well in advance if you find one that attracts. We recommend the following:
In Marrakech the 18th century Riad Kniza has suites and a restaurant with views of the mountains. Riyad el Cadi is family friendly, with chic décor and traditional breakfasts. The romantic Riad de Tarabel has colonial French décor, with antiques in each room and is situated right in the medina, meanwhile Dar Les Cigognes has an award-winning restaurant, offers cooking classes and have an amazing terrace.
In Fez, Dar Seffarine is a 600-year-old boutique hotel in the medina with traditional architecture, while Riad Anata is something completely different, with party-style roof terrace and jazz music playing. Riad Dar Bensouda is a pared back seventeenth century house riad offering a spa, while Karawan Riad is like stepping into a Sultan's palace and is certainly one of the most luxurious in the country.
There are, of course, big hotels in all the main cities and tourist areas, and they all take on the style and beauty of Morocco. Some of the best include the Fairmont Royal Palm in Marrakech, the Four Seasons resorts in both Casablanca and Marrakech, the Sofitel in Casablanca with its wonderful views, the Marriot Hotel Jnan Palace in Fes, and the Sofitel Jardin Des Roses in Rabat.
There are many great resorts in Morocco, too. These can be found in all the major cities, as well as along the cost and in the desert and mountains. Each offers a retreat where you can enjoy spas, comfortable rooms, restaurants and the chance to tour local attractions.
Try Le Médina Essaouira Hotel Thalassa Sea & Spa, or Agadir's Paradis Plage Resort or Royal Atlas & Spa, all with beach settings and the chance to enjoy watersports, local tours, or just sitting by the pool.
In the Atlas Mountains there are resorts like Richard Branson's Kasbah Tamadot, or the Kasbah Hotel Ziz Palace Rissani. At the Desert Heart Luxury Camp you can enjoy sunrises and sunsets over the mountains from the garden terrace, eat under the stars, and stay in a traditional tent with the benefit of a private bathroom and professional staff.
The town of Ouarzazate is a good base for exploring the High Atlas. Dar Ahlam is a luxury retreat in the town with suites, villas, hammam spa, pool and the chance to join tours and outdoor activities in the region.
Places to visit in Morocco
Morocco can be a delight to the senses in many ways, and it is so easy to reach and enjoy. Only 20 miles from mainland Europe, the country blends the culture, sights, sounds and smells of North Africa with the familiarity and accessibility you'd expect of a more developed nation.
Many of Morocco's most visited and popular places can be found in Marrakech. This inland walled city has a history dating back centuries as a Berber stronghold. Today it retains much of that sense of history and charm, with a skyline full of minarets (and none so iconic or tall as the 12th century Koutoubia), as well as palaces, gardens and the labyrinthine souk at the heart of its ancient medina.
At its heart is the Jemaa el-Fnaa, a UNESCO World Heritage site and probably the best known and busiest square in Africa. Long a place of public events, trading and entertainment, it has become a symbol of the city and Morocco as a whole. Tourists flock here every day to be entertained by snake charmers, magicians, acrobats and to buy from the markets. By night it transforms into a carnival of light, sound and the smells of food stalls. All around it are cafes with terraces from which a great vantage point can be found to take in this spectacle.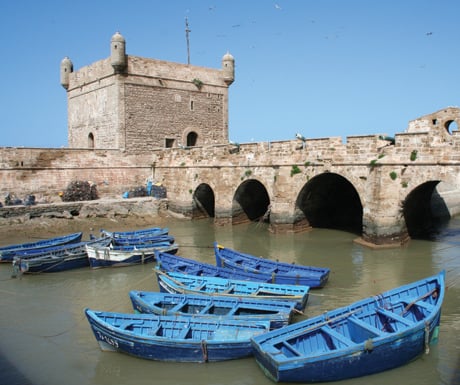 Marrakech is also a place where you'll find museums, historic palaces and city walls to explore. The Menara gardens to the west of the city date from the 1130s, while the Majorelle Gardens were restored by Yves Saint Laurent in the 1980s.
Not far from the Jemaa el-Fnaa is the medieval souk which winds its way through the historic medina. Canopies overhead add to the mystery and loss of orientation as you meander past stalls and shops with vast arrays of wares from food to carpets, with sellers vying for your attention. It is a generally safe place to be, and fun to haggle over a souvenir to take home.
These souks can be found in towns all over Morocco, including Fez, Agadir, Essaouira and the many Berber villages of the mountains where leather, carpets and food products are sold.
Fez is one of Morocco's most beautiful cities. It is a cultural city surrounded by mountains, and traditionally on the trans-Sahara trade routes. At its heart is the walled old city with two medinas, and outside is the newer French colonial part of town. Fez has one of the world's oldest continually functioning universities, and many very historic mosques.
From Fez it is easy to visit the ancient ruined city of Volubilis where Moorish architecture sits alongside Roman ruins in one of Morocco's most culturally important sites. Tours and day trips can be arranged to visit.
Casablanca is Morocco's largest city and its main centre of commerce, with its largest port and airport. It is also a city synonymous with modern culture in Morocco, as well as sports and music. Of course, it is the namesake of the 1942 Hollywood film, which draws many tourists as a result, even though it wasn't filmed in the city.
However, Casablanca is not the capital of Morocco. That honour goes to Rabat, a city further up the coast. Traditionally a port and centre of industry and international embassies, Rabat has a growing presence as a tourist destination and boasts many parks, historic buildings a marina, royal residences and coastal views.
To enjoy Morocco's coast to the full, there are resorts in the south around the towns of Essaouira and Agadir, itself a major city. In these areas there are miles of golden beaches, fantastic surf, golf courses and fine resort hotels.
Stretching across the southern portion of Morocco are the Atlas Mountains, a range capped by Mount Toubkal – the highest peak in North Africa at 4,167m. This range stretches from the coast all the way across into neighbouring countries and can be seen (and easily visited) from Marrakech. Their often snow-capped summits belie the fact that this is the Sahara Desert, and yet below you'll often find lush green valleys. This region is littered with Berber communities and villages, and it's a great place to go hiking, mountain climbing, camel riding or offroading. There are ski resorts like Oukaïmeden in the High Atlas region, and an ever-growing number of desert oasis resorts, spas and luxury camps are appearing offering a retreat for world-weary tourists.
If your plan is to visit Morocco on a day or weekend trip from Spain, you main port of call will be Tangier, on the northern coast, where ferries arrive. It has beautiful historic architecture, an ancient kasbah, Grand Mosque and some great shopping, walking areas and places to eat.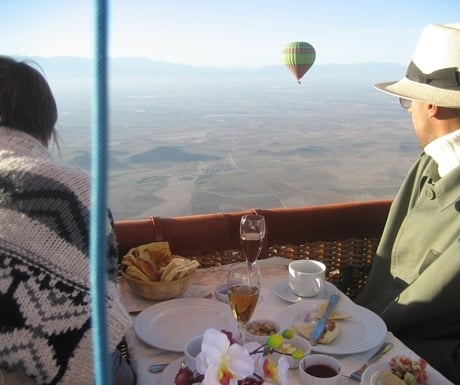 Things to do in Morocco
When in any of Morocco's main visitor-friendly cities, like Marrakech, Fez, Essaouria, Agadir or Tangier, the first and most important thing to do is take a walk around the historic medina. This melting pot of African and Arabian culture and centuries-old ways of life is everything you need to feel truly a part of this great country and its history. It doesn't matter if you don't buy anything, but wander the souks, look at the produce, haggle with the sellers and, for a moment, get lost in the labyrinth taking in the sights and sounds.
When you emerge, chances are you'll need a rest, both from the sensual overload and the heat. In most medinas you'll find cafes serving mint tea, often with a rooftop terrace or outdoor seating from where you can observe your surroundings. This is another essential part of any visit to Morocco.
All major cities in Morocco and the hotels, resorts or riads you stay in are well-equipped to organize tours of the country's important sites. Or you could organize them yourself using a grand taxi or local guide. Day trips are a popular way of seeing some of the country's most historic areas or enjoying outdoor activities.
Popular trips from Marrakech include visits to the Atlas Mountains where ancient Berber villages cling to rocky valleys and traditional ways of life still prevail. The Atlas are also where you can enjoy offroading, camel rides and hiking from the Kasbah du Toubkal.
From Fez you can take tours to Chefchaouen, known as the blue city, or the ancient ruins at Volubilis.
A dedicated trip to the Atlas Mountains (or Rif Mountains in the north) give more opportunities to enjoy the outdoors. In the winter, there are skiing opportunities at various places in the Atlas range).
In all major cities around Morocco there are historic buildings like palaces to forts to explore. Many are now museums and open to enjoy, telling their history and revealing their architecture.
Morocco is also a place to relax and enjoy its hospitality. Many hotels, from tiny hostels and riads to large resorts offer terraces, pools, hammam spas, luxury rooms and wonderful restaurants to make your stay as comfortable and enjoyable as possible.
Food in Morocco
One of the delights of Morocco is its cuisine. Many traditional dishes which have become popular in recent years have their origins here, including couscous and tagines. Visiting the country, you'll find these and many more wonderful dishes being made everywhere, from street vendors to top restaurants, with delicious flavour and fresh ingredients.
The style of food found in Morocco is usually slightly spicy, with North African ingredients like olives, olives, lemons, chilli, lamb and chicken.
But you can also expect other influences from Morocco's surroundings. Flavours from southern Spain are common, as are French dishes passed down from years of colonialism. And in the west and north of the country the influence of the sea introduces plenty of seafood dishes.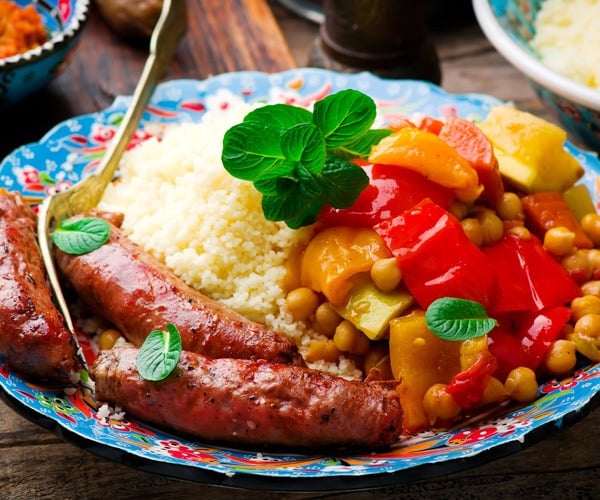 When in Morocco you should try:

Tagine – a spicy dish of lamb or chicken made in a clay cooking pot, and served in the street, at cafes or in restaurants. A tasty staple of Moroccan life.
Harira Soup – Another dish eaten by locals, made with lamb, chickpeas, tomatoes and lentils. Often eaten with a chebakkiya pretzel, it is a tasty and filling dish.
Couscous – Often used to accompany stews or tagines, couscous is served everywhere in Morocco. This fine wheat pasta is often made by hand, and served in mounds, with vegetables and a side serving of sauce or buttermilk.
Sardines – Popular along the coastal areas, Morocco is the world's largest exporter of sardines and they are available as tasty snacks everywhere, usually coated with spices.
B'stilla – In Fez this traditional pie is seen as the finest cuisine. Filled with pigeon meat, almonds, eggs and flavoured with saffron, cinnamon and coriander, it is a curious mix of sweet and savoury loved by locals and visitors alike.
Alcohol is available in Morocco and served in most hotels and riads. However, being a majority Muslim country, the locals do not drink it or sell it in many shops. What you will find the locals drinking is mint tea. Served from the kind of teapot you expect a genie to emerge from, this warm and refreshing drink is best tried with generous amounts of sugar. You will be offered this drink wherever you go, and should try it for a true taste of Morocco.
Finding the best places to eat in Morocco is no easy task as great food is served everywhere. In places like Marrakech, the rooftop terraces throughout the medina and around the Djemaa el Fna are usually all great, with a view to match. The Grand Café de la Poste is a colonial French brasserie which often has a waiting list, while the Terrace des Epices serves traditional cuisine close to the souk. Chez Chegrouni also has a terrace with front-row views of the carnival that is the Djemaa el Fna below.
There are a couple of Michelin star restaurants to try in Marrakech, including Al Fassia and La Grande Table Marocaine with its elegant dining room.
In Fez The Ruined Garden has an outdoor terrace, or indoor dining room, serving Moroccan and Mediterranean dishes, while the Darori Resto is hidden in the heart of the medina and situated behind an unassuming door in a traditional house, but serves some of the city's best local food. Made in M is a pretty café to enjoy a mint tea or tagine away from the bustle of the souk.
Getting around Morocco
Morocco is served by international airports at Casablanca, Agadir, Marrakech, Fez, Rabat, Tangier, Essaouira and Nador. Most are only served by a few routes, with Casablanca and Marrakech receiving the most international services and busier schedules.
You can also reach Morocco by ferry from various points in southern Spain, France and Gibraltar. The shortest crossing is from Algeceiras to Tangier.
There are main rail lines running from both Tangier and Oujda to Marrakech, with regional services linking to Casablanca Airport, Safi and other towns. New high speed rail lines are currently under construction. You can buy tickets at the station, unless it's a sleeper service which should be booked in advance.
While both local and long distance bus routes are widespread, it is often more comfortable and just as affordable to use taxis or private tours to get where you need to go. Taxi drivers, particularly in tourist areas, have a decent command of English and can be arranged by your hotel. A shared grand taxi is also a good way of covering larger distances, usually in a people carrier or van, and these can usually be arranged for day trips by either your hotel or a tour organization. Often they run regularly on popular routes throughout the day.
Rental cars can be hired at airports, or via your hotel, and are a good way of travelling around the country. But beware that some roads in remoter regions are rough and the rules of the road are not always observed. You should ensure your hire comes with adequate insurance for scratches and stone chips.
When to visit Morocco
Morocco is a country which occupies part of the Sahara Desert and can experience a very hot and dry climate in the height of summer. In fact, you can expect sun and pleasant weather all year round, but at night the desert can become very cold.
The best time of year to visit for more manageable heat is in the spring and autumn, such as April, May, September and October. During these months you can expect pleasant weather.
In the winter the weather is still warm enough during the day to enjoy being outside, but at night it can be cold and some more traditional hotels don't usually have heating.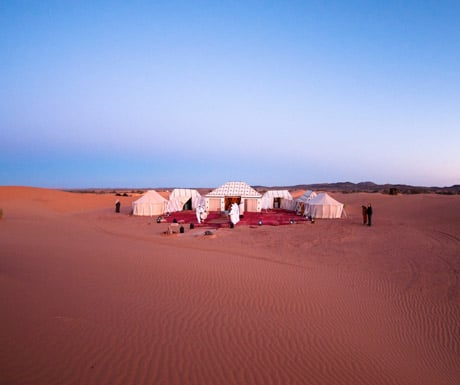 There are many cultural events and festivals held throughout the year in Morocco, but Ramadan is the one which is most likely to affect tourists. Since many cafes, bars and shops close during this time and locals can become edgy or tired during the day through lack of food, it is not the best time to visit. Ramadan happens in the ninth month of the Islamic calendar. You will not be expected to observe Ramadan as a non-Muslim and food is still available to visitors, but you should respect the fast by not eating or smoking in public where possible.
Events in Morocco
Here is a comprehensive list of public holidays and festivals in Morocco.
January
10th – Festival of Ashura, Nationwide
February
Moussem Festival, Nationwide
March
Tafraoute Almond Tree Festival, South Atlas
Marrakech Biennale Art Festival
April
Jardin'art Festival, Marrakech
Marathon des Sables, Sahara Desert
Sufi Music & Cultural Festival, Fez

May
Gnawa Festival of World Music, Eassaouira
Kalaat Mgouna Rose Festival
June
Sefrou Cherry Festival
Fez Festival of World Sacred Music
Gnaoua and World Music Festival, Essaouira
Marrakech du Rire Comedy Festival
July
30th – Feast of the Throne National Holiday
National Festival of Popular Arts of Marrakech
Timitar Music Festival, Agadir
August
Tafraoute Summer Music Festival
Moussem Moulay Abdellah Amghar, El Jadida
September
Tanjazz Festival, Tangier

October
Date Festival, Erfoud
November
18th – Independence Day, Nationwide

December
Marrakech International Film Festival
New Year's Eve and Yennayer
Luxury travel tips
Luxury in Morocco is never far away. Even the smallest of hotels in the ancient medinas can offer luxury accommodation and amenities like pools, quality restaurants and service.
There are also many resorts throughout the country operating to the highest standards, from the beaches in the west to the High Atlas and Sahara Desert in the east. The majority are found in or near Marrakech.
Hammans are very popular in Morocco. Traditionally used as a place to bathe, there are fewer public ones available now, but many hotels and even small riads offer them where you can enjoy this cleansing spa ritual in private. La Sultana in Marrakech is considered the most exquisite of all.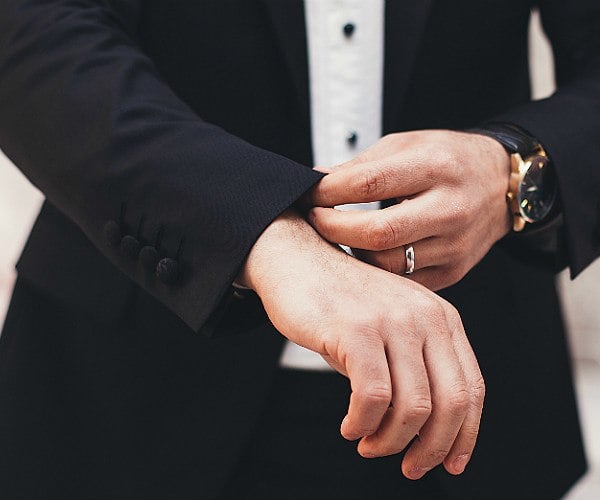 While much has been said of the experience of shopping in the souks of Morocco, there are also luxury and designer shopping areas to enjoy. In Marrakech you'll find boutique fashion and jewelry shops generally away from the medina, while in Casablanca the Morocco Mall has designer stores and fashion brands.
Probably the most lavish of hotels in Morocco are those which reside in palatial buildings, like Royal Mansour in Marrakech where personal butlers see to your every need in this medina within the medina. In Fez, the Art Deco styled 17th century Palais Amani has courtyards, suites and a hammam away from it all.
For a luxury way of seeing Morocco, you can book a private tour – either as a day trip from your base, or to see the best the country has to offer. You can often tailor the itinerary to include your preferred sights and experiences, and you can guarantee the best in accommodation, drivers and transport. Organisations like Sun Trails offer such experiences.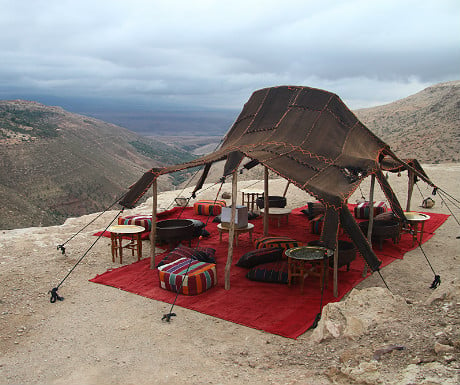 Language and culture
The main languages spoken in Morocco are Arabic, Spanish and French, with the traditional Berber language also spoken widely. English is understood and spoken in many places, particularly where tourists visit, and among the young who learn the language.
This is a Muslim country and this plays an important part of daily life for many. You will hear the call to prayer being broadcast throughout the day from the minarets of mosques in all villages, towns and cities. Its people are fairly easy going, but you should respect their beliefs. Avoid wearing revealing clothing, and be mindful of the Ramadan period.
Morocco has a monarchy, with an elected parliament. It is seen as a stable and safe country to visit. You should, however, always exercise caution when out and about as petty crime like pickpocketing and scams aimed at tourists can happen.
Useful phrases
Hello – As-salaam Alaykum
And unto you peace – Walaykum As-salaam (said in response to the above)
Hi – Salam
Goodbye – Beslama
Good morning – Sbah el kheyr
Yes – Iyah
No – La
How are you? – Labas?
Good – Mezya
Please – Afak
Thank you – Shokran
You're welcome – Al 'afw
Sorry – Smahli
English – Ingles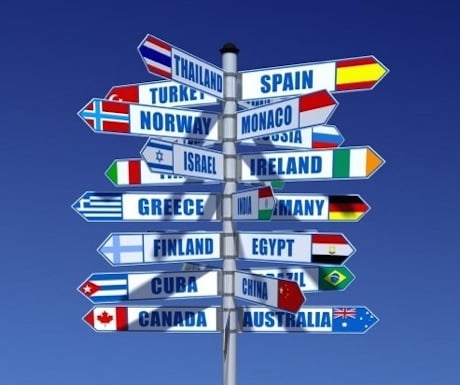 Weather in Morocco
Visiting Morocco soon? See below for the latest weather forecast for Morocco.
MOROCCO WEATHER
Useful information
Timezone
UTC + 1 West European Summer Time
Currency
Morocco's currency is the Moroccan dirham. See www.xe.com for current exchange rates with the British Pound, Euro and the American Dollar.
Power
The California operates on 220V / 50Hz system and has two-pin plug sockets accepting type C or E plugs. Appliances with a voltage of 220-240V can be used here with the correct adapter. UK appliances would need a standard European two-pin to three-pin adapter.
Tipping
There is no set rule for tipping in Morocco. Most people will leave a few dirhams after a meal or waitress service. In tourist areas it's common to add a 10% service charge to your bill, in which case a tip is not necessary. Tip taxi drivers by rounding up to the nearest 5 dirhams. Hotel staff, including cleaners, appreciate a tip for good service.
Telecommunications
Mobile coverage in Morocco is excellent in all but the most remote regions. You can connect to the networks, provided by Méditel, Maroc Telecom and Inwi using European and UK mobiles. To avoid roaming charges you can buy a local SIM card if your phone has been unlocked. They are available from news stands and kiosks, supermarkets and convenience stores, usually for around $10 or 100 dirhams.
WiFi
Free Wifi can be found in many places in Morocco, including most hotels, cafes, restaurants, larger shops, airports, bus and train stations.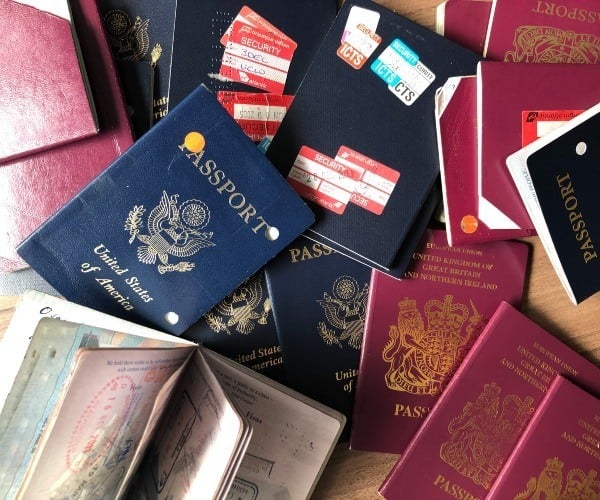 Want to contribute to our travel guides? Please contact us for details…