New York City Travel Guide
Home > Travel Guides > USA > New York City Travel Guide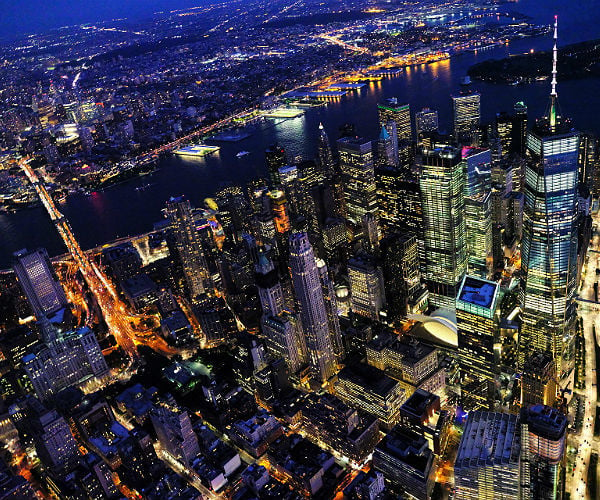 LUXURY TRAVEL
New York City Travel Guide
Come to New York City for one of the world's greatest travel experiences. From famous historical buildings, to arguably the best shopping, dining and entertainment options anywhere in America.
Introduction to New York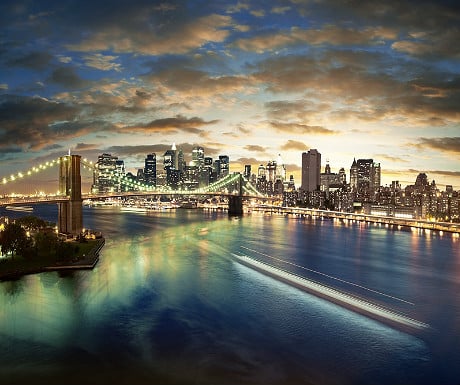 Locals in New York can easily spot a first-time visitor, for they spend their time staring up as the walk. This huge city is a sight to behold, and so tall it is hard to comprehend.
Yet New York is also a place to enjoy a quiet luxury break in a grand hotel or boutique accommodation, taking a walk in Central Park or a romantic meal in a family-run restaurant.
The first time visitor should of course take in the sights – the buildings, bridges, Times Square and the Statue of Liberty. But keep coming back and the layers of New York city and all it has to offer will keep peeling away to reveal more.
New York City is a metropolis of over 8 million inhabitants. It is one of America's oldest cities, and it has established itself as both a major financial and commercial hub, as well as a tourist and entertainment centre which continues to attract visitors from all over the world every year.
New York sits at the top of a natural harbour, where the Hudson River and East River meet, with Long Island stretching off to its east. It is made up of five boroughs – Brooklyn, The Bronx, Manhattan, Queens and Staten Island, each with their own character.
Much of what you imagine of New York – the skyscrapers, Central Park, Broadway – is on Manhattan. But the surrounding boroughs have their own attractions and are continuing to emerge as go-to places for visitors, whether to sample their food or witness their character, buildings and history.
Manhattan
The focal point of New York is the 13 mile long, 2.5 mile wide island which is the vibrant hub of the city. It is where you'll find the familiar landmarks, like the Empire State Building, Central Park, Wall Street and Broadway.
Manhattan is densely populated and a centre for commerce and business. But most tourists choose to focus their stay here thanks to the many hotels and attractions located on the island. Its grid-like pattern of streets transition from well-known neighbourhoods, like the Financial District at its lower tip, through SoHo, TriBeCa, Greenwich Village, Chinatown, the Lower East Side, Midtown, all the way up to Harlem.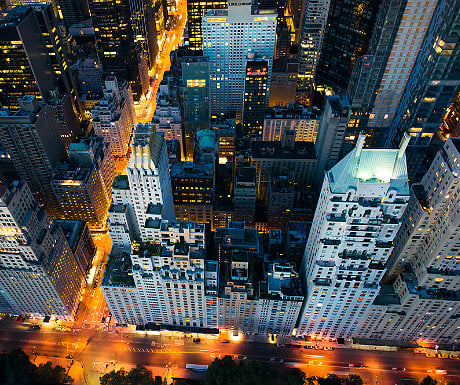 All north-south roads are 'avenues', and increase from east to west. So the easternmost, alongside the East River, is First Avenue, while the westernmost, alongside the Hudson River, is 12th Avenue.
Some roads, like Broadway and Fifth Avenue, do not conform to the grid pattern, while others like Madisson Ave sneak in amongst the numbers. Also note that in Alphabet City, the streets are named Avenue A, B, C, D and E.
Brooklyn
Brooklyn is the borough located at the western end of Long Island, directly across from Lower Manhattan. It is directly connected via the famous Brooklyn Bridge, as well as tunnels and other bridges.
Here over 2 million people live in this largely residential zone of the city. It was for many years seen as a less desirable neighbourhood, but in the past decade has become one of the go-to places thanks to its popularity among start-ups, technical firms, and the ever-present hipsters. Its housing has seen a dramatic shift in value as people flock to move there.
The Bronx
Situated off the northern shore of Manhattan, and bordering Queens, The Bronx is known for its mix of migrant populations who traditional settled there after arriving in America. Thus, it is a mix of ethnicities and cultures today, and one of the more affordable parts of the city to live in.
The Bronx is home to some of New York's most famous sights, like Yankee Stadium and Bronx Zoo.
Queens
Queens is the largest of New York's boroughs and stretches across much of western Long Island, surrounding Brooklyn and across the East River from northern Manhattan. It is home to both LaGuardia and JFK airports.
The highlights of Queens include Flushing Meadows Park, Citi Field where the Mets baseball team play, and the Billie Jean King National Tennis Center where the US Open is held.
Staten Island
The most remote borough of New York is Staten Island, to the south west of the city at the entrance to New York Harbor. It is closely linked to New Jersey, and the Verrazzano-Narrows Bridge famously links it to Brooklyn. The Staten Island Ferry sails back and forth all day and night, linking it with Lower Manhattan.
Less frequented by visitors to New York, Staten Island is actually a lovely haven and the least densely populated of the city's boroughs. It has many parks and historic buildings to explore, like the 25-acre Richmond Town where 15 buildings have been restored as a living museum. Staten Island Zoo is a popular family attraction, and the many museums occupying historic mansions and other buildings hark back to a lost way of life in New York.
History of New York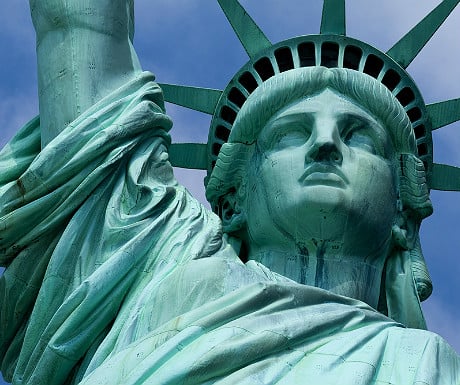 The island of Manhattan centuries ago was a remote and rocky area inhabited by local Native American tribes like the Lenape. The region was discovered in 1524, and settled by the Dutch in 1624 when a trading post was established at the southern tip of the island. It was called New Amsterdam.
As the settlement grew, buildings improved and a defensive wall was built roughly where Wall Street is today. Further settlements were established on Staten Island and what would become The Bronx.
The English attacked and took over New Amsterdam in 1664 and again in 1674, renaming it New York after the Duke of York. The city continued to grow, rising from 5,000 in 1700 to 60,000 in 1800. It established new industries like milling and shipbuilding, and trade links were established with Britain. They maintained their command of New York until 1783 when the American Revolution concluded with George Washington taking his oath in the city shortly after the British troops left.
New York grew rapidly, expanding throughout neighbouring boroughs, and across Manhattan Island, where a familiar grid pattern of streets was eventually established. And of course, the city continued to grow upwards.
It became a symbol of a new life, and millions of immigrants arrived in America through the city's facility on Ellis Island, sailing past the Statue of Liberty – that symbol of freedom installed in New York Harbor in 1886.
New York has not been without its dark days. Many fires swept through the early city, wiping out buildings and lives, and riots have occasionally been a source of civil unrest. In September 2001, the city was rocked by the destruction of the Twin Towers – its two tallest buildings – by terrorists in hijacked airliners.
But New York has always risen from its ashes. It is one of the world's most visited and celebrated cities, with so much to see and so much history in its streets despite the walls of glass and modernity all around.
Where to stay in New York
The easiest and most common place to stay in New York is in Manhattan. But there is so much choice that some recommendations are necessary.
Most tourists choose Midtown. This has the most chain and budget hotels, as well as some luxury options like Hotel Elycee, Lotte New York Palace and Baccarat Hotel. The benefit of this area is its proximity to the main attractions – Times Square, Broadway theatres, Central Park, Rockefeller Center, the Empire State Building and shopping along Fifth Avenue are all within easy walking distance.
A little further north, the area around the south of Central Park is known for its quality hotels. New York landmarks like The Plaza, Park Lane Hotel and Le Meridien are all located here and perfect for the open spaces and opportunities to enjoy the park.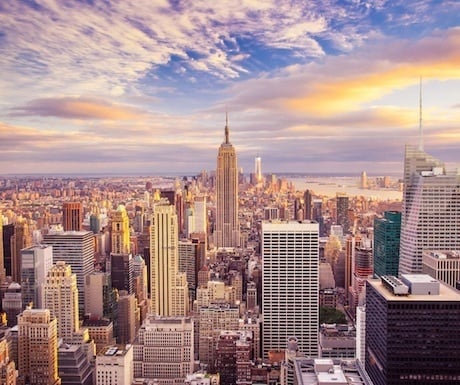 Moving south the concentration of hotels is not as dense, but in Lower Manhattan and surrounding areas you'll find some excellent hotels like the Four Seasons, The Greenwich Hotel and The Bowery.
Other boroughs should not be forgotten as they each have notable hotels. Their drawback is not being as close to Manhattan's attractions, but don't let this put you off great luxury and boutique stays in Brooklyn, Queens and Staten Island.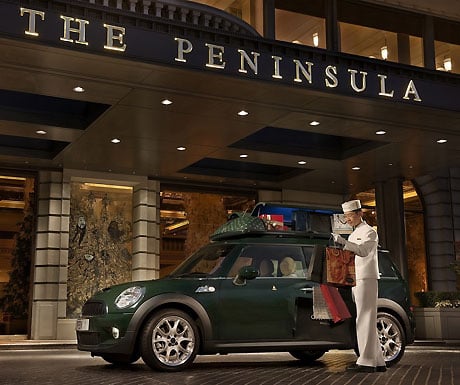 Accommodation in NYC
With a decision over which part of New York City to stay, there is also the important choice over which hotel or accommodation to pick.
The big name luxury hotels in New York are longstanding institutions which continue to raise the bar in terms of quality, style, amenities and service. The Plaza, Trump International, the Waldorf Astoria and The Peninsula are well known and offer great comfort and service.
But a new breed of luxury hotels in New York are making a mark among discerning travellers. They include the Baccarat Hotel & Residences, the Conrad New York, The Beekman and The Pierre. Each of these establishments treat guests to stylish décor, gyms, spas and incredible dining.
New York offers many boutique hotels, nestled away in quiet corners or even in convenient places close to the big attractions. The Refinery Hotel on 38th St has a family feel and rooftop bar, while the Crosby Street Hotel in SoHo is a unique, class, apartment-like space with a designer interior. Duane Street Hotel in Tribeca has European style and a perfect restaurant, while The Whitby is like an art gallery, with individually decorated rooms and two upscale restaurants.
As an alternative to hotels, New York offers numerous serviced and private apartment giving you city loft living spaces or traditional brownstone house accommodation with plenty of room to make your own when staying in the city. These can be found in all districts of the city.
Places to visit in NYC
First stop for any visit to New York is Manhattan. This densely populated island at the heart of the city is where all of its main attractions and landmarks are located, and it's the most convenient place to stay.
Manhattan is split into districts, each with its own places to see. Most popular is Midtown, where you'll find famous sights like the neon-lit Times Square. This open space is close to some of the city's biggest stores, Broadway theatres, well-known eateries and evening entertainment. Midtown has many hotels and it's not too far away from other attractions like the Empire State Building, Macey's, Bryant Park and Grand Central Station.
Also a short walk away is Rockefeller Centre where you can ascend to the 'Top of the Rock' for amazing views of the city, shop in its designer boutiques, take in a show at Radio City Music Hall, or skate around the Christmas tree in the winter months.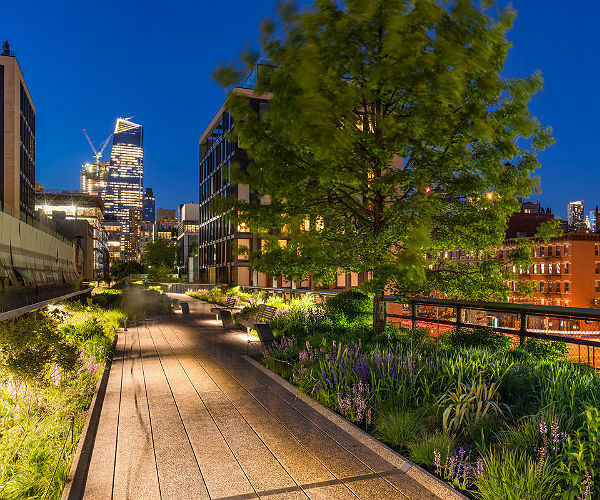 To the north you'll find the expansive Central Park – one of the world's largest city parks, stretching 2.5 miles from 59th St to 110th St. Bordered all around by luxury apartments and hotels, inside the park it is an oasis of calm in this exhilarating city. You'll also find some of New York's best museums alongside Central Park.
Lower Manhattan also has plenty of places to visit. Greenwich Village is a bohemian residential area with quirky cafes, restaurants and bars, while Little Italy and Chinatown offer some of the best ethnic food in the city.
Further south the financial district emerges, but it's not all business. The new One World Trade Center is a majestic skyscraper built alongside the footprints of the Twin Towers lost in 2001, where people gather to remember the tragedy and visit the 9/11 Museum.
At the southern short is Battery Park with glittering views of the skyscrapers behind, and the chance to take a boat over to the Statue of Liberty just off shore, or the free Staten Island Ferry to see the quiet district of New York with its heritage buildings.
On the eastern shore the Brooklyn Bridge is a masterpiece of design and links Manhattan with the reformed downtown of Brooklyn. There are parks, great views of Manhattan, hipster cafes and boutique hotels.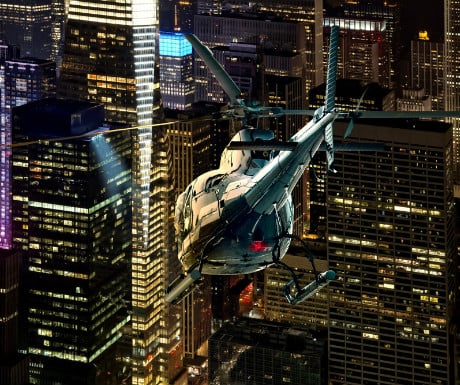 Things to do in New York
New York is a city with it all. World famous sights, internationally important museums and galleries, some of the world's best shopping, dining and theatre, outdoor spaces to relax or exercise, and nightlife of every variety imaginable.
New York's top visitor attractions should be seen to be believed. They include the Empire State Building, One World Trade Center and the 9/11 Memorial & Museum, neon-lit Times Square, Rockefeller Center and the Top of the Rock, Central Park, the New York Public Library, the Statue of Liberty and Ellis Island.
Then there are New York's famous museums and galleries. Around Central Park are the American Museum of Natural History, the Metropolitan Museum of Art, the Guggenheim Museum and the Museum of the City of New York. Elsewhere are the Intrepid Sea, Air & Space Museum, the Tenement Museum, Whitney Museum of American Art and the National Museum of the American Indian.
In Central Park there's so much to explore. It's great to hire a bicycle or horse-drawn carriage and tour its pathways, lake, the Belvedere Castle, Strawberry Fields, and then end with a visit to its zoo.
Some of New York's quirkier attractions include the High Line – a former elevated railway line running along the west side of Manhattan. It is an oasis of greenery and walking trails with great views of the city.
For the best elevated views, observation decks at the top of One World Trade Center, the Empire State Building and Rockefeller Center literally top them all. The best (and busiest) time of day to visit is sunset to wath the city's lights turn on below.
The area around the tip of Lower Manhattan has sights such as Batter Park and is where you can take a trip across to the Statue of Liberty and the former immigration centre (now a museum) on Ellis Island.
Meanwhile, the South Street Seaport and Pier 17 on the East River is the hub of activity for river cruises and helicopter tours around the city. While there, be sure to visit the great bars, cafes and small shops along Front St, Fulton St and Beekman St.
Shopping in New York is a dream experience. Aside from landmark department stores like Macy's and Bloomingdales, the main shopping districts are along Fifth Avenue in Midtown where the likes of Tiffany & Co, Louis Vuitton, Armani, Prada and Gucci can be found. Other notable shopping districts include Union Square, SoHo, Greenwich Village, and the Brookfield Place shopping mall near One World Trade Center.
Most of New York's most famous sights are located on Manhattan Island. Venturing further afield, attractions include both the Bronx Zoo and Staten Island Zoo, both larger than the one in Central Park. Sports fans should take in a Mets baseball game at Citi Field in Queens, or a Yankees game at Yankee Stadium in the Bronx.
Also in Staten Island, various museums rekindle life in the 19th century set in original houses and buildings from the period, like The Seguine Mansion, the National Lighthouse Museum or the Richmond Town living museum.
When night draws in, New York turns into a city of entertainment. The Broadway theater district occupies the area around Times Square with its big musical productions. Off- and Off-off-Broadway theatres put on more independent shows in other parts of the city.
Food in New York
Food of every style and cuisine can be found in New York. It is a city where even street food vendors are considered good eating, and you shouldn't go wrong with whatever taste you prefer.
There are, however, some particular dishes and styles that New York is known for and should be sought out. These come from the many influences of the people who came to live here, including the Italian, Asian and Jewish populations.
First, the Waldorf Salad is a home-grown dish, first created at the Waldorf-Astoria hotel in 1894. It is still served there today.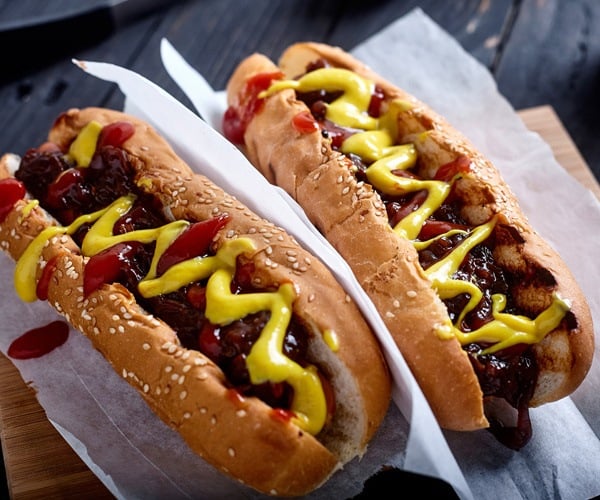 No visit is complete without an authentic New York-style pizza. Usually thin-crust and sold in slices, it traditionally has a simple cheese-and-tomato topping, but many others can be found. The most famous place to eat a slice is Di Fara Pizza in Brooklyn or celeb-favourite Lucali in Carroll Gardens.
The same can be said of a New York Hot Dog. While every street cart sells these handy snacks, the truly perfect version must be eaten at Gray's Papaya on 8th Ave or 72nd St, where the dogs are crispy on the outside and topped with delicious onions. The place where an outdoor hot dog is essential is on the boardwalk near Coney Island.
The New York Cheesecake is another food institution. You've probably eaten its imitations all over the world, but here, in institutions like Junior's near Times Square, it tastes like no other and has a mouthwatering array of flavours to choose from.
Grand Central Station has one of the world's classiest food courts in its basement. But while here you should visit the Oyster Bar which serves many varieties – none finer than the Blue Point from Long Island Sound.
When it comes to fine dining, New York has no shortage of some of the world's best restaurants. Highly recommended are Le Bernardin on 51st St, Raoul's in SoHo, Loring Place on 8th St, Sushi Nakazawa on Commerce St, or 3 Michelin starred Eleven Madison Park which serves up to ten courses per meal.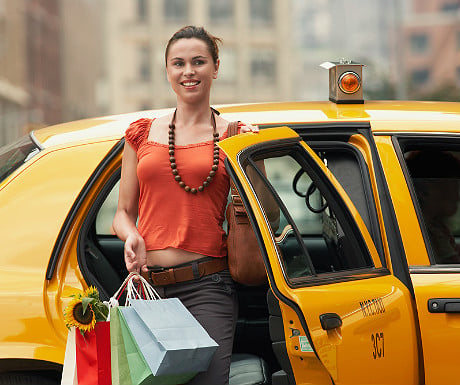 Getting around NYC
As one of the earliest metropolitan areas in America, New York City has one of the oldest and most comprehensive transport systems on earth.
New York has three main airports. JFK in Queens (on Long Island) and Newark Liberty International in New Jersey handle most international flights. Meanwhile, LaGuardia, also in Queens, acts mostly as a hub for domestic and Canadian flights. New York is also a huge port, served by many cruise lines each year.
New York has a comprehensive public and ground transport network of buses, trains and subways. However, this is not as simple as in many other large cities. Many locals and tourists prefer to take one of the ctiy's famous yellow taxi cabs, which can be found everywhere and offer direct door-to-door service.
New York's City Subway covers all of the city's boroughs with many stations and lines, and a fast and affordable service particularly around Manhattan, Brooklyn and the Bronx.
Travel to and from New York's airports is not as simple, with none on the subway network. JFK has the AirTrain rail service which links with the subway at either Howard Beach or Sutphin Boulevard – Archer Avenue. LaGuardia's nearest subway station is Astoria Blvd, which connects with local bus services.
Most passengers using JFK and LaGuardia take rapid bus services direct to Grand Central Station, or various hotels, which save awkward transfers. Newark Liberty International has an easier rail connection direct from Penn Station to the terminal.
One of the most famous transport options in New York is the Staten Island Ferry. The large yellow boats operate 24 hours a day, covering the 5 mile journey in 25 minutes from Whitehall Terminal in Lower Manhattan to St George Terminal on Staten Island. It is a free service and passes close to the Statue of Liberty.
There are many options for private transport in New York, including limousines and private taxis. The streets can be crowded with traffic at times, and sometimes a confusing mix of one-way systems, so it's always preferable to have someone else do the driving and navigating.
When to visit New York
There is no bad time to visit New York City. Its climate is comfortable year-round, with little of the extreme weather found elsewhere in the region. Summers can reach 30 degrees Celsius, and winters can be chilly with occasional periods of snow. But this just makes a visit magical.
The busiest tourist seasons in New York are June to August, and November to December, and at these times can be crowded in tourist areas like Times Square and the biggest attractions. Thanksgiving and the lead-up to Christmas can also see busy streets and shops, and higher prices.
If you can visit New York at other times, try Spring, Autumn, or even the beginning of the year when it feels like you have the city to yourself.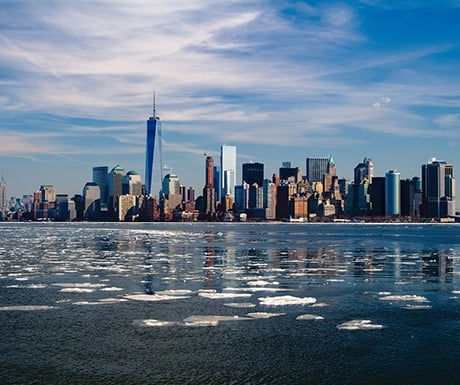 Each season in New York brings its own special events, parades, celebrations and fun. From the parades of Summer to the Fall leaves in Central Park, Halloween and Thanksgiving Parades, and one of the world's biggest New Year parties in Times Square.
Events in New York
Spain has the highest number of public holidays in Europe. Here is a comprehensive list of public holidays and festivals.
January
New York Boat Show, Jacob K. Javits Convention Center
NYC Must-See Week (discount museum entries)
NYC Broadway Week (discount shows)
NYC Restaurant Week (discount meals)
February
Lunar New Year Parade & Festival – Chinatown, Flushing, Sunset Park
New York Fashion Week
The Art Show, Park Avenue Armory
March
St. Patrick's Day Parade – New York City
The Big East Men's Basketball Championship,
Madison Square Garden
Macy's Flower Show
April
Mets and Yankies Season Openers – Queens & Bronx
Easter Parade and Easter Bonnet Festival, Fifth Avenue
Cherry Blossom Festival, Brooklyn Botanic Garden
May
TD Five Boro Bike Tour
Ninth Avenue International Food Festival, Hell's Kitchen
Shakespeare In The Park, Central Park
June
Tribeca Film Festival
Pride Week
NY Philharmonic Concerts in the Park, Central Park
July
Macy's Fourth of July Fireworks
Broadway in Bryant Park
NYC Restaurant Week (discount meals)
Harlem Week (through August)
August
New York International Auto Show, Jacob K. Javits Convention Center
US Open Tennis Championships (through September)
September
New York Fashion Week
Commemorating 9/11 Events
Richmond County Fair – Staten Island
New York Film Festival (through October)
NYC Broadway Week (discount shows)
October
Archtober Architecture & Design Month
New Yorker Festival
New York Comic Con, Jacob K. Javits Convention Center
Open House New York
Village Halloween Parade, Greenwich Village
November
New York City Marathon
New York Comedy Festival
Holiday Train Show – New York Botanical Garden
Macy's Thanksgiving Day Parade
December
Rockefeller Center Tree Lighting & Ice Skating Rink
Times Square New Year's Eve
Luxury travel tips
For the ultimate luxury experience when visiting New York, you will not be disappointed for this city offers some of the best and most stylish hotels, shopping and entertainment anywhere on earth.
Begin your stay with a luxury transfer from the airport by limousine or chauffeur, arriving at a boutique hotel in Lower Manhattan, or one of the elegant and grand hotels which this city is known for.
Once settled, take a walk through the Lower East Side, or the traditional brownstones lining areas like Greenwich Village, followed by a stroll along the High Line.
When it's time for shopping, head to Madisson Avenue or Fifth Avenue to indulge in designer boutiques and jewellery stores.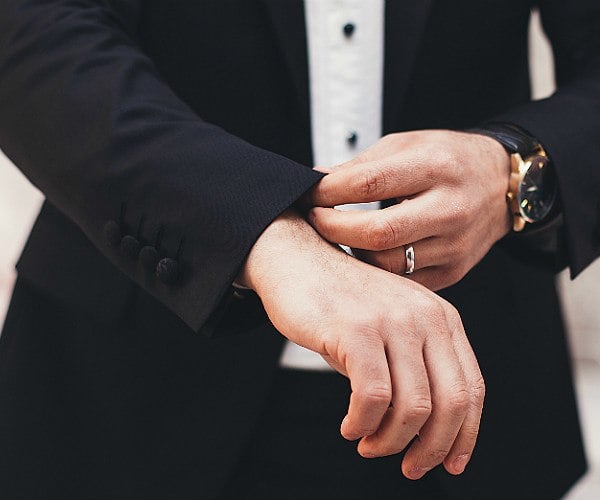 Around Central Park take a horse and carriage ride, followed by visiting the Metropolitan Museum of Art, Guggenheim Museum and the Cooper Hewitt Smithsonian Design Museum.
South Street Seaport is the place to take a helicopter tour of the city. See the top of the skyscrapers close up, and buzz the Statue of Liberty, in this exhilarating experience.
End the day with dinner at a fine restaurant like Eleven Madison Park or Little Owl (if you can get a reservation), followed by drinks on a rooftop bar like Surrey's Private Roof Garden (or Bemelmans Bar if it's cold outside).
For evening entertainment, try to get hold of tickets to see the Broadway musical Hamilton, which is still the hottest ticket in town.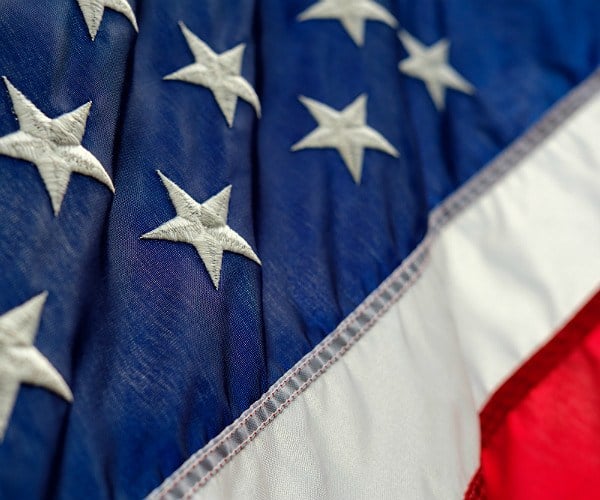 Language and culture
English is universally spoken in New York, with the distinctive local accent heard around the great city. In fact, New York City itself is a world city with hundreds of different nationalities and ethnic backgrounds among its residents, so it is natural to hear different languages and accents among its residents. Most populous around these are Spanish, Italian, Chinese, Russian, Irish and Caribbean.
The mix of cultures leads to many different styles of cuisine found around the city's restaurants. Visit Little Italy, Chinatown and Koreatown for a taste of these in particular.
Lower Manhattan, while a tourist attraction, is also the business hub of the city. Here the beating heart of the city are its offices and financial institutions.
Meanwhile, upper parts of Manhattan are known to be more laid back. The dominance of Central Park means people love to be outdoors enjoying walking, running or cycling.
Like the rest of America, the primary religion in New York is Christianity, with smaller sections of Jewish and other religions among most communities.
Useful phrases
The City – Manhattan
Pie – Pizza
Stoop – Stairs in front of apartment block
Sidewalk – Pavement
Candy – Sweets
Cell Phone – Mobile Phone
Chips – Crisps
Cookie – Biscuit
Closet – Wardrobe
Diaper – Nappy
Drugstore – Chemist/Pharmacy
Expressway/Highway – Motorway
French Fries – Chips
Gas – Petrol
Liquor Store – Off Licence
Mailbox – Post Box
Parking Lot – Car Park
Pants – Trousers
Sneakers – Trainers
Takeout – Take Away
Trunk – Boot (of car)
Vacation – Holiday
Zip Code – Post Code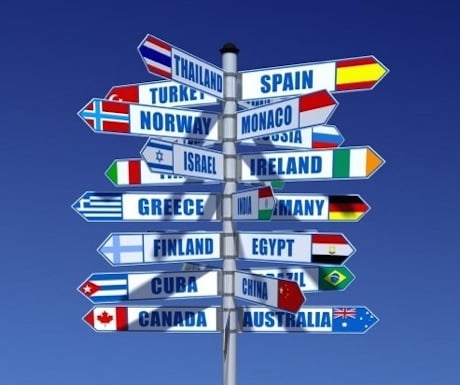 Weather in New York
Visiting NYC soon? See below for the latest weather forecast for New York City.
NEW YORK CITY WEATHER
Useful information
Timezone
UTC -5 Eastern Standard Time
UTC -4 Eastern Daylight Time (Summer)
Currency
The United States of America currency is the US Dollar. See www.xe.com for current exchange rates with the British Pound and the American Dollar.
Power
The USA operates on the 110/120 volts system and has two-pin plug sockets accepting type A or B plugs. Appliances with a voltage of 220-240V can be used here with the correct adapter. UK appliances would need a standard two-pin to three-pin adapter.
WiFi
Free Wifi can be found everywhere in New York City, including many restaurants, cafes, museums, libraries, galleries, parks, hotels and on city buses and the subway.
Tipping
Tipping is standard in all parts of the USA where many service staff rely on it to top up their income from a basic, minimum wage. You should aim to tip 15% of the bill (before tax is added) in most regions (up to 20-25%), and aim to do this in all sit-down restaurants and cafes. In bars, tip the barkeep or waiter $1-2 per round of drinks. You should also tip concierges, valets and taxi drivers a few dollars when they have helped you.
Telecommunications
Verizon, AT&T and T-Mobile are the main mobile proviers in the USA, with good coverage everywhere apart from some of the remoter regions and national parks. You should easily be able to roam with your mobile in the US if your network provider allows this. If you wish to use a US SIM card, you will need to have your phone unlocked and buy a card from an AT&T or T-Mobile store. The price of this is roughly $40 plus tax.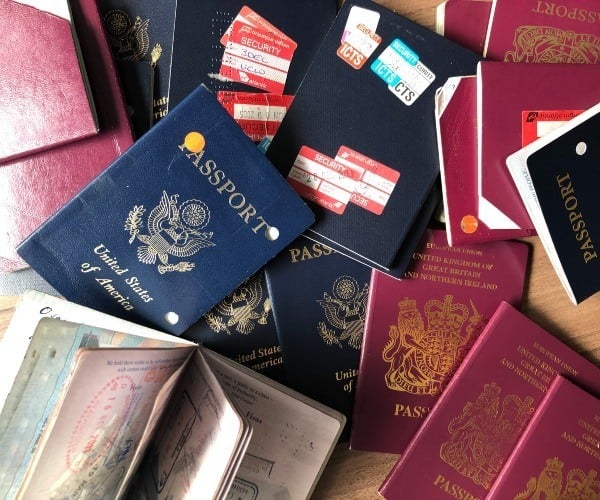 Want to contribute to our travel guides? Please contact us for details…