By
Paul Johnson
on Apr 19, 2011 in
Accommodation
,
Europe
,
Family Travel
,
Regions
,
Special Features
,
Speciality Travel
,
Travel Miscellany
,
United Kingdom
,
Vacation Rentals
,
Western Europe
Self-catering is often overlooked as a luxury option, in favour of hotels and resorts, but really it shouldn't be.  Over the last decade, the bar has risen once again when it comes to the self-catering (aka vacation rental) sector, and we are just back from a very relaxing break in the Peak District, staying at a lovely self-catering property called The Music Mill in the pretty village of Hathersage where this is perfectly exemplified.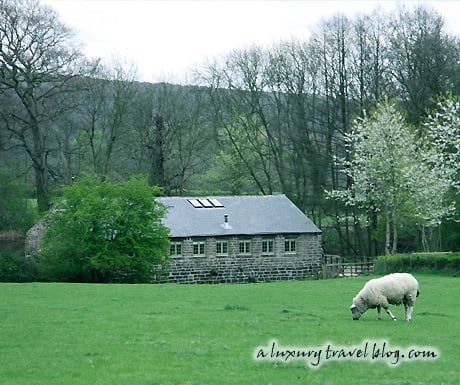 This property, once a mill and reputedly the first place in the UK to make needles for record players, has been converted into beautiful accommodation with an airy, open plan living area.  Despite sleeping 6/7 people, the dining table and well-equipped kitchen would allow you to easily entertain up to 12 guests for a meal should you have friends or family that live locally.
The accommodation has three tastefully-decorated bedrooms – two on the ground floor level and a third up a spiral staircase reclaimed from St. Pancras station.
This former mill sits next to a tributary to the River Derwent, close to an imposing viaduct and with views of open fields.  Footpaths and cycle paths abound here and you can enjoy walks from the doorstep of the property.  Our children enjoyed perfecting their cycling skills just outside the door, as trains rushed by overhead!
The property had a small area of privately-screened outdoor space where you could sit out and enjoy lunch or a glass of wine.
We were lucky with the weather and on one day walked from the property up to the famous local landmark of Stanage Edge.  Our route took us past North Lees Hall, believed to be the inspiration for Thornfield Hall in the classic Charlotte Brontë novel, Jane Eyre.
Once at Stanage Edge, our children enjoyed trying to find Robin Hood's cave, thought to be used by the man himself when hiding from the Sheriff of Nottingham. It was well hidden but, with some perseverance and a little local assistance, we got there in the end!
Other landmarks of interest in the area included Surprise View.  And a short drive away, there's lots more to see and do.  Hathersage is a great location for days out to Chatsworth, as well as being handy for Haddon Hall.  We opted for the former, taking in not only the house, but also the gardens (including the maze pictured below) and the farmyard and adventure playground.
The Music Mill is in a great location, particularly for outdoor enthusiasts, but there's also so much to see and do should the weather not be all that favourable.  The local caverns are definitely worth a visit and we ventured out to Treak Cliff Cavern which can be found at the only hill in the world where you can find Blue John.
There are also lots of interesting towns and villages to visit and explore, including Bakewell, Buxton and Matlock.
Returning to the accommodation, everything we could possibly want was to hand, from a well-equipped kitchen to books to an iPod docking station and even a Playstation. The fridge was stocked with milk and butter prior to our arrival and a Spar was just around the corner in Hathersedge should we have needed anything. There are also ample opportunities to eat out in Hathersage from simple pub food to George's which has two AA rosettes.
On our first night, the whole of Hathersage and nearby villages experienced several short powercuts.  We were very lucky – we had gone to The Scotsmans Pack pub for dinner and had ordered just in time, having been served just prior to the first power cut.  Other diners weren't so lucky and unfortunately had to be turned away.  Back at the accommodation, we made sure we had what we needed should we be faced with a night of darkness, and soon discovered two torches, and a plentiful supply of candles and matches.  As it turned out, the power was soon back on and there was no problem, but it just went to show that everything had been thought about, and nothing overlooked.
In addition to the milk and butter supplied, there was even a box of complimentary goodies, including extra virgin olive oil, coffee and tea. This all came courtesy of Sheepskin who you can book the property through.  Rates start from £813 for a 3-night stay.
Sheepskin goes the extra mile that you don't normally get when renting a self-catering property.  In addition to providing you with bathrobes, they'll even ask you what your personal interests are at the time of booking, and create a custom guide to the property and the local area that is tailored specifically to your needs.  It's that extra level of service which sets properties such as The Music Mill aside from the rest.
If you would like a special feature on A Luxury Travel Blog, please contact us.