Travel in comfort on Italy's new high-speed train
Italy's new Frecciarossa 1000 is setting the pace for the pace for high-speed trains in the 21st Century. For those who enjoy a little luxury, it has new interiors designed by Giugiaro: ergonomic leather seats in the Executive, Business and Premium coaches, as well as a tailor-made customer care service and gourmet menu by Vissani in the Executive coaches. There are also 'quiet' areas in Business and Executive coaches where it is forbidden to use mobile phones.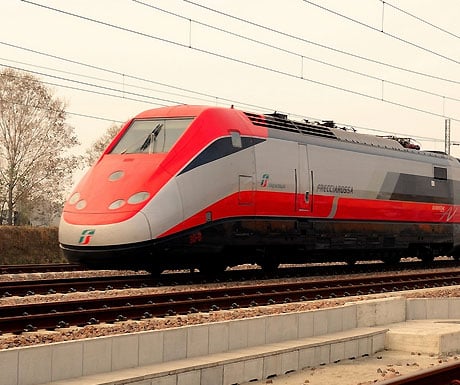 The aerodynamic design and cutting-edge energy saving solutions, besides guaranteeing unrivalled operating efficiency, enable Frecciarossa 1000 to break several records: it will be Europe's fastest ever mass-produced train, as well as the most silent one, with the fewest vibrations and the lowest environmental impact. It will also be the first entirely interoperable high-speed train in Europe and, thanks to innovative and sophisticated technical features, it will be able to cross borders and travel on all of Europe's high-speed networks (namely France,
Germany
,
Spain
, Austria,
Switzerland
,
Holland
and
Belgium
). Not only will it be fast, but it will also offer high levels of comfort. The Executive compartment will offer quality and comfort of the highest standard with its 12 single reclining and revolving seats, enabling passengers to adjust their position according to the direction of movement or create a small lounge. Instead, passengers who value relaxation and tranquillity above all can take advantage of the Silence Area in the Business compartment. In terms of Wi-Fi connectivity, Frecciarossa 1000 will be equipped with new generation IT systems and passengers will have access to new Web and multimedia technologies in real time, in any route conditions.
Did you enjoy this article?
Receive similar content direct to your inbox.