5 of the most kid-friendly airlines in the world
Have you ever felt all eyes on you – and your children – while waiting to board at the gate? The truth is your anxiety is likely warranted. As a parent, the possibility of things "going sour" during a flight are endless: delays causing snacks to run out, ear pain caused by cabin pressure, and of course, a toddler's boredom resulting in cries and tantrums. The looks from other passengers can get intimidating and even worse, unsympathetic flight staff can make one feel as if no one is on your side. It certainly doesn't need to be this way. Some airlines are known to be extremely family friendly, sometimes going above and beyond one's expectations. The five airline carriers below are equipped with compassionate staff and unique amenities giving "flying the friendly skies" a whole new meaning. It's always wise to confirm amenities and offerings with the airline prior to booking.
Air Tahiti Nui
While French Polynesia may be more of a honeymooner's paradise,
Air Tahiti Nui
makes sure that old and young alike are treated like royalty no matter their destination, whether it's Tahiti or Paris. No matter if you're flying economy or business class, Air Tahiti Nui gives their younger travelers activity backpacks to keep them entertained for the long haul. The activity packs for children include a great backpack, magnetic puzzles, regular puzzles, coloring books, crayons and a bandana. The flight crew also checks in regularly with their little passengers. For infants, a large bottle of water for making formula, a bib, a changing pad, wipes, a diaper, alcohol wipes and a rattle are provided. Even with all this, parents don't need to worry about snacks and in-flight meals as there is always something agreeable to a child's palate on Air Tahiti Nui.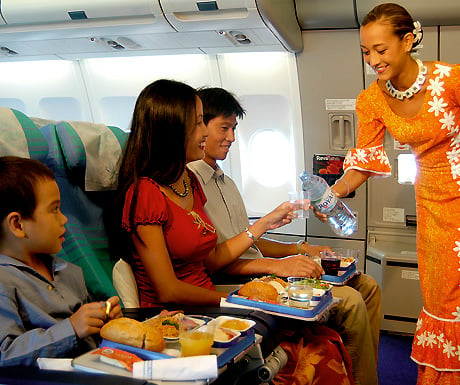 Emirates
The kid amenities start on the ground with
Emirates
. During check-in, parents are provided with Emirates strollers to wheel their tots through the airport. If you're flying business or first class, there are special play areas in the airport lounges to wheel them to! Once you're on board, the entertainment system, called ICE, has hundreds of channels, which includes new release family movies, Disney classics, audio stories and interactive games (ability to play against other passengers). This, in itself, can keep children occupied for hours on end. For infants, there are bassinets available and baby formula on board, as well as toys. The Emirates Skysurfer program enables kids ages 2-16 years old to start racking up miles, if they are frequent travelers. These miles can go towards anything from future flights to bookstore gift certificates to Wild Wadi Water Park tickets in Dubai.
British Airways
On
British Airways
, a "Feed Kids First" policy exists. This is certainly a policy that cannot be beat. Little jetsetters receive nutritious meals plated with healthy fruits and vegetables before adults, which means it buys parents some quiet time and perhaps peace during their own meals! BA is another one that provides activity packs, designed to look like Paddington Bear's well-traveled suitcase for 3-5 year olds. While most airlines allow children under the age of 2 to fly for free on your lap, British Airways takes it to the next level and gives you a free seat, as long as you bring a Britax car seat and call in advance to make this arrangement.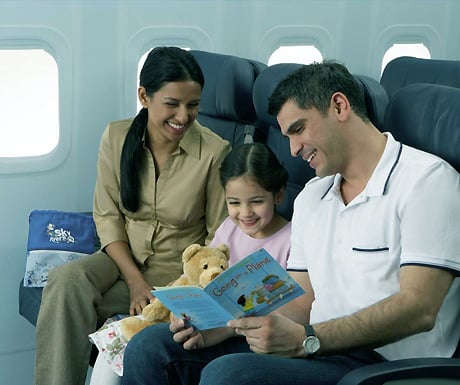 Virgin Atlantic
It seems like the airlines are catching on. Children on
Virgin Atlantic
also receive an activity backpack, which includes a baseball cap, coloring books, sunglasses, toys, games and a digital watch. Tot meals are served on child-size plates and silverware and the palatable menu of chicken fingers, pizza, chocolate, string cheese, yogurt, fruit and veggies will only leave kids wanting more. Rest-assured, Virgin Atlantic also offers cots for babies and has complimentary diapers, bottles, baby foods and changing facilities on all flights.
Gulf Air
Gulf Air
takes the cake on their family offering. There is a Sky Nanny program… a what? Yes, a Sky Nanny program where someone is available to help you as soon as you step on the plane, from setting up a bassinet to playing games with the children, allowing parents to get settled in. If you fancy a quiet meal or the luxury of watching a flick without being interrupted, Gulf Air's Sky Nanny can occupy your children. Needless to say, if you've forgotten anything, they will be there with complimentary diapers, coloring books, baby food and whatever you may need on board.
Did you enjoy this article?
Receive similar content direct to your inbox.