5 reasons to travel to Peru in 2013
In 1911, Hiram Bingham, the Yale University lecturer and explorer stumbled upon the lost Inca citadel of Machu Picchu. Although some say that Machu Picchu was never lost, but simply re-discovered, Hiram Bingham's finding certainly triggered huge international interest in a relatively unknown country, changing the tourism scene in Peru forever. After a few recent decades of social and economic stability, Peru has grown to become one of South America's newest and best tourist hot-spots. With such an eclectic mix of incredible attractions,
luxury hotel
properties and first class services, luxury travel to Peru has never been better.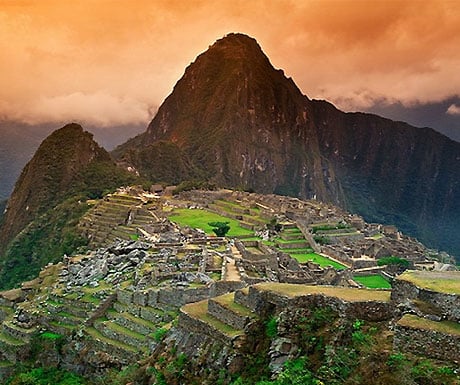 Ask yourself, what country in South America can boast the earliest occupation of man in the Americas? What other country in the world has 90 different microclimates? Where in the world will you find four Orient Express Hotels all within a stone's throw of each other? Peru has a lot to offer, and here are 5 of the best reasons to travel to Peru in 2013.
Machu Picchu, the Jewel of the Inca Empire
Located on the edge of the Vilcanota Jungle in south-eastern Peru,
Machu Picchu
has to be one of South America's finest tourist attractions. It's hard to describe in words the feeling's you experience when you first see the ancient Inca sanctuary, but it is certainly breath-taking and a million miles away from reality. Lost to the Amazon Jungle for hundreds of years and never found by the Spanish conquistadores, Machu Picchu is simply one of the finest Inca archaeological sites anywhere in the continent. Any travel to Peru must include a trip to this magical new world wonder.
Gastronomic heart of South America
If you like fresh, inventive, unique and flavoursome food – you're going to love Peru. Lima, is the culinary heart of the country, and is a place where all the diverse cultures from around Peru (native and foreign influences) have come together to create culinary heaven. Furthermore, in the last few years a wave of talented young chefs have taken Lima's restaurant scene to a whole new level, by integrating international cuisine with traditional Peruvian ingredients to create what is known as Peruvian fusion cooking. If you're not convinced, try a plate of fresh cerviche at La 73 restaurant in the district of Barranco.
Some of the best luxury hotels in the continent
In the last 5 years the luxury hotel scene has transformed from just a handful of well-known properties, to a whole plethora of countrywide exclusive and luxurious hotels. Just this year, the City of Cusco has seen the opening of the
J.W. Marriott
and the Orient Express
Palacio Nazarenas
 hotels, both rumoured to have been cost US$ 80 million and US$ 60 million respectively. But if you are looking for something a little more relaxing, why not spend a few nights being pampered in the brand new
Tambo del Inca Luxury Spa and Resort
located deep in the Sacred Valley.
9 UNESCO World Heritage Sites
Incredibly, so far, only 9 attractions in Peru are recognized by the UNESCO World Heritage committee. But, what an extraordinary 9 they are. Why not start with a visit to
Chan Chan
in northern Peru? Considered to be the largest city in pre-Columbian America, Chan Chan was the capital of the Chimu Culture and was constructed largely of adobe. Or, why not take a trip deep into the Amazon Jungle to
Manú
, a UNESCO World Biosphere Reserve, considered to be the most bio-diverse place anywhere in the world.
The Hiram Bingham Train
A trip aboard the famous
Hiram Bingham Train
to Machu Picchu has to be one of the world's finest luxury travel experiences. This 3 hour train journey, which starts just outside Cusco, slowly winds though some of Peru's most aw-inspiring scenery before arriving at the ancient sanctuary of Machu Picchu. Set in the style of the 1920s British Pullman carriages, passengers can enjoy a champagne reception, traditional dancing, live Andean music and gourmet cuisine.
Paul Jones is Managing Director of Totally Latin America.
If you would like to be a guest blogger on A Luxury Travel Blog in order to raise your profile, please contact us.
Did you enjoy this article?
Receive similar content direct to your inbox.