Tuscany is a fabulous and picturesque part of Italy, understandably popular with visitors who enjoy the great cities, art and architecture and wonderful food and wine. Throughout the summer months the main cities, Florence, Pisa and Siena can be unbearably hot and while the hills and mountains are generally cooler, accommodation there is expensive and often pre-booked by Italian city dwellers escaping to the country. Some of the most popular cultural destinations are easier off-season. And many of the food and wine events happen outside the summer months.
1. Food festivals
The Tuscan Festa is a celebration of artisan produce. I visited San Miniato White Truffle festival this year, a great example of a typical Festa, with a large area devoted to a display and tasting of local truffles and truffle products. If you are interested in finding out more about this gourmet fungi, a truffle festival is a great place to start. The memory of the heady aroma of fresh truffles will linger long after your holiday is over, and you'll have the opportunity to taste them at their absolute best. Although the festas tend to have one product as their focus, you'll find a range of regional specialities on display, perhaps with one area covering Italian produce from outside of Tuscany, wine tasting and sometimes cookery demonstrations. It's a chance for everyone to have a party and enjoy the spending food of the area.
2. Museums and galleries
The famous museums and art galleries of Florence are sold out during peak tourist seasons. And, although most can be booked online, there are still entrance queues and sometimes the numbers of tours walking through make it impossible to view anything properly. Out of season, galleries like the Uffizi are still busy and still need pre-booking. But, you stand more chance of seeing those famous Botticelli Masterpieces close up in the Uffizi, at looking up in awe at David in the Acadamia without being constantly jostled if you go out of season.
3. Olive harvest
In Tuscany the Olive harvest starts in October and continues through November. Quality olive oil is produced on or near to the estate where the olives have grown so that pressing can take place within a few hours of picking the olives. That way, production is maximised and the flavour of the oil is at its best. Spend time watching the olives being 'combed' from the trees into nets and boxed up, and visit an artisan oil mill to see the pressing. Try tasting Olio Nuovo, the ultimate in Extra Virgin Olive Oil. It should look a little cloudy. The taste is uniquely fresh and peppery and it is only available for a couple of months each year so don't forget to buy some to take home.
4. Designer shopping
It goes without saying that out of season, there are greater bargains to be had, particular at the luxury end of the market. Prada, Fendi, Dolce & Gabanna and Gucci all at half price or less. Many of the big brands can be found at The Mall in Leccio, others, like Prada, have their own factory shops. Shoes, handbags and leather goods are particularly good value.
5. Eating out
You'll find it easier to get space at the best bars and restaurants. And, many Tuscan specialities like Ribollita, Wild Boar and Caccuicco are hearty dishes that you need a healthy appetite to enjoy. You are less likely to be charged 'tourist' rates and more likely to find a real Italian experience. Try to avoid eating in the heart of the main tourist centres and head for towns like Livorno and Pistoia, with a strong reputation for local food and enjoy great food for half the price in the tourist centres.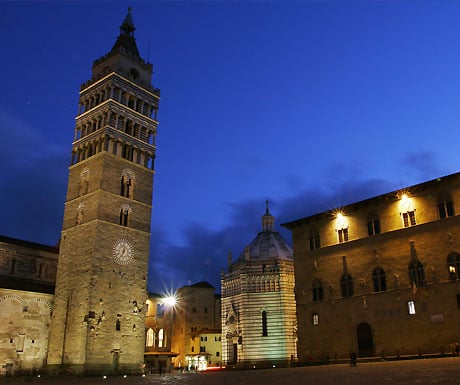 Even if you don't want to visit the museums and art galleries or learn more about Italian food, you'll get an Italian's view of Tuscany. There are still the guided tours with their umbrella waving leaders, but not so that it will spoil your view of the Duomo in Florence or the Piazza in Siena. So, take time out in Tuscany off-season and see more.