By
Anna Parker
on Jun 17, 2013 in
Accommodation
,
Attractions
,
Europe
,
Food and Drink
,
Going Out
,
Hotels
,
Regions
,
Travel Miscellany
,
United Kingdom
,
Vacation Rentals
,
Western Europe
Being half Cornish it would be fair to say I spent a fair amount of my childhood holidays in Cornwall, but only in the past few days have I really discovered it.  My parents have said it was clearly a waste of time to take a young child to all the beautiful places that I've visited in the past few days.  It was lovely discovering them again, though!  I guess that is always the way that you take for granted what is on your doorstep, and instead we made a second home out of the north Norfolk coast.
The plan had always been to camp on this trip to the West Country, but common sense got the better of me and I had a last minute search via Google for some self-catering cottage accommodation.  Camping can be a false economy if you aren't an expert with all the kit – likely we'd have ended up eating out each night to avoid sitting outside the tent on picnic chairs wrapped in rugs!
What a blessing that I did some research as thankfully I came across the Trewinnard Holiday Cottages, near St Erth/Hayle/St Ives.  We stayed in the Bull Shed which is the smallest of the cottages on offer on this stunning estate.  This estate has quite some heritage and is the home of a well known former politician.  The cottages are in the old farm buildings and have been appointed so well.  We were very comfortable in our cottage which had great furnishings and was kitted out well with everything needed and was more than big enough for the 2 of us for four days.  There was also WiFi and aside from the sun-drenched seating laid on outside the cottage, there are also quiet sunny corners of the garden to enjoy as well.  The amazing bit, given the Mediterranean weather we've just experienced was the pool that was available to use on week days.  Quite simply idyllic!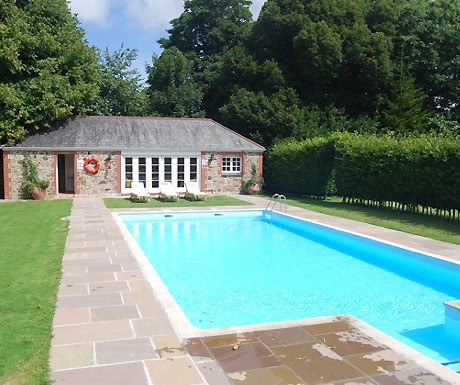 Everything about the place was and the estate managers were lovely and helpful.  The driveway in early summer is also something else – good for walking/running up and down to burn off supper, and beautifully set in the sunlight with freshly sown grass and flowering bluebells.  To be honest the whole set up was one of the most relaxing we've found and thinking about the other self-catering places we've written about recently, this just re-set the bar even higher!  Thankfully Trewinnard is but minutes from my grandparents, and so I'm already looking forward to booking in for our next trip down.
So many of the cottages I've seen in Cornwall are in the busier and touristy towns which of course have their pluses depending on what you are looking for, but are never what we look for when getting away from the rat race.  Dipping our toes into Falmouth and St Ives for a short while during our visit confirmed this!
This trip absolutely proved that luxury can be found by just finding a home from home.  This was off the back off some amazing hotel holidays in the Caribbean and Oman and I think it left us happy that relaxing UK trips are at their finest in self-catering accommodation.
Re-discovering south west Cornwall in the Summer was also fantastic and really gave us a chance to see some beautiful places that weren't particularly busy as we picked spots relatively off the beaten track.  My initial recommendation is that you join the National Trust before you go as there are so many of the coastal areas that are NT owned; the NT volunteers we met at each were wonderful and no doubt before the week is out we'll be paid up members ourselves! It is also fun to tweet photos of where you have been to, with the hashtag #specialplaces.
A few suggestions from our trip
– Kingsley Village Shops, off the A30 near to Victoria and Roche – this is a Cornish shop; it has holiday trinkets and crafts, etc. but the best bit is the food hall. Don't be put off by the exterior, inside you can buy some fine foods and delicatessen items.  I would best describe it as a Waitrose full of Cornish fare!  Well worth a visit – we stocked up here en route and enjoyed their food for the rest of the week.  We also always stop to get Rowes pasties from here as well and they also sell Camel Valley wines which saves the trip to the vineyard (although if you haven't been there, then I've recommended it before on another post).
– Cape Cornwall – approached via St. Just this is a remote peninsula near to Land's End but not having had the 'theme park' touch of Land's End that isn't to everyone's taste.  There are beautiful flowers on the moorland and stunning views along the coast and out to sea.  It is incredibly unspoilt and a really special place to see.
– Sennen beach – we don't like busy beaches, so parked in the village car park and headed as far north-east as possible along the beach back towards Cape Cornwall – only a 15 minute walk really.  The sand over here was bleach white and we were the only ones there.  We could have been in a totally different part of the world!  I'm sure it is busier in high season but it felt like we were on a remote island with only the sea birds for company. Well worth the schlep along the beach to avoid the crowds.
– Cream tea at The Cove Cornwall, a hotel in Lamorna.  Sit by their pool and enjoy feeling like you are in the middle of the forest, but minutes from the sea.  We stayed in their sister hotel in Jamaica and wanted to see where it all began – we spent a pleasant few hours enjoying cream teas and quaffing some fizz in the sunshine by the pool.  Felt like we were back in Jamaica!  Was great proof that the Jamaica Cove is going places under this new management.  (Minack Outdoor Theatre is around here too – we've been before, but do look at the programme ahead of your visit as it is quite a quirky place to see a matinée or evening theatrical performance sat on the cliff – just remember to take a cushion and warm clothes!).
– Sundowners – the Trewinnard estate is quite near to Marazion and the village is a great place to enjoy watching the sunset.  The vista from the outside balcony at the Mount Haven Hotel is really quite something with a stunning view across Mount's Bay to Mousehole (which is best visited at Christmas for its world famous lights).  We've had some of our best sailing from the sailing club at Marazion and it was lovely to look down on the bay from this vantage point, and get excited about next Summer when we've got another event there.  We ate at the hotel on a previous trip and that was good too, although no view from the restaurant.
– The Lizard – an easy walk to the point but also to the east to see some fantastic rock formations in the sea.  There is a lighthouse that can be toured as well and no doubt the view is amazing from up there.
– Rinsey Cliff – this is well off the beaten track, over between Mullion and Praa Sands – in fact, driving down the road to the National Trust car park felt more like a bridleway!  Once parked you will be staggered by the sights – there are a number of disused tin mines with engine houses and chimney stacks and the view out to sea with the Cornish heritage in the foreground really is quite staggeringly beautiful.
– Heartlands museum and open air site in Pool. The Redruth/Cambourne area was once the richest part of the country as a result of the copper and tin mining and a fascinating new (free) museum has opened in and around one of the engine houses.  An incredibly interesting insight into the county's history. Don't be put off by the advertising that makes it look more like a theme park, if you want an insight into mining life and Cornish history then spend a few hours here.  You'll be staggered at just how many mines are below you in Cornwall and quite how deep they go.
None of those ideas are the obvious tourist trail ones but they are all either interesting or staggeringly beautiful and well worth the visit.  There is a theme to all of what we visited and it was mainly involving 'wow' as the keyword!  I think we were very lucky with the weather; I know Cornwall better for being wet and windy, but the weather is also so varied.  On mornings when we woke up to rain or grey skies in St Erth, we found sunshine and better weather just a few miles down the coast – heading either north, west or south for the best of it!