Top 10 last minute luxury travel gifts for her this Christmas
Been working hard and left your Christmas shopping a bit late? You're not alone and help is at hand. Here are some great ideas to spoil the lady in your life this Christmas. Whether you think she'd like a new addition to her wardrobe, some beautiful jewellery or a lovely watch, or something different, we've covered it all here with 10 last minute ideas to help you out.
Annapolis bag from Cashhimi
This season, every woman deserves a present as unique as she is. A
Cashhimi
bag is the best present you can give that will truly melt her heart. Known for its pure, unadulterated elegance design, the Cashhimi bag is a must-have especially in this season of gifting. So if she's fashionable, enjoys style and beautiful bags, then don't look any further and surprise her with this Annapolis bag from Cashhimi by Cenan Abas Sel.
This medium size crossbody bag made in Turkey with high quality Python exotic leather carefully selected by Cashhimi craftsmen is entirely hand-crafted. The simple shape,  vivid color and the knot detail on its handle makes this bag ideal for matching different outfits and styles; whether her style is minimal or more sophisticated, this bag would fit her outfit like a glove! This Cashhimi bag can be yours for $925.
Bangles and bracelets from Cavendish French
If Christmas shopping has you all tangled up here's the perfect travel companion that's guaranteed to please 365 days of the year.
Cavendish French
is an independent designer of beautiful, contemporary jewellery with a stunning collection of sterling silver and stone-set pieces featuring Swarovski crystal, cubic zirconia, and semi precious gemstones. Inspired by the global business travel of owner, Anna Haynes, this versatile collection will transform any travel wardrobe, effortlessly changing a daytime outfit into evening elegance… so you can be sure to maximise your luggage allowance whether it's packed for business or perfectly rolled with the latest cruise collection must-haves.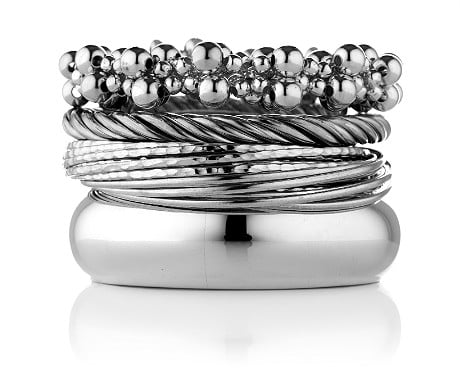 Their bangles and bracelets including those in this image range from £80 to £550. Available exclusively from Cavendish French and from their showroom in Surrey. Best of all… order up to 23rd December and your box of delights will arrive on Christmas Eve (
UK
addresses only).
SUBLIMAGE La Crème from CHANEL
Going beyond anti-ageing, SUBLIMAGE La Crème from 
Chanel
 is an exceptional skincare product with infinite powers of regeneration, acting on all of the skin's vital factors to reveal its most sublime beauty. The name of this power? Enriched Planifolia PFA. This new active ingredient gem is born from the fusion of two treasures of the plant kingdom with remarkable power against all signs of ageing: the fruit and flower of Madagascar Vanilla.
Wonderfully moisturised, deeply nourished and plumped, skin emerges infinitely regenerated. The complexion is radiant and even. Facial contours are firmed, the features smoothed and toned. The perfect travel companion.
Noelle booties from Charlotte Olympia
Step out in style this Christmas with these Noelle booties with a rabbit-fur trim and wood-effect heel and platform. The height of luxury, they'll keep glamorous feet warm and dry during the snowy season. Made in Italy, the sole and lining is leather, and they come with the signature gold 
Charlotte Olympia
 spider web logo. The heel measures approximately 145mm (6 inches) with a 35mm (1 inch) platform. £895.
Super Natural Collection from House of Matriarch
Enchant your senses with the mother of all discovery sets: the Super Natural Collection from
House of Matriarch
. Discover raw materials too scarce for use in mainstream perfumes, and aromas that improve with time, like fine wines. Dubbed by critics as "The Gold Standard of Natural Perfumery", this collection showcases the vastness of the natural perfumery palette and includes a scent for each fragrance family.
The set also includes their newest perfume Bohemian Black, yet to be released to the public. Each adorable glass mini has a jeweled cap in the metallic pantone shade to match their full-sized bottles. A generous 3.3ml of extrait, "pure perfume", is housed inside each atomizer. The perfumes in this collection are: Alpha, Ambre Vie, Bohemian Black, Carmine, Coco Blanc, Destiny, EnTendre, Forbidden, Francesca, Lucid, oM, The Maj, and Woo. Embossed sampling cards are enclosed in each coffret.
Noemia Collection from Raymond Weil
This exclusively feminine watch collection from
Raymond Weil
has been stirring passions since its creation in 2009 and is the epitome of feminine grace. In perfect keeping with a lady's multifaceted personality, Noemia shines in a thousand ways. Both enchanting and seductive, it will keep on subtly awakening the sensuality that lies dormant in each one of us. A special gift for that special someone in your life this Christmas.
Saicu Kaftan from Beach Cafe
Beach Cafe
love the vibrant tie dye violet and coral of the Saicu Kaftan by swimwear brand ViX Paula Hermanny. It is a classic kaftan silhouette with a deep v neckline and scooped v back with adjustable top tie. Made from a luxurious blend of silk and cotton, with decorative tassle ends, it will make the perfect gift for the sun seeker this Christmas. £175.
Thameen Amber Room from Selfridges
At the Catherine Palace of Tsarskoye Selo near Saint Petersburg lay the eighth wonder of the world. A chamber lined entirely with amber panels backed with gold leaf and mirror, it covered 55 sq metres and contained 6 tonnes of amber! It literally glowed in the candlelight of the eighteenth Century, designed to 'trap sunshine all night long'. Stolen by the Nazis, it is thought that the original was destroyed by fire in 1945 – the room was re-created and re-opened in 2003.
Inspired by those times, this fragrance is an effusive, glittering bergamot that leaps from the bottle – fresh and energising as it slips effortlessly into a spicy, vivid Turkish Rose, the most sensual of all the roses. The queen of flowers sits atop a heady Amber, as dazzling as its inspiration, smoky and warm. £145/ 50ml, available from
Selfridges
.
Tumi Tegra-Lite International Carry-On
Tumi
is the No1 high end luggage brand in the world with a celebrity A-list of enormous proportions. The super-chic trolley's are not only beautifully stylish but are constructed from the toughest fabrics, zips and wheels on the market, so they never let you down.
Made from a revolutionary new material originally used for body armour and NFL protective gear, the new super-strong, super-light Tegra-Lite suitcases boast a range of features including four wheels for maximum manoeuvrability, a patented X-Brace handle system and TSA locks for secure
USA
bound travel. Available from Tumi for £595.
Parisian jacket from Anatomie
The brainchild of Kate and Shawn Boyer,
Anatomie
, is a designer fashion brand. The collection was created with today's travel women in mind and encompasses the areas of high-performance wear to modern designer travel wear, as well as sportswear. This oversized collar jacket comes in quilted leather and knit so you can keep luxuriously warm this Christmas with this ultra-stylish look.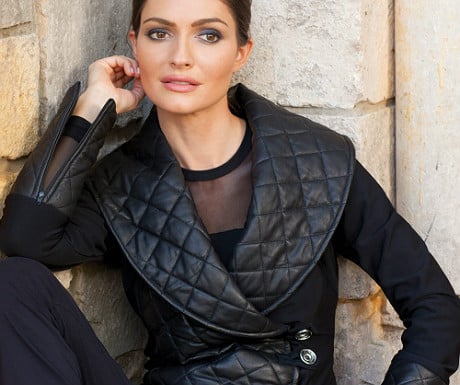 Did you enjoy this article?
Receive similar content direct to your inbox.