Think you're getting the best deal booking luxury travel yourself online? Think again. While if you're a budget traveler, you probably can get many of the best bargains yourself, the same isn't true for luxury travel. If your taste runs to the very best luxury hotels and airline products the world has to offer, here's why you should be using a luxury travel advisor.
1. Luxury hotel upgrades
How do you get upgraded at Aman Resorts, Four Seasons, Mandarin Oriental, Peninsula, or other top luxury hotels? By booking with a luxury travel advisor who is a member of Virtuoso or the hotel's own preferred partner program. The best luxury travel advisors are affiliated with Virtuoso, Four Seasons Preferred Partner, Mandarin Oriental Fan Club, Orient-Express Bellini Club, Dorchester Diamond Club and other preferred partner programs.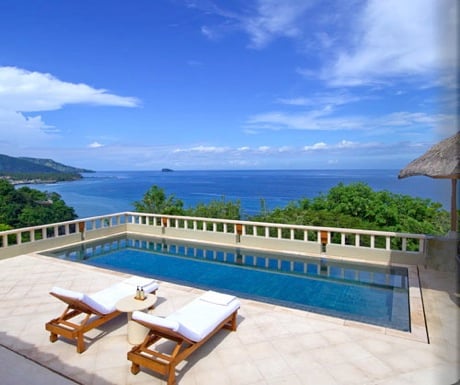 One of the top benefits that is included, when booking with a travel advisor affiliated with Virtuoso or a preferred partner program, is an upgrade if available when you check-in. You can bet that if two guests have booked the same type of room, one online and one with a travel advisor affiliated with the hotel's preferred partner program, and there's only one upgrade to give, the guest who booked with the preferred partner benefits via the luxury travel advisor will get the upgrade.
2. Confirmed upgrades at time of booking
While most upgrades are based on availability at the time of check-in, several hotels offer an upgrade at the time of booking, which is even more valuable. A good luxury travel advisor will know which hotels offer this benefit, whether through Virtuoso or a special preferred partner offer, and be able to secure your upgrade when you book. You can't get this benefit on your own, so cultivate a strong relationship with your luxury travel advisor.
3. Daily complimentary breakfast for two
A complimentary breakfast at a top luxury hotel is a world apart from the free breakfast you might get at a motel or 3-star property. Think fresh squeezed juice, espresso drinks, fresh baked pastries and breads, smoked salmon and cheese platters, local or organic yoghurts, egg dishes, house-made granola, and more. Sometimes the offer includes the breakfast buffet, or the option to order breakfast via in-room dining.
4. Complimentary lunch, dinner or spa treatment
In addition to an upgrade and complimentary breakfast, most Virtuoso and luxury hotel preferred partner programs also include a property specific benefit, such as a complimentary lunch, dinner, massage, or $100 hotel credit to spend as you wish on food, beverages, spa or other hotel services.
5. Trusted advice on the destination and hotel
The top luxury travel advisors don't just book clients' travel–they're well traveled themselves, and are a wealth of valuable information on which destination and luxury hotel is likely to be perfect given your travel style and preferences. Time is money, and your travel advisor can save you considerable time on travel research while helping match you create the perfect trip, based on their and their clients' experiences. Since luxury travel advisors' entire focus is on luxury travel, you won't have to sift through irrelevant online reviews that rave about a hotel because it's the first (or only) 5-star hotel that the reviewer has stayed in.
6. Help with business and first class flights
Getting there can be half the fun, at least if you're traveling in first class or business class with a flat bed or even fully enclosed suite, fine dining, and superb airport lounges. And a top luxury travel advisor will know the ins and outs of Singapore Suites vs. Cathay Pacific First Class vs. Etihad First Class vs. Emirates First Class, and may also be able to help you leverage your frequent flyer miles and points to book award travel on these airlines.
7. Quick help should any issues arise
A nice benefit of staying at luxury hotels and resorts is that you're less likely to encounter problems that would ruin your holiday. But if you do run into issues, you're not alone–contact your luxury travel advisor. You can bet that she or he will work with the hotel to do everything possible to resolve the problem so that you can enjoy the rest of your trip.
While many travelers continue to think they can book the best deal themselves, savvy luxury travelers realize that the right luxury travel advisor opens the door to all kinds of value-added perks that enhance their stay and also save them money, at the very best hotels in the world.
Hilary Stockton is the CEO at TravelSort.