On my last trip to Cornwall, I took the opportunity to try out a few new products, some of which might appeal to those of you who travel a lot. Whether you're looking for something that'll just help to keep the children entertained on a long journey, or something that will help soothe you once you arrive, then look no further.
iPad Cinema Seat from Griffin Technology
As you may know, it's quite a drive to Cornwall from where I live in Cumbria – particularly when you're as deep into Cornwall as we were (the Lizard Peninsula which is about as far south as you can get). But travelling those kinds of distances with kids doesn't seem so arduous with handy inventions such as the iPad. Although we try to limit screen time, there's only so much time you can spend playing I-Spy with 9 and 8 year old! So take a look at this handy item.
Griffin Technology are perhaps best known for their 'Survivor' covers for iPhones and iPads but they also offer a whole host of other products, one of which is this excellent iPad Cinema Seat. It's as simple as it is useful. Strap it to your headrest and you have a well-positioned iPad for the person sitting behind you. Download a film or two on to the iPad from iTunes, or download some programmes from BBC iPlayer, and you're guaranteed to have an hour's grace from cries of "Are we there yet?".
Endless Summer cardigan from Krimson Klover
My wife is the proud new owner of this cardigan from Krimson Klover, in white, which she swears by. As you may have heard on the news, the weather in Cornwall was less than favourable in the early part of the year, and so this helped to keep the chill off. Soft and comfortable, yet elegant at the same time, she found it to be the perfect cover-up and believes it will be useful all year round.
The Endless Summer cardigan is available in white, azalea (pictured), sky blue, graphite and teal. Get yours now so you too can keep cosy on those cooler evenings during the Spring and Summer months.
Whilst on the subject of clothes, these trousers (or pants as they call them in the US) from Bluff Works started out as a Kickstarter project. The beauty of this item is its versatility.  They would not look out of place if you were traipsing across a muddy field or in a meeting in a board room.
For me they were a perfect fit (I am between waist measurements in the UK, but Bluff Works sizing spanned the two) and extremely comfortable. Because we were staying in a hotel with quite a relaxed feel to it, I really could easily wear these to dinner, even though I'd been wearing them earlier in the day. They didn't look out of place at all, in either scenario. They are lightweight, quick-drying and made from a material that miraculously seems to make them crease-free, making them the ideal trousers for travel.
Also on this trip I road-tested a pair of Mocks. If you've not heard of them before, take a look!  They're a twist on the traditional moccasins – a kind of rubberised equivalent yet still surprisingly comfortable. Many of the styles on the website are not to my liking (I'm not so adventurous on the clothing and footwear front!) but there are so many colours and styles to choose from, that you're sure to find something to suit, whether your needs are for the city, the country or just the beach.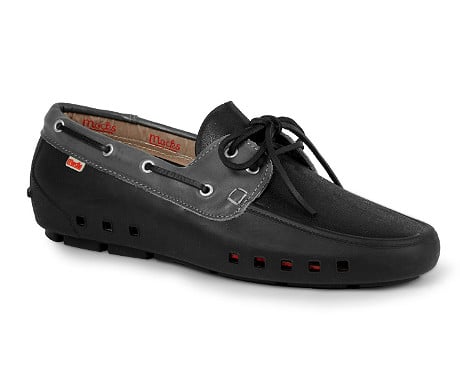 Comfortable and usable in a variety of situations, they are also lightweight so handy for the traveller who doesn't like to be laden with weighty luggage.
USB 3.0 Flash drive from Patriot Memory
If you're like me when you travel, you find yourself feeling paranoid about losing photographs.  I often think to myself that I'd sooner my camera went missing than the data card in it. Of course, you can back up your images online or to your laptop or similar device but, for that extra piece of mind, it can be useful to have some kind of easily portable data storage.
This USB stick from Patriot Memory was ideal for the job, with superior speeds over USB 2.0 and supporting the new standard USB 3.0. To give you some added peace of mind it comes with an ultra-durable rubberized water resistant housing. With capacities that range from 32GB up to 256GB, this can be a handy way to keep an extra backup of your photos whilst on your travels, or you can use it for any other data storage needs.
Luxury scented travel candles from NEOM Luxury Organics
These luxury organic travel candles are definitely worth a look… or rather a smell! That's obviously not something I can really convey in a blog post but, trust me, you will not be disappointed with these travel candles from NEOM Luxury Organics. They come in a wide range of scents – we tried 'Lavender, Jasmine, & Brazilian Rosewood', 'Sicilian Lemon & Fresh Basil' and 'Vanilla & Sandalwood'. (Pictured is the 'Moroccan Blush Rose'.)
It would be hard to pick a favourite… we loved them all!