6 of the best… places to sleep under the stars
Living in London, surrounded by artificial light at all hours, it is easy to forget the beauty of the stars above us. But Professor Brian Cox has been doing his best to inspire Britain to look at the night sky and newspapers are filled with stories of magnificent northern lights, leaving me to wonder where are the best places to go to sleep under beautiful starry skies…
1. Baines Camp, Okavango delta, Botswana
Not only does
Baines Camp
, deep in the wilderness of the Okavango delta, offer superb wildlife viewing, it also has luxurious four poster beds that can be rolled out on to the deck of their stilted suite to sleep under the starry African sky. Drifting off to the sounds of the bush is an unforgettable experience – although it's reassuring to know you can wheel the bed back inside if something goes bump in the night.
2. Tented camp near Merzouga, Morocco
To get more than a glimpse of the fabled Sahara, try sleeping out under the desert night sky near Merzouga. Sipping a hot mint tea not far from where the camel trains left on their 52-day journey to Timbuktu makes for a truly atmospheric and unforgettable night. The view out across that vast expanse of nothing, illuminated by the stars, is magical.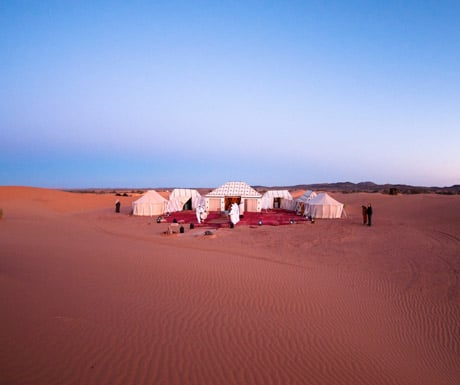 3. Swag on Blue Mountains Private Safari, New South Wales, Australia
A far cry from the jolly swagman's bed roll in Waltzing Matilda, in the Blue Mountains, try sleeping under the stars in a luxury swag with soft pillows and duvets amid eucalypt and casuarina trees. The camp's isolation means there's no light pollution to obscure the southern night sky, which stretches as far as you can see above your open-air bed. It's hard to believe there can be so many stars.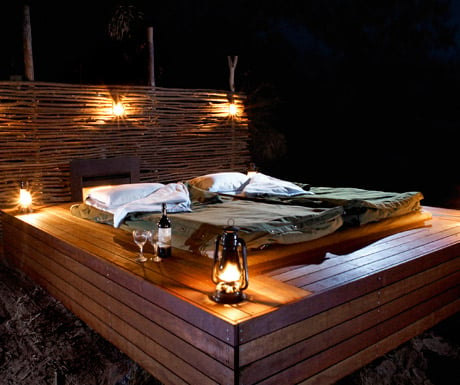 4. Galapagos Safari Camp, Santa Cruz Island
Staying on the Galapagos Islands, 1,000km off Ecuador's coast means you can come face to face with some remarkable wildlife by day, but also spectacular starry skies at night. From the comfort of the luxury tents at the
Galapagos Safari Camp
in the remote highlands of Santa Cruz, you can see the equatorial skies with constellations from both northern and southern hemispheres.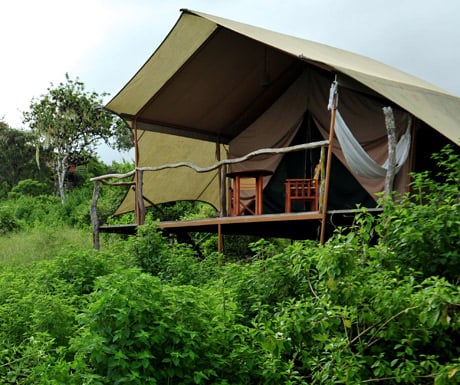 5. Baghvan Lodge, Pench National Park, India
Once you commit to your butler in the morning that you want to try the sleepout, you have set yourself up for one of the most exciting night's sleeps you'll ever have. Up on the rooftop platform, wrapped in a duvet and protected by a mosquito net, you become engulfed by the sounds of the forest all around and the starry sky above.
6. 1000 Nights Camp, Wahiba Sands, Oman
Travelling deep into the vast Wahiba Sands in Oman, rediscover the beauty of the night sky at the
1000 Nights Camp
, laid out in a spectacular setting among dunes and cineraria trees. Although the nights can be cold, it is well worth staying up after sunset when the Arabian sky bursts into light with thousands of stars, miles from any skyscraper or streetlight.
Katie Parsons is the PR Manager at Cox & Kings.
If you would like to be a guest blogger on A Luxury Travel Blog in order to raise your profile, please contact us.
Did you enjoy this article?
Receive similar content direct to your inbox.