By
Paul Johnson
on Oct 09, 2014 in
Accommodation
,
Adventure Travel
,
Africa
,
Family Travel
,
Food and Drink
,
Going Out
,
Hotels
,
Leisure Travel
,
Regions
,
Resorts
,
Restaurants
,
South Africa
,
Speciality Travel
,
Travel Miscellany
Having stayed at the wonderful Long Lee Manor on the Shamwari Game Reserve, we moved on to the reserve's family friendly Riverdene Lodge accommodation. Many game reserves won't allow any children at all until a certain age, but what makes Riverdene Lodge unique is that kids of all ages are welcome – and extremely well catered for – and children as young as 4 years old can go on game drives.
The welcome
We arrived at Riverdene Lodge after a morning game drive with our ranger, Geran.  The transfer from Long Lee Manor couldn't have been easier – we simply packed our bags in the morning, left them in the room we were vacating and the staff oversaw transferring the luggage to our new accommodation so that it was already in our room upon arrival. It really couldn't have been simpler, so we arrived to a warm welcome, laden only with the handful of items we'd taken on our morning game drive.
The room
Once again, we had two interconnecting rooms, each a mirror image of one another, and serving as a perfect room configuration for families.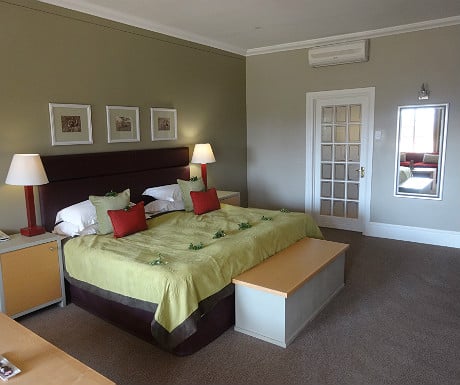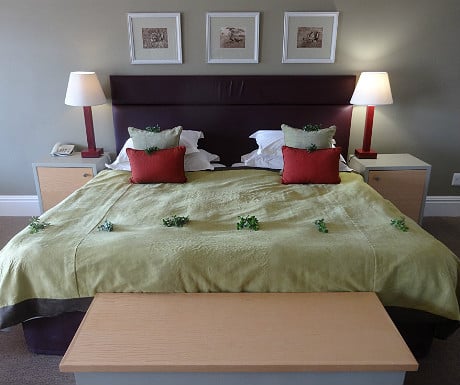 All the usual things you might expect were there, plus some you might not… aircon, satellite TV, direct dial telephone, tea/coffee making facilities, hairdryers, private safe and fitted international adaptors.
The bathroom
The bathrooms were spacious and well equipped, with separate bath and shower.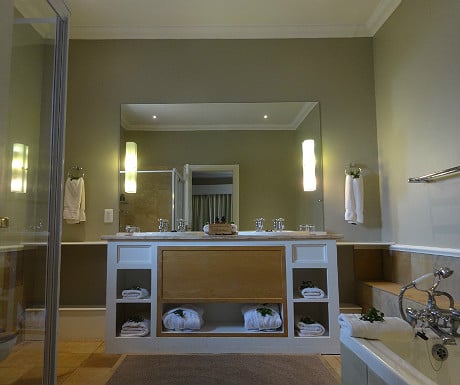 Healing Earth toiletries (Argan Oil & Lemon Verbena) were provided, and polite notices reminding guests to conserve water were present, demonstrating the reserve's commitment to sustainable tourism.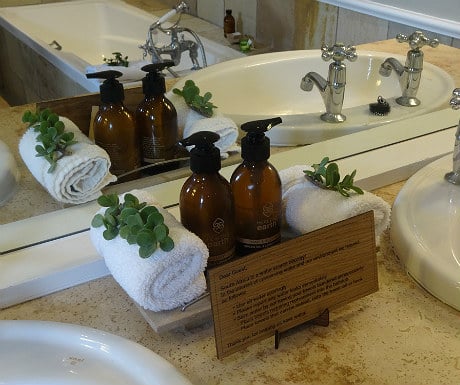 The facilities
Set in the beautiful gardens at Riverdene Lodge is a small pool but, since our visit was during the tail-end of the South African winter, the water temperature was understandably rather cool. That said, I did brave it (although I probably wouldn't have if I wasn't goaded by our children!).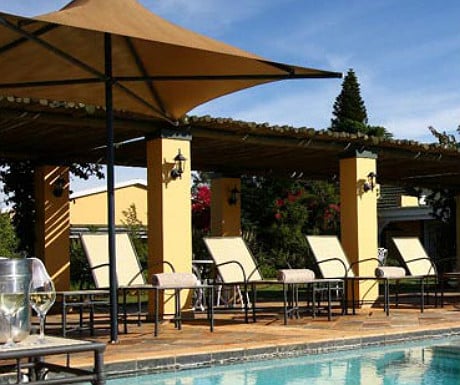 Inside there is a communal lounge with comfortable seating and a computer in the corner with WiFi access.  For those with own laptops and/or mobile devices, a code for free data-limited WiFi access can be requested at reception.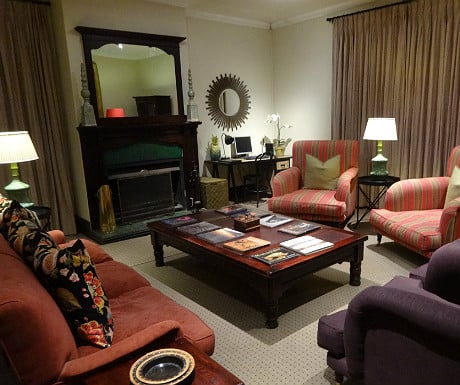 Also at Riverdene Lodge is a playroom for kids equipped with games console and various toys.  We paid a brief visit but there were so many other things to see and do (most notably the game drives) that we didn't really do that area justice, but it was there had we felt we needed it.
Lunches tended to be eaten al fresco – the menu was varied and with plenty of choice; pictured is Oriental sweet and sour pork tossed with egg noodles and julienne vegetables, with toasted sesame seeds and fresh coriander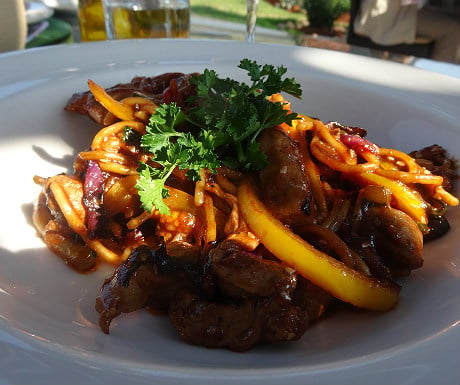 On this particular occasion, my wife had the Cajun crumbled cous cous chicken strips with green leaf salad, roasted potato wedges with mascarpone and sweet chilli sauce.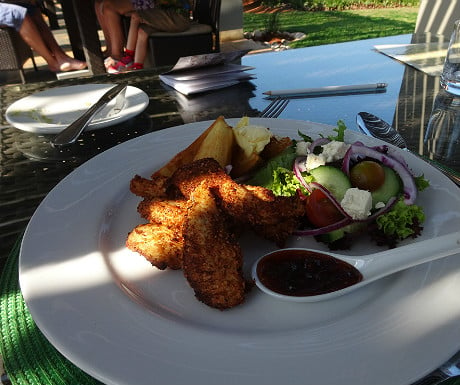 In the evenings, we dined inside. Again, the food was excellent. Here you see line fish accompanied by polenta cake and buttered baby spinach topped with a salsa verde.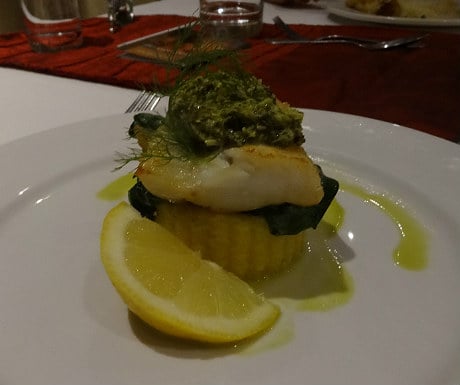 And for dessert, a crème brûlée infused with vanilla bean.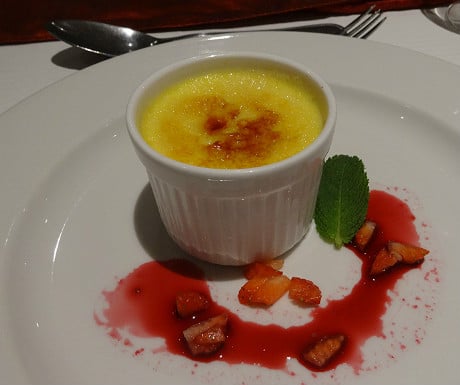 On one occasion we had a braai, with a choice of grilled bushmeat such as kudu, springbok, etc.
Other nice touches
We liked the simple little touches such as the napkin rings at dinner, depicting various different African animals.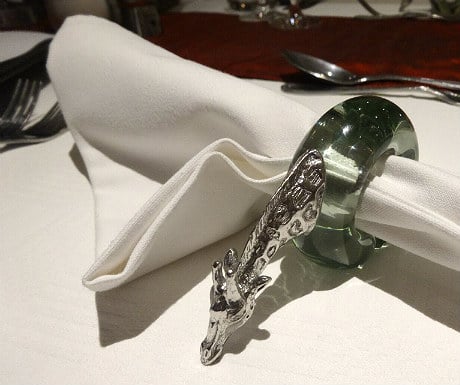 Our children on the other hand liked the chocolate-dipped marshmallows that were left in our room!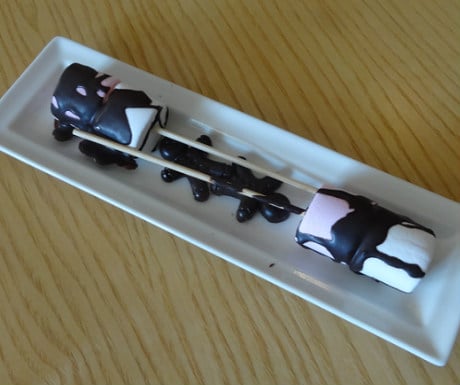 Another area where there was nice attention to detail was when we were greeted with hot chocolate when we came in from a couple of night drives and the temperature had dropped, as well as warm flannels to quickly freshen up.
As with our previous stay, our boys enjoyed the African tales that were left at bedtime each night… the one about the giraffe and the oxpecker was a particular favourite! As parents we enjoyed them too because we could see our children were learning a great deal from them and it was supporting many of the things they'd seen on game drives each day.
Facilities for children at Riverdene Lodge are excellent. We had no need for them ourselves, but I should mention that there's a children's co-ordinator, child minding facilities and regular children's activites available.
Cost
Rooms start from around 6,300 ZAR per night (about £350 / $570 at current exchange rates). This includes meals, high tea, water, tea, coffee, game drives, taxes and a minimum donation to Forever Wild – Rhino Protection.
The best bit
Being able to relax in a very welcoming family environment where everyone staying was in the same boat (ie. parents with children).
The final verdict
A really special place for families, offering an amazing opportunity for even quite young children to not only experience game drives and all that a safari entails, but also to learn a great deal from it.  They say travel is one of the best forms of education, and it's stays like this that really re-enforce that notion.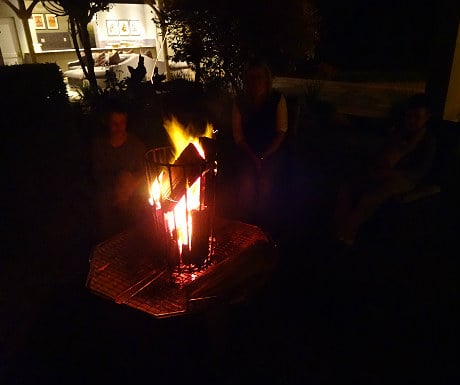 Disclosure: The above formed part of a luxury trip to South Africa sponsored by Hayes & Jarvis, specialists in personalised, luxury holiday itineraries for discerning travellers to over 55 destinations worldwide.