Tokyo: tourism, temples and… toilets!
The toilet seat in my hotel bathroom lifts as I approach it. It's warm when I sit down, and it flushes itself once I've finished. The lid even closes by itself afterwards should I forget. Yet, despite all this self-automation, I am not exaggerating when I say there are 15 different buttons to control the lavatory from which to select, depending on how the mood takes me. Yes, I have arrived in Tokyo.
I was there as part of
my trip with ANA (All Nippon Airways)
, having flown from the
UK
 to Tokyo Haneda International Airport en route to Singapore. It was an opportunity not only to try out
ANA's business class seating
but also to spend a few days in the Japanese capital. It was a chance to test the airline's commitment to quality and service as demonstrated by
its By Design campaign
 and to seek those same values in Japanese culture and traditions. Returning to the toilets… it's not just the lavatories that leave me a little perplexed. Wandering around Tokyo could leave you thinking you are in one huge operating theatre – many citizens wear face masks and yet Tokyo is one of the least polluted cities in the country, with very little industry. Apparently, these masks are worn more for the prevention of spreading or catching germs, and for some other reasons, rather than pollution concerns. The fascination with anime and manga – by grown adults, not just children – is something that's also completely alien to me.
With all this unfamiliarity, I was glad to have the services of two guides during my stay in the city. This proved to be invaluable and something I'd recommend to any first-time visitor to Tokyo, even if it's just to help you get around. There are more than 500 stations within Tokyo's remarkable transport network and it was comparatively recently that these were marked in English. I can't imagine how difficult it must have been for a non-native to navigate before this. To help me through this minefield, I first enlist the help of
Context Travel
 – who go by the slogan 'tours for the culturally curious' – and am accompanied by Darren, an informative Australian who has been living in Japan for the past year. We first head for Asakusa, Tokyo's old downtown. As we emerge from the metro system,
Tokyo's Skytree
(left) stands tall alongside the
Kirin beer company
(centre), built to look like a glass of beer with froth on the top. Alongside it is a sculpture dubbed the 'golden turd' (right) – perhaps not one of Philippe Stark's finest moments since it's supposed to represent foam rising from a beer mug.
We venture towards
Sensō-ji
, an ancient Buddhist temple with an adjacent Shinto shrine. The site has a history dating back to the 7th Century but the temple was bombed during World War II and has since been re-built.
As we reach the temple, we stop at an omikuji stall and Darren shakes a metal container in my direction, telling me to select a fotune stick. It has the number 92 on it and we find the corresponding drawer to find my fortune.
I'm in luck… it's a good fortune! What's more, this is one of the few shrines where the fortune is also written in English. The translation on the reverse reads:
No. 92 GOOD FORTUNE. Always traveling around since your childhod has given you a lot of places. It is a good sign to dream of a young horse in spring and a dream of a swift horse will bee a much better sign. Wherever you go, everything can be done as you wish. When an arrow goes straight, you will get a catch. Good luck will come to you from the heaven.  *Your wish will come true.  *The sick person will get well. *The lost article will be found. *The person you are waiting for will come soon. *Building a new house and removal are both good. *It is good to make a travel. *Marriage and employment are both good.
Darren is less fortunate and selects a bad fortune so ties it to something, as is the tradition, in order to leave the bad luck behind. This is a popular attraction in Tokyo, particularly at the time of Sanja Matsuri, a Shinto festival to honour the three founders of Sensō-ji when an estimated two million people visit in a period of just three days.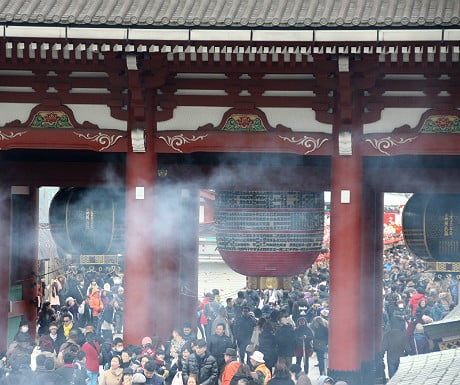 Our next stop is a ramen shop. The ordering system intrigues me. There are models of the dishes outside, and a machine where you select what you'd like and it spews out a ticket.
I learn from Darren that, when it comes to food, the Japanese talk about five basic tastes – not just sweet, sour, bitter and salty – but also
umami
which apparently translates to mean 'delicious and savoury' yet is distinct from salty and said to be found in foods with a high level of glutamate. The term is a new one to me and, as we try the gyoza, I'm not sure if I can put my finger – or rather, my tastebuds – on it, but they're good nevertheless.
Following our snack, we move on to Ueno Park where they celebrate Hanami – an amazing cherry blossom spectacle for just two weeks in April. There are over one thousands trees along the street leading towards the National Museum and around Shinobazu Pond. They are decidedly bare at the time of our visit, but this will soon change and the area will be packed with Hanami picnic parties. Visitors will claim their 'spot' on a 'first come, first served' basis by laying down a picnic sheet, but without claiming an area that is larger than they need. One thing I learnt on my visit is that the Japanese are a polite and respectful nation.
After passing through a bustling market that lies beneath some train tracks, we move on to Akihabara, known as the Electric City because it's a part of Tokyo where you'll find everything (and anything!) electrical.
Whether you're after solenoids or speakers, you'll find it all here.
Darren points out some bizarre-looking contraptions for strengthening facial muscles and, I think, for keeping your skin young and supple. There's not just one or two on the market – there's scores of them and they're not cheap either.
Here we also find ourselves in the manga and anime district, where women dressed in maid costumes beckon passers-by to dine in
maid cafés
. Apparently, it's all very innocent. If I was able to relate to manga or anime in any way, perhaps it would all make more sense to me but instead I'm left feeling rather culturally ignorant, but happy to be that way!
The following day, I value the company of another guide – Yuki, organised through
Inside Japan
– and see another side to the city, starting at
Tsukiji fish market
.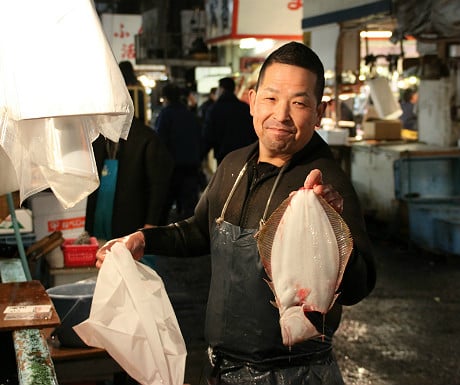 You need to have your wits about you when you first arrive as there are little vehicles whizzing about from one place to another. Tsukiji itself I find fascinating – it is the largest fish market in the world. I could watch for hours as traders scurry up and down, fish are gutted, knives are sharpened and a huge block of frozen tuna is cut into steaks with the aid of a bandsaw.
I feel honoured to experience the market since it is due be re-located to Tokyo's Toyosu district next year and ask my guide if I can browse a little longer, and she duly obliges. This place should be high on your 'to do' list if visiting Tokyo and you have until November 2016 before it moves ahead of the 2020 Olympics.
Five million pounds of seafood worth in the region of $30 million is handled here every day, involving an estimated 60,000-strong workforce.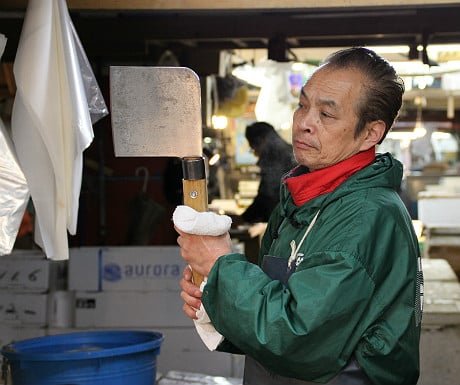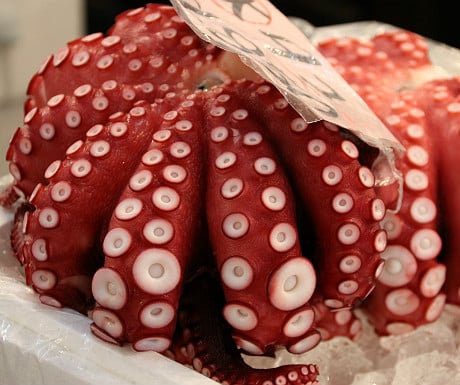 There are seven main wholesalers licensed by the government at the fish market, 800 intermediate wholesalers and some 300 or so retailers just outside the market but with some association with the industry – vendors of dried fish, bonite flakes, kelp, pickles, tsukudani, knives and more, as well as a number of eateries.
With our browsing complete, we take shelter from the rain at the
Sushi Zanmai
sushi restaurant. Staff here have name badges that show which of the 47 prefectures of Japan they are from, and what their hobby is. Our sushi chef, who apparently likes sport, prepares me the traditional sushi platter, an assortment of sushi which includes raw tuna, cooked conger eel, salmon roe, squid and kelp with herring roe.
With our fill of sushi, we move on to
Hama-rikyu Gardens
, the family garden of the Tokugawa Shogun which served as an outer fort for
Edo Castle
 and that retains a tidal pond of seawater. Black pine trees appear to do well here, against a backdrop of high-rise buildings, and Yuki tells me they are regarded as a symbol of eternity.
Plum trees also thrive and these are considered lucky because they are the first to blossom (in January). Interestingly, there are also two kamboba (or duck hunting sites) here, dating back to the late 18th Century. We also visit Meiji Jingu, a Shinto shrine dedicated to the divine souls of Emperor Meiji, the 122nd Emperor of Japan and great-grandfather of the current Emperor, before moving on to the area of Omotesando Hills where we come across a thriving shopping area, and an art gallery exhibiting emerging artists. We pass a shop that is apparently a favourite of Lady Gaga's whenever she is in the city, and it's clear to see why. The shop attendant is dressed in an orange baseball cap and… well, I'm not really sure how to continue with my description, so the picture will just have to do!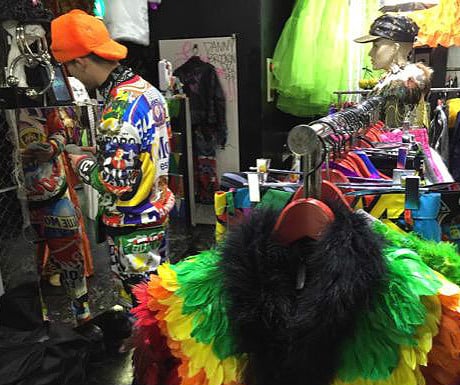 Then it's on to Kagurazaka, a neighbourhood of the city famous for its shopping, cafés and restaurants. The 2015 Michelin Guide to Tokyo has no less than 12 three-star restaurants, 53 two-star restaurants, 161 one-star restaurants and 325 Bib Gourmands, making it the unofficial gastronomic capital of the world, ahead of even Paris. A number of them can be found here, yet you often wouldn't know it as they are housed in buildings that give little away. My first time in Tokyo was all too brief but I was fortunate enough to have seen a great deal, and I can't understimate the importance of hiring a guide if you are not already familiar with the city and how to get around. For me, it was invaluable given the short time I had. When it came to leaving the city for Singapore, there were two things that I'd wanted to do but hadn't been able. One was to see Mount Fuji which I'm told is visible from Tokyo for only 80 days of the year, but I was lucky enough to
catch a glimpse from the air
on my departure. The other was to see some Sumo wrestling; I'd been unable to do that because the tickets were all sold out (apparently there are some young Sumo wrestlers that are very popular at the moment); that was slightly disappointing but, on the plus side, it gives me a good excuse to make a return visit some time.
Disclosure: This post was created in partnership with ANA – All Nippon Airways. All opinions expressed in the post are my own and not those of ANA.
Did you enjoy this article?
Receive similar content direct to your inbox.