6 far-flung business class flights from under £1,700 return
If you sometimes find yourself struggling to justify the extra expenditure of a business class flight, which can often amount to several thousand £s, then you are in luck as right now as KLM Royal Dutch Airlines is having
a sale on its KLM World Business Class flights
, with prices starting from as little £1,249 return and many further afield destinations with prices from less than £1,700. With KLM World Business Class, passengers are assured the ultimate in comfort with a privacy canopy, a 170-175 degrees reclinable seat (complete with massage unit) that is 190cm long, and a personal entertainment system to ensure you arrive at your destination as relaxed as possible.
London Heathrow to Dubai from £1,249 return
Where else in the world can you be enjoying the beach one minute and be skiing the next?  Despite its desert location, Dubai truly has it all, including some of the most luxurious hotels in the world, and – for now at least – the world's tallest building, the Burj Khalifa. (If you have a head for heights, make sure you visit the obervation deck on the 124th floor which is a little over halfway up.)
London Heathrow to Abu Dhabi from £1,299 return
CNN named Abu Dhabi as one of its top 10 destinations in the world to visit in 2015. The city is striving to become the cultural capital of the Middle East, with plans for the Zayed National Museum and the first Louvre Museum outside of Paris in the pipeline for next year, plus the Guggenheim Abu Dhabi in 2017. In the meantime, there's plenty to take in, from traditional Bedouin themed evenings to Ferrari World on Yas Island.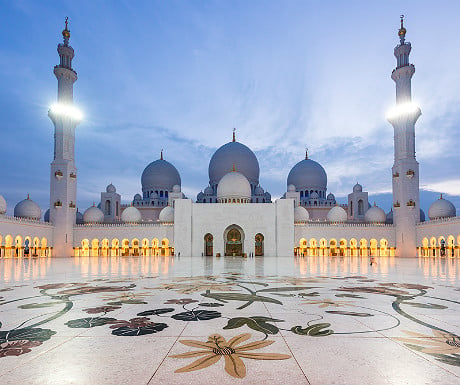 London Heathrow to Acrra from £1,399 return
For an utterly unique experience, take a look at Accra, the Ghanian capital. Although still developing, the city is very stable and the nation offers a great deal to the slightly more adventurous traveller. Browse Makola Market, the city's main market and shopping district, or take in a football match at the Ohene Djan Stadium to get a feel for how the locals live.
London Heathrow to Bangkok from £1,690 return
The vibrant Thai capital of Bangkok is full of character and an exotic and exciting destination to visit at any time of year. If you like your shopping and markets, head for Siam Square/Sukhumvit area. Alternatively, look to the Riverside area where you'll find many of the city's top hotels and cultural attractions.
London Heathrow to Shanghai from £1,690 return
Voted one of the Best Places to Go in 2015 by Frommer's, as well as one of 52 Places to Go in 2015 by the New York Times, Shanghai is getting a lot of attention at the moment. And with good reason too – the city offers so much to the visitor, from the historic Bund to the new Disneyland park and a lot more inbetween.
London Heathrow to Hong Kong from £1,690 return
Last but by no means least, Hong Kong has long been a favourite destination in Asia. Worth visiting for its cultural fusion alone, this territory offers one of the world's most stunning cityscapes. Here you can take in the view from Victoria Peak, visit temples, peruse street markets, and much, much more.
If you like the look of any of these destinations (or wish to explore the site for other possibilities), please note that the sales period for
these KLM World Business Class flights
runs from 24/03/15 until 30/03/15. Travel dates vary and prices are correct as of 24/03/15, and inclusive of tax from London Heathrow. Images: 
Shutterstock
Disclaimer: This post is sponsored by KLM.
Did you enjoy this article?
Receive similar content direct to your inbox.