Few places offer a more animated or colourful glimpse of years gone by than Texas's Fort Worth. The Old Chisholm Trail marked this city on the map as the cowboys' last brush with civilization before they embarked on the long drive up north to Kansas. A sense of the vibrancy and romance of the cowboy lifestyle lives on, be it in the tributes the city pays to its legendary past, or the influences of the Old West that can be detected in everything from the flavoursome food to the classic architecture and décor.
For the nostalgic types
The dusty streets of the Stockyards National Historic District are lined with the bronze inlaid markers of the Texas Trail of Fame, each dedicated to the individuals who made a significant contribution to Fort Worth's Western way of life. Following the trail they set out is the perfect way to explore Fort Worth's historic area whilst learning some of the names that contributed to its colourful history. Coordinate your walk with the twice daily spectacle of the Texas cow-hands driving their famous Longhorn steers through the historic streets, letting the jingle of spurs, bawling of cattle, and rhythmic hoof beats bring a bygone era back to life.
For the gourmands
Texas cuisine is not renowned for its delicacy or finesse, instead having earned a name for itself through its flavourful, hearty dishes that have been tantalising taste buds and filling stomachs since the days of the Chisholm Trail. Native Texan chef Tim Love of the Lonesome Dove, however, has somehow managed to accomplish the impossible feat of harnessing these bold flavours with a sprinkling of modern sophistication. If you're feeling brave, try the rabbit and rattlesnake sausage with spicy manchego rosti – it won't disappoint.
For the get up and goers
Don your cowboy boots and pick up your lasso at the Beaumont Ranch in Grandview, just 35 minutes from Fort Worth. Here you will find an 800-acre working cattle ranch with its own herd of majestic Texas longhorns and numerous stunning horses. Learn to live the cowboy life first hand with activities such as shooting, riding lessons, and even the option to try your hand at the ultimate cowboy art of roping.
For the lovers of luxury
Find Fort Worth's little bit of luxury tucked away from the hustle and bustle of its streets in the award-winning Omni Hotel. Amidst the stunning conflation of Western décor and modern art-deco glass, Mokara spa awaits. With access to the heated rooftop pool and landscaped terrace gardens, take the opportunity to keep the Western theme rolling by indulging in a signature Sweet Tea Body Gloss or the wildly popular Texas Pecan Pedicure.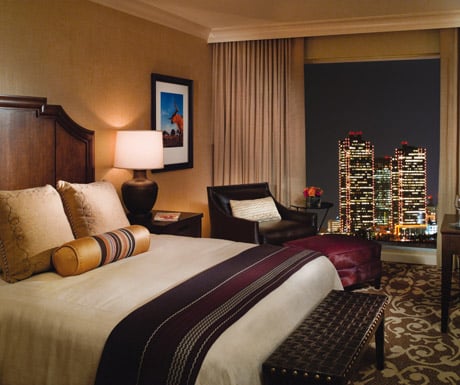 Tom Marchant is Co-founder of Black Tomato.
If you would like to be a guest blogger on A Luxury Travel Blog in order to raise your profile, please contact us.