The luxury travel world is becoming well experienced at catering for the growing number of vegans out there; no longer are we expected to settle for salad and a sub standard product because we are vegan; luxury hotels and resorts are offering vegan menus, vegan amenities and even vegan cooking classes to ensure that vegan guests enjoy the same high quality experience as everyone else.
But the one area of luxury travel where being a vegan can still cause problems is the flight to your destination, even when flying in the premium cabins.
We've taken long haul Business Class flights where we've felt like the poor cousin at the table; watching other passengers get a full service with bells on whilst we get a steady stream of sympathetic looks from the cabin crew. However, after years of flying Business Class with a variety of airlines, we've become expert at getting the best out of the experience.
Follow our 8 tips to get the best from your Business Class flight as a vegan and this swish Upper Class cabin on board the Virgin Atlantic Dreamliner won't be the only thing you'll enjoy about your flight.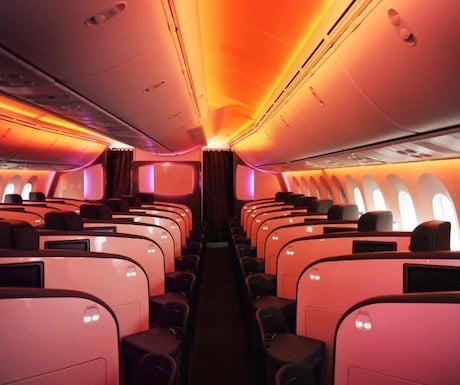 Be realistic about what to expect and what can be achieved
First things first, you need to be realistic about what to expect as a vegan Business Class passenger. No matter what airline you choose to fly with you should be able to expect good quality, imaginative and tasty food and service from the ground staff and cabin crew that aims to answer any questions you have whilst trying to solve any problems that might arise.
Quite simply, you should be able to expect the same level of product as non-vegan guests.
However, do not expect people to be able to perform miracles; airlines can be a pretty inflexible part of the luxury travel industry and if you're after something that steps out of the planned service then you might find yourself disappointed despite having the latest British Airway Club World flat bed to enjoy for your long haul flight.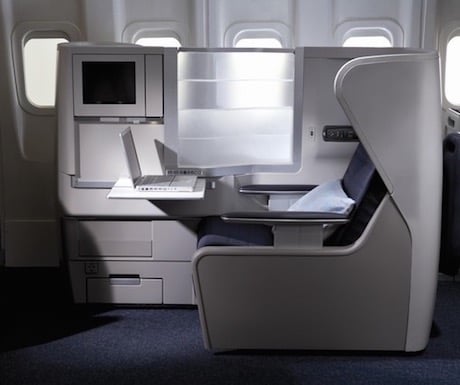 Order your meal in advance
Always order a vegan meal in advance, at the time of booking, selecting the code 'VGML'.
Often the Asian Vegetarian Meal ('AVML') is also vegan and sometimes an exciting choice, but selecting this can be a gamble as it may contain dairy and egg products. The chances are that the cabin crew won't be able to tell you about the specific ingredients of your meal so if you want a meal that is guaranteed free from animal products, always select the VGML code.
Confirm your meal has been loaded when you check-in
Always double check that your meal has been registered on the system when you check-in (and therefore should be loaded onto the aircraft). If for some reason the system has deleted your original request then this is your last chance to get a new meal loaded, it may even be too late at this stage but the ground staff will do whatever the can to help you.
There is no point checking this as you board the flight because by this time it will be too late and you'll be left with very few options on board meaning you may miss out on this tasty vegan starter as served by British Airways.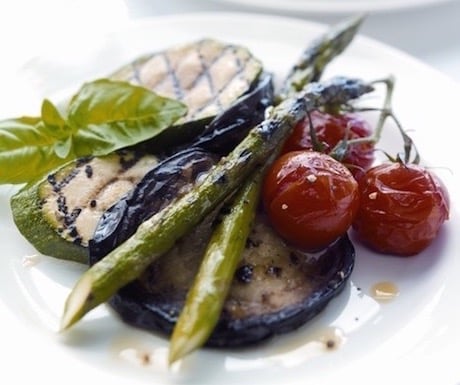 Eat in the lounge
One of the best things about flying Business Class (apart from having to queue less, sleep in a bed and stretch out with more space) is having access to the airport lounge; it's worth noting that all lounges were not created equal (anyone who has enjoyed the Virgin Atlantic London Heathrow Clubhouse will confirm this) but most should be able to offer something for a vegan passenger.
Airlines haven't quite got used to the idea of arranging extra pre-flight dining options for those of us who have dietary requirements, in the same way that they have for the in-flight meal. Just because you have selected VGML at booking won't translate to someone thinking that (just like other passengers) you might like to enjoy something in the lounge.
If you're lucky enough to find something like freshly made dim sum and noodle soup like those we enjoyed at The Wing (the Cathay Pacific Business Class lounge in Hong Kong) then you should eat them!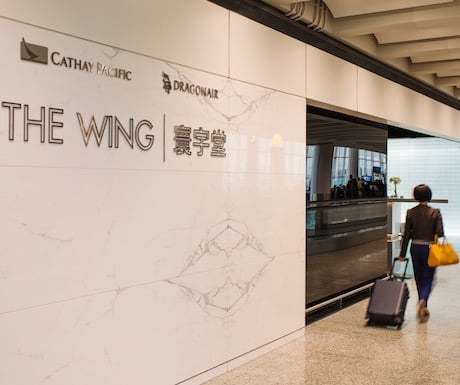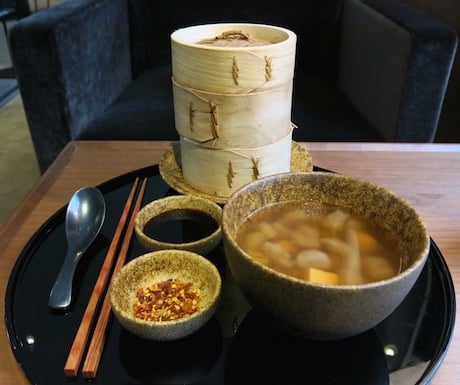 However, there are some airlines that are making great advances in this area with clear for labelling to show you the vegan options and both a hot and cold food offering that is suitable for vegans. If the lounge of your chosen airline has a vegan option labelled then our advice is to take advantage of it and eat it as even if your VGML has been loaded you won't be sure of how appetising it is until it's served.
If you want something, just ask…

This might seem obvious but we're always surprised by the number of people who don't ask for the things they want. Faced with no vegan options on the menu in the Virgin Atlantic at Hong Kong Clubhouse recently, we asked the lounge manager to speak to the chef who used his initiative and came up with 4 different food offering for us, even though he had limited ingredients and equipment.
It's this kind of service that makes it worth asking and also means your Upper Class experience will be even more enjoyable.
Don't want to miss out on the chance to re-fuel with something like a delicious salad with hazelnuts, pea shoots and roasted beetroot? Or an Asian style salad or platter of vegetable filled tortilla wraps? Make sure you ask for something to be made especially for you.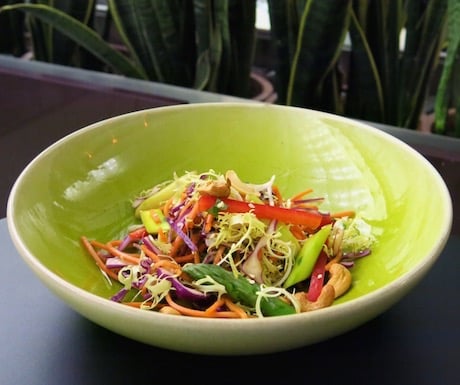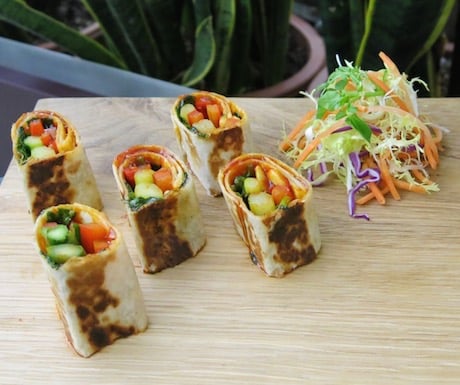 Take your own food
You shouldn't have to, but it's always a good idea to take some of your own food when you fly long haul just in case your meal isn't loaded and no other alternative can be found (this has happened to us in Business Class, more than once). Take notice of restrictions with liquids and take a few snacks or a preprepared meal as a backup in case of a complete food failure by the airline. Even if you successfully get a great vegan meal in-flight, the likelihood is that the extra snacks brought around in between times probably won't be vegan so if you want to join in with others and snack your way through your flight, then go prepared with a few treats.
Having said this, airlines do sometimes exceed our expectations and deliver delicious little treats that are vegan like this delicious vegan mango sorbet on board British Airways flight from London Heathrow to Bangkok recently.
Take your own amenities
Unlike the option to select a vegan meal, there is no option to select vegan products in your amenities pack or in the business lounge. If you want to use products that you can guarantee have not been tested on animals and that do not contain any animal products then you should pack your own. Having said this, on our recent Virgin Atlantic Hong Kong to London Heathrow there was soap and moisturiser in the bathroom from the vegan friendly Cowshed company (just check for beeswax and honey in some products) as well as having cruelty free Bumble and Bumble shampoo and conditioner in the Revivals Lounge at London Heathrow (again, make sure to check for ingredients like beeswax to ensure they're vegan).
Feedback to the cabin crew and the airline
As a vegan traveller you should always feedback to the cabin crew and airline when they get something right as well as the times when then get something wrong. Some issues can be resolved in flight with resourceful cabin crew solving problems and it's always worth telling the airline about your experience in the hope that they continue to improve their service. You might not see direct results from your customer feedback, but nothing will improve if customers don't voice their opinions.
If you enjoy a good vegan meal on board, always say thank you to the cabin crew and ask them to pass on your feedback!
Paul Eyers is Founder of Vegan Food Quest.
If you would like to be a guest blogger on A Luxury Travel Blog in order to raise your profile, please contact us.