By
Leah DeAngelis
on Apr 25, 2016 in
Accommodation
,
Attractions
,
Florida
,
Food and Drink
,
Going Out
,
Leisure Travel
,
North America
,
Regions
,
Resorts
,
Restaurants
,
Speciality Travel
,
Travel Miscellany
,
USA
Flagler, Florida is a small, laid back beach town between Daytona Beach and Jacksonville. It's a sleepy little haven with a lot of personality and color. Flagler has character and it's fun to visit. The best way to get there is to travel Florida's Historic Highway along A1A so you can take in pretty ocean views and all the colorful houses, seaside restaurants, quirky shops and galleries you see along the way. There are plenty of places to park, so stopping is easy and you should allow time to enjoy meandering and sampling local food from fish and chips to frozen wine.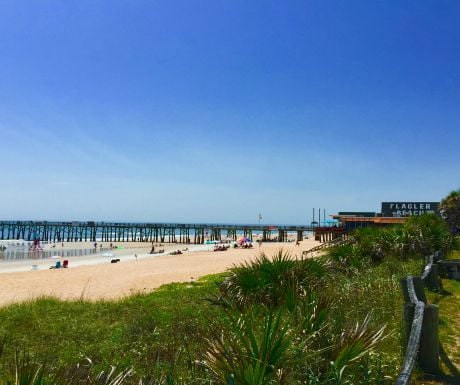 The beach itself is uncrowded and clean. It's a taste of Florida's natural habitat. Small dunes and greenery frame the waves. Flagler beach is also dog friendly – a rarity and big draw for those traveling with pets. It's a more authentic Florida experience opposed to areas where you see high rise hotels for miles.
Hammock Beach Resort is a family friendly AAA Four Diamond resort. Conveniently located right on Flagler Beach in Palm Coast, it's just a short walk from your door to the ocean. There are chaise lounges and umbrellas available for relaxing in the sun, and at night, the beach is active with guests. Children are out with flashlights looking for crabs, you see people fishing and walking, and you get the feeling of being in a more authentic Florida beach atmosphere as opposed to the more crowded touristy areas.
Rooms range from one to three bedroom, and some have full kitchens and washers and dryers which are handy for longer stays and larger families. A handy grocery store right down the street is perfect for gathering supplies, and there are also three restaurants on site, including an excellent sushi bar with fabulous Lobster and Mango Rolls. The resort's yacht, the Sundancer, offers dinner and cocktail cruises and there are several restaurants very close to the resort for those who wish to venture out.
One of the best features of Hammock Beach Resort is the Kid's Crew. You can drop children off for a day of putt putt golf, swimming, outdoor movies and other activities while you relax on the beach or visit the spa. And if you can't sit still, there is plenty to do. Hammock Beach is famous for their 36-hole golf course overlooking the Atlantic Ocean. Beach Cruiser Bicycles are available to explore the property and there is a lazy river if you just want to enjoy a float. Hammock Beach Resort is close to St. Augustine, so you could enjoy a quick day trip.
Equestrian Adventures of Florida
If you've always wanted to ride a horse on the beach, here is your chance. Equestrian Adventures of Florida offers seaside rides right on Flagler Beach, just down the street from Hammock Beach Resort. If you're staying at the resort, it's a must-do for horse lovers. Riding on the sand along the sparkling ocean is not only special because of the location, it's a rare thing to find.
Equestrian Adventures aims to make you feel like you are riding your own horse for the time you are with them. This is not a head to tail trail ride, it's relaxed and you can ride side by side with the person you are with. Be sure to call in advance to reserve your horse, and bring along some closed toe shoes.
Flagler Pier
You can't miss it. Big huge white letters on the Flagler Beach Pier let you know you are in Flagler Beach. It's a landmark and a great place for fishing and to watch surfers. Attached to the pier is the popular Funky Pelican restaurant where locals like to enjoy meals over the water. You can dine inside or out, and the Funky Pelican is especially famous for Southern breakfasts like Shrimp and Grits.
The new Flagler hotspot is Flagler Beachfront Winery where they specialize in ice cold Wine Slushies. Not only are the wines refreshing but they are award winning. The owners have certified organic vineyards in Ohio, and have chosen to bring their talents to Flagler where they have created a small winery. This family run business works with small growers across the US and has an ever changing wine list. Enjoy live music and ocean views outside on the deck and munch on Tapas while sipping frozen wine. If wine is not your thing, local craft beer is also on the menu.
Fuego Del Mar
Fuego Del Mar is a relatively new restaurant in Flagler, popular for its ocean front dog friendly outdoor seating. Sit outside and soak in the saltwater breeze at Fuegos. Dogs are allowed on the patio where they light up a fire pit at night. Specializing in Mexican food, Fuegos offers a tasty bite with a great view (the ocean is across the street) and classic Flagler Beach atmosphere with wood decks and umbrellas. It's ultra casual, the kind of place you can go straight from the beach wearing a cover-up.