By
Hilary Stockton
on May 15, 2016 in
Adventure Travel
,
Africa
,
Asia
,
Leisure Travel
,
Maldives
,
New Zealand
,
Oceania
,
Regions
,
Seychelles
,
South Africa
,
Speciality Travel
If you're fascinated by wildlife, yet also have a taste for luxury and the finer things in life, there are several experiences that should be on your bucket list. There's nothing better than seeing wild animals in their natural environment, while also being able to enjoy some of the loveliest accommodations and cuisine that money can buy. Without further ado, here are my top picks for wildlife experiences combined with luxury resorts and lodges:
1. Giant Aldabra tortoises at Fregate Island Private, Seychelles
One of the largest tortoises in the world, with an up to 4 feet long shell and an average weight of 550 pounds, they have also been dubbed the "ninjas" of tortoises, for their sometimes precarious acrobatic stance rising on their hind legs to reach low tree branches for food. Aldabra tortoises are also among the longest lived animals on earth, with some living over 200 years.
Fregate Island Private is a dream come true for guests: just 16 beautiful residences, each with its own private pool and jacuzzi as well as personal buggy to use to explore the island's 7 gorgeous beaches. Take a nature walk with one of the resident Conservationists, go scuba diving with the PADI certified dive team, get your adrenalin rush windsurfing or water skiing, or try your hand at deep sea fishing–your catch will be transformed into delectable sashimi or grilled fish for dinner.
2. Elephants, lions, leopards, rhinos at Singita Boulders
Think of incredible wildlife and a luxury experience and luxury safari lodges in Africa comes to mind. For many, a safari is a once in a lifetime experience, so I highly recommend splurging on an exceptional lodge such as Singita Boulders. The luxury lodge features a swimming pool, spa, gym, and just 12 guest suites, two of them family suites, each with a fireplace and private viewing deck with heated plunge pool.
Most importantly, Singita Boulders, as a small luxury lodge set in Singita's privately owned reserve within the 45,000 acres of Sabi Sand game reserve, offers a far more private game viewing experience than many other luxury lodges in Africa. Whereas on many other safaris you might frequently see other vehicles and guests while out on game drives, you typically see no one else on your twice a day game drives in Singita's high end Land Rovers. Singita is also incredibly selective in the guides and trackers they employ, and rigorously train their staff to exactingly high standards. This level of quality and service and delivering a highly personalized experience obviously comes at a price premium to other lodges, but it's worth it, particularly for a special honeymoon, anniversary celebration or unique family safari.
3. Manta on Call at Four Seasons Maldives at Landaa Giraavaru
If you've never snorkeled with an abundance of graceful manta rays, the Four Seasons Maldives at Landaa Giraavaru's Manta on Call experience is one you should put at the top of your bucket list. You'll be given a phone to carry with you as you enjoy the resort, whether it's relaxing on the powdery white sand beach, exploring the marine life and conservation efforts at the Marine Discovery Centre, sipping a fresh young coconut, or enjoy a complimentary yoga or aqua yoga class.
Once manta rays are sighted, your phone will ring and you'll be whisked by speedboat to where the Manta rays are feeding, so you can snorkel with them. Some of my clients have even seen 70 huge mantas at one time! Especially good viewing times tend to be in late June, July, August, September and October.
This unique program is only offered by Four Seasons Maldives at Landaa Giraavaru, which also is exceptional, even among Maldives luxury resorts. It offers the best beach of the 5 Maldivian resorts I've been to, and its water villas and suites, some of them private pools, are airy and secluded, with spectacular views. Service is also at a higher standard than other Maldivian resorts I've been to, which stands to reason, since the Four Seasons has a unique recruiting and training program for new employees, and cherry picks the best to retain as full-time staff.
4. Baby kiwis at The Farm at Cape Kidnappers, Hawke's Bay, New Zealand
Even most New Zealanders have never seen their national bird, the endangered kiwi, in the wild, so The Farm at Cape Kidnappers' Kiwi Discovery Walk is truly a special experience. The Farm at Cape Kidnappers is set on 6000 acres and includes a working sheep and cattle farm, but also extensive forests that are a nature reserve. The owners, Julian Robertson and adjoining land owners, constructed a predator-proof fence and used traps to rid the property of ferrets and stoats, the main predators that kill kiwis.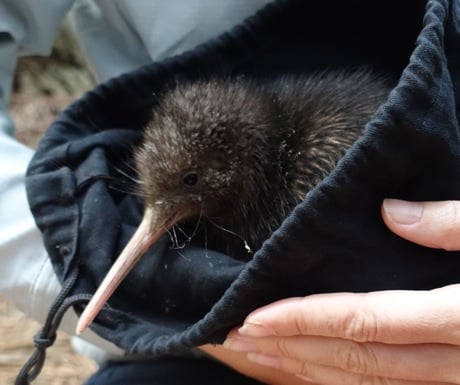 Young kiwi chicks are transferred to the property to be creched in this safe environment and radio tagged, so that they can be tracked and regularly checked on and weighed. When you go on your walk, you'll meet your guide and drive close to the part of the forest the kiwi is likely to be in, then use the radio transmitter, which emits louder beeps the closer you get to the kiwi, to find the kiwi chick. Kiwis are nocturnal and sleep during the day in burrows, so once you're right by the burrow the kiwi is sleeping in, your guide will reach in to retrieve the baby kiwi, calm him or her in a dark bag and weigh the kiwi, then allow you to hold the kiwi while providing some grubs or other protein for extra nourishment. It's amazing to hold and see in person these rare and endangered birds, which have only a 5% survival rate as chicks in areas with predators but a 90% survival rate at the Farm at Cape Kidnappers, thanks to eliminating virtually all predators. Adult kiwis are among the longest lived birds, and can live to over 50 years of age.
The Lodge at the Farm at Cape Kidnappers is itself a treat, with gorgeous views of the surrounding land and the Pacific Ocean, and just 22 guest suites plus a four bedroom Owner's Cottage making for an intimate, boutique resort stay. The property is Relais & Chateaux, and the included daily breakfast, pre-dinner drinks in the cozy drawing room and library, and multi-course tasting dinner nightly are perfect for food and wine connoisseurs. Golfers will also be thrilled to play the Tom Doak course, one of the top courses in the world, with stunning views that are worth driving a golf cart around the back 9, even if you're not a golfer.
Hilary Stockton is the CEO at TravelSort.
If you would like to be a guest blogger on A Luxury Travel Blog in order to raise your profile, please contact us.