Stunning sunsets are mirrored on the twilight water of meandering rivers, which adorn the beautiful Burgundy hills. And, thanks to Edge Charter, your private luxury barge cruise route is embraced by verdant hillsides, picturesque villages and pretty French vineyards: a landscape which no doubt will inspire you, just as it inspired artists Turner and Sisley.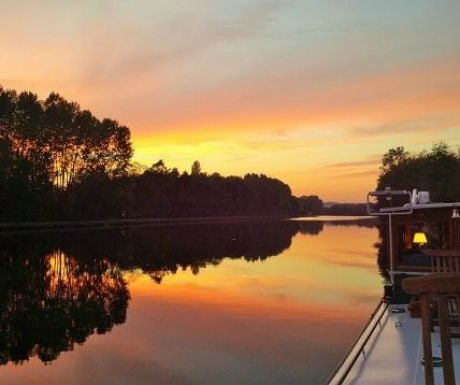 From majestic châteaux to wine-tasting at beautiful vineyards
Experience the true "l'art de vivre" with delicious meals and Premier-Cru Burgundy wines, perfectly balanced with wonderful sightseeing and luxury cruising. See the very best that the region has on offer: majestic châteaux, beautiful vineyards, pretty villages, historic towns, cave paintings and typical French markets.
Delicious meals prepared by your own private gourmet chef
Sumptuous dining complemented by fine Burgundy wines can be enjoyed on board The Randle, prepared by your own gourmet chef, or you can eat at Michelin restaurants and charming auberges – the choice is yours. All luxury river and canal cruises can be tailormade for your party. The itineraries are either three, six or thirteen nights, and to whet your appetite here is an example of the three night itinerary, which can be booked either at a weekend or mid-week.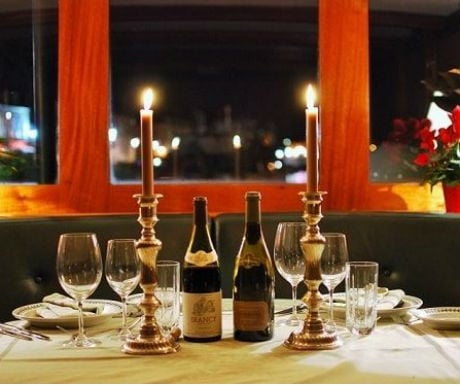 Private chaffeur pick-up in Paris
Your private chauffeur will pick you up from your Paris airport, station or residence, and transfer you to the evocative, historical town of Auxerre. This architecturally interesting Burgundy town has been prosperous ever since Roman times. Enjoy an evening wander around its old quarter, which maintains a wonderful 15th century charm, with its charming, crooked pretty streets, lined with timber framed houses. Perfect for people watching and shopping, Auxerre is overlooked by its striking 11th to 16th century St Etienne Cathedral.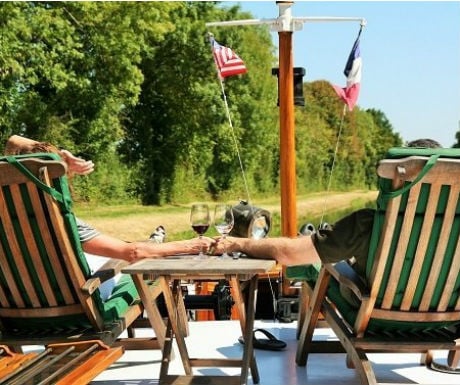 French style cuisine made from fresh local ingredients
Back on board, your evening meal will be prepared by your own private gourmet chef. You can even watch and learn a little if you like, about how to cook French style cuisine.
Alternatively your luxury barge can bring you to dine at some of the best local restaurants, whether you choose the more traditional type or a Michelin restaurant. Some restaurants even have their own private moorings.
Wherever you dine, you can be sure to enjoy the evocative flavour and exquisite nose of Burgundy wines produced using Chardonnay, Pinot Noir, Melon and Caesar grapes.
A 4-hour river cruise and a Chablis vineyard tour
The next day a 4-hour river cruise will take you to Bailly, where after a delicious lunch on board, you will visit the Grand-Cru vineyards of Chablis by car. There you can enjoy wine tasting at a typical cellar in the village.
In the evening, you can relax back at the mooring while your private gourmet chef  creates your fine dining experience, which of course will include Premier-Cru Burgundy wine. Or you can choose to dine in one of the best local restaurants.
Picturesque canal cruising to the beautiful village of Accolay
After breakfast, the Randle and its crew will take you on a 4-hour cruise to the beautiful riverside village of Accolay. After lunch, you have the choice to explore either the UNESCO 11th Century Basilica of Vezelay or one of the "beaux villages de France" Noyers-sur-Serein. Later in the evening, you can enjoy a wonderful meal on-board prepared by your private chef, or choose to go to one of the best local restaurants. The next morning after breakfast you will be transferred by your private chauffeur driven car back to Paris.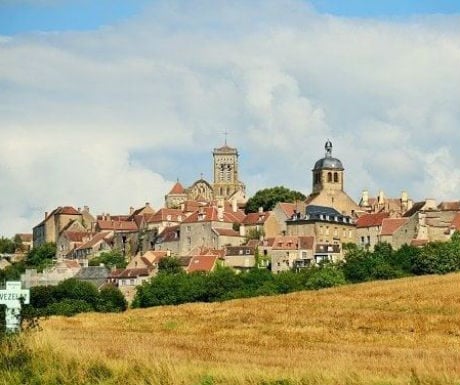 About the Randle
A classically styled, beautiful riverboat, the Randle was constructed in 2001 by English craftsmen. It blends classic charms with modern, luxurious comforts, and offers relaxed cruising, as it's powered by a 1939 vintage, slow running engine. Its facilities include two air conditioned and en-suite mahogany panelled cabins and onboard Wi-Fi and satellite TV/DVD.
The Randle's professional crew includes the Captain, your private gourmet chef and tour guide, who offer superb hospitality and an unforgettable, unique luxury cruise on the rivers and canals of Burgundy.
Included in your luxury cruise are guided tours by private car to vineyards, chateaux, Castles, and other places of interest. There are bicycles available, if you wish, for exploring local towns and villages, as well as an evening restaurant chauffeur service. There's a whole range of other activities, such as balloon flights and kayaking, that can be included in your itinerary.
Disclosure: This post is sponsored by Edge Charter.