With its rustic elegance, Italy's central Italian region of Umbria is considered the "green heart of Italy". One of Italy's most famous regions for green scenery, olive oil and wine production, and Medieval hamlets, it has been the focus of attention since the August 2016 earthquake which hit a fault line through the regions of Umbria, Le Marche and Lazio. While we sympathize with what has been lost, the region and the locals need your support now more than ever. Here are a list of some of our favorite things to do in the area.
1. Etruscan wine tasting
On an excursion to Orvieto, ViniCultural Tours offers a rare opportunity to visit a vineyard and learn about ancient Etruscan wine production.
At Il Palazzone you will see how wine is aged in chestnut barrels using the same type of wood from a 2,500 year old method, and watch the owner crush grapes with his feet. In addition to the Etruscan wine, Il Palazzone produces several Orvieto DOC wines and "slow wine" that adheres to the Slow Food Association's principles of sustainable agriculture. After touring downtown Orvieto and the city's Gothic cathedral and Etruscan caves, the day ends with lunch on the veranda over-looking the sweeping hills of Umbria.
2. Assist in making olive oil
The Marfuga olive oil mill is located in the valley near Trevi, one of Italy's most famous regions for olive growing due to its soil quality and micro-climate. With over 18,000 olive trees that they hand pick to make their oil, it is no surprise they could use assistance in the process.
For those looking to get their hands dirty and experience the Italian countryside and farm production first hand, the mill offers the opportunity to assist in the hand-picking process during their harvest from October to December. Visitors can learn the techniques they have been using to make homemade olive oil since 1817.
It's also possible to attend a tour of the production plant at the mill without getting your hands dirty and enjoy a tasting from their array of award-winning oil. They also have a great boutique store where you can shop for products created using their olives and oil, such as marinated artichokes and cosmetics.
3. Tour Spoleto
Located along the Ancient Roman roadway, Via Flaminia, the medieval hamlet of Spoleto is built on Roman ruins dating back to 200 B.C. which are visible under the city's contemporary marketplace.
The city not only offers great Roman ruins such as an intact Roman house with mosaic floors believed to have belonged to Emperor Vespasian's mother, and a Roman amphitheater, it also has a stunning Medieval tower and aqueduct, and its Duomo is one of the best examples of Romanesque architecture in central Italy.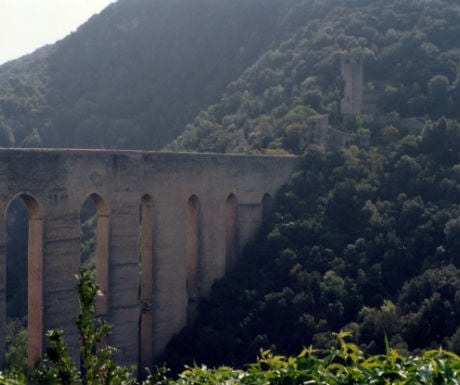 Each summer in June and July, the historical setting of the city becomes a stage for one of the country's most important opera festivals called the Festival di Due Mondi (Festival of the Two Worlds). The festival comprising opera, dance and round table discussions on science, has been held annually in Spoleto since the 1950's.
4. Fattoria di Vibio Resort and Spa
Set in an area renowned for greenery in the area of Monte Castello di Vibio, the Fattoria di Vibio Spa offers the perfect setting to pamper yourself. Located near the natural park, Parco Fluviale del Tevere, which is renowned for mountain biking and trekking, the spa allows you the relaxation you need after a long day in nature.
Cool off in their swimming pool set among cypress trees with views of the Umbrian hills, enjoy a massage, or a hydro-massage in their infinity pool.
Their restaurant offers hearty meals including fresh pasta with wild boar and all dishes are made using the region's famed olive oil and accompanied with local wines such as Sagrantino, native to the region.
5. Summer Jazz Festival
Each Summer, dating back to the 1970s, Umbria hosts one of the most important jazz festivals in the world. In the past the festival has hosted such illustrious musicians as Miles Davis, Keith Jarrett, Sting, B.B. King, and Prince. More recent performers include Lady Gaga and George Clinton and the Parliament Funkadelick.
The Summer jazz festival is concentrated in the region's capital, the stunning hilltop town of Perugia which is also famous for its fall chocolate festival. A smaller Winter jazz festival takes place annually in the town of Orvieto.
Greg Grant is Owner of Hosted Villas.
If you would like to be a guest blogger on A Luxury Travel Blog in order to raise your profile, please contact us.