A cenote is a pit or sinkhole resulting from the collapse of the limestone bedrock to expose the groundwater below. The Mayans believed the cenotes to be sacred entrances to the underworld. They provide access to the underwater caves and caverns that are the main diving attraction in the Yucatan Penisula, Mexico. One of the most famous is Cenote El Pit which is located deep in the jungles near Tulum and offers crystal clear water, a hydrogen sulfide layer (aka 'the cloud'), and it's own 'island' debris mound. In the summer the light beams streaming through the entrance are simply breathtaking.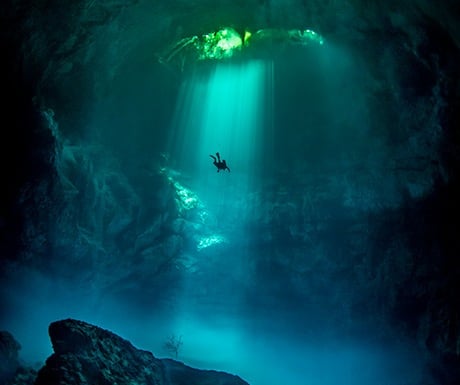 Thank you to Tom St George of tomstgeorge.com for permission to reproduce the image.
If you have a really special photograph you would like to share with  A Luxury Travel Blog's readers, please contact us.