By
Paul Johnson
on Jan 21, 2017 in
Accommodation
,
Chile
,
Europe
,
Featured
,
France
,
Hotels
,
Illinois
,
Middle East
,
North America
,
Regions
,
South America
,
Spain
,
Special Offers & Packages
,
Travel Miscellany
,
United Arab Emirates
,
United Kingdom
,
USA
,
Western Europe
,
Worldwide
As you can imagine I have stayed at some absolutely amazing hotels and resorts, which is definitely one of the perks of my job. Whether I am visiting an iconic city or one of the most beautiful holiday destinations in the world, I always like to get the best out of my trip, by matching the hotel I choose, to enhance the experience I wish to have.
Luxury should be the perfect blend of exclusivity and hospitality, combined with comfort and facilities that go beyond what you may have imagined. Here are 5 of the world's most exclusive hotels that I have chosen for you. Read on to find out how you can stay at these hotels for as much as 70% off the normal price.
1. Gran Hotel La Florida, Barcelona
Barcelona is an iconic city that has been a hot favourite with discerning travellers for years. As much as I love Barcelona, it can get quite hectic, so that's why I recommend a stay at the 5-star Gran Hotel La Florida.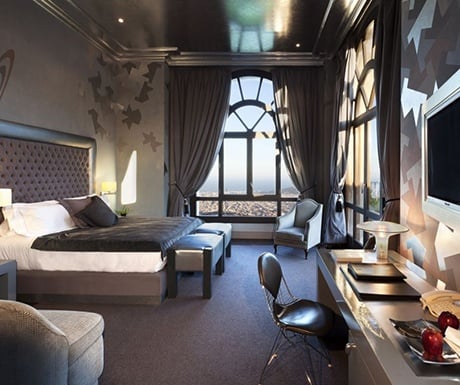 Located in a perfect setting on the Tibidabo hill, 500 metres above the sea, the relaxation factor and panoramic views are fabulous, yet the city centre is a mere 15-20 minutes drive away. This hotel blends luxury, design and history seamlessly together.
2. Conrad St. James's, London
Not only is the Conrad St. James a delightful 5-star hotel, but it is conveniently located for some of London's classic sights. The Conrad oozes style and character also, having been converted from government offices into a hotel, in 2012.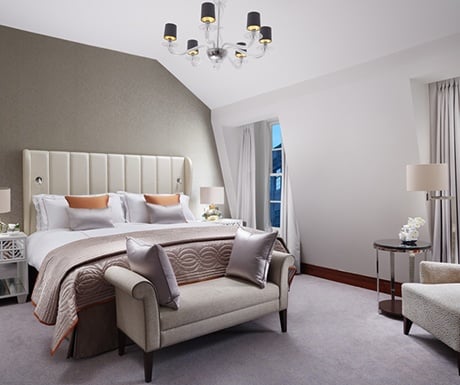 Eye-catching art and sculpture, includes humorous political caricatures and cartoons in a Gerald Scarfe gallery. Expect an atmospheric bar, quiet elegant bedrooms and spacious bathrooms.
3. Trump International Hotel & Tower, Chicago
Chicago is famous for its bold architecture, so a great exclusive hotel choice that continues this theme is the 5-star Trump International Hotel & Tower® Chicago. Situated in downtown Chicago, at the city's most enviable address, the Trump International Hotel & Tower is a showcase of engaging, bold style and design.
This hotel is one of only ten in the world to boast the prestigious Five-Star Forbes Ratings both for the hotel itself as well as the restaurant. The Trump International Hotel & Tower offers amazing suites and incredible service in a superb location.
4. Marriott Santiago, Chile
Surprising and sophisticated, Santiago Chile is a city with spectacular views and a beautiful old colonial-style city centre. The Marriott in Santiago is the perfect luxurious retreat, in an excellent location, in this buzzing city.
Some of the suites have wonderful views of the snow-capped Andes, so when making your reservation be sure to see what rooms with a view are available. All of the spacious, stylish suites have great views however, some are cityscapes and others are of the amazing Andes. The Marriott Santiago is an outstanding exclusive hotel choice.
5. Jumeirah Emirates Towers, Dubai
Dubai is a city where a traffic jam means queues of supercars. Dubai's Crown Prince has apparently ordered six James Bond amphibious high speed cars, which are handy for getting him from A to B, either by road or through water. There's no doubt that luxury is an integral part of a visit to Dubai.
The Jumeirah Emirates Towers is the perfect Dubai city lifestyle luxury destination. It's home to world class, award-winning restaurants such as the Al Nafoorah, the Rib Room and the Hakkasan. Guests can choose from 400 rooms and suites, as well as 13 dining and night life venues. Perfect service, facilities and ambience ensure a rewarding stay. Regardless of what is the purpose of your trip, the Jumeirah Emirates Towers offers an exclusive, harmonious experience in the luxurious city of Dubai.
How to stay at these exclusive hotels for up to 70% off
To stay at these exclusive hotels and other top luxury hotels worldwide, head over to Club1Hotels.com who are currently offering a special monthly membership to A Luxury Travel blog readers and social media fans.
Sign up today for the Club1Hotels.com monthly membership for only $19.00 ($69.00 value) or the annual membership for $129.00 ($695 value).
Be sure also to check out the amazing pre-buy hotel deals which offer up to 70% savings. These are listed by city and country – there are over 1,600 worldwide deals available.
Disclosure: This post is sponsored by Club1Hotels.com.