Top 10 luxury fashion items for her this Winter
Whether you're somewhere cold this Winter or escaping to sunnier climes, we have a great range of ideas for your Winter wardrobe, from gorgeous coats to a versatile garment that can be worn eight very different ways to a dress that packs into the smallest of bags.
Heritage 3-1 Jacket from Ibex Outdoor Clothing
Ibex
's women's Heritage 3-1 Jacket is the definition of luxury and warmth. This modern duffle coat is made from a heavyweight honeycomb Bellot which is a dense Merino wool blend designed to keep the chills out and your precious heat in. In addition, this coat features a zip-in wool-insulated vest for added warmth. With a hidden front zipper and plenty of pockets for all your treats, this jacket is the ultimate treat in inclement weather protection.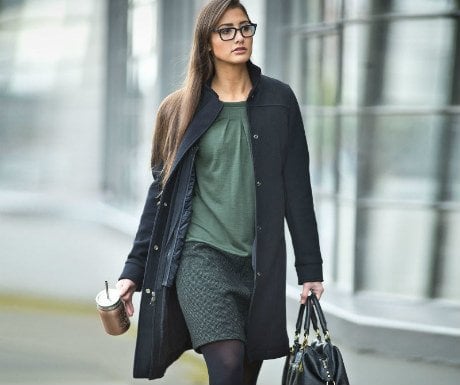 Winter fringe T-shirt dress from Free People
This ultra-soft and simple T-shirt dress from
Free People
features 'too cool' fringe accents at the back and along the sleeves. It is supremely comfortable and offers the wearer a relaxed fit.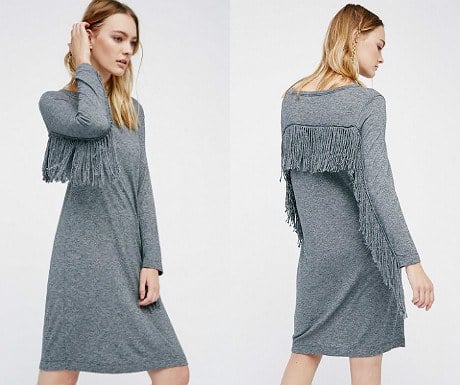 Moritz ankle boots from Gianvito Rossi
Gianvito Rossi
's Moritz ankle boots have been crafted in Italy from voluminous fur and supple suede for a tactile finish. Elegant straps create a quilted effect on the fur, while a stiletto heel adds sultry lift. Tuck in your trousers to show them off to their full potential.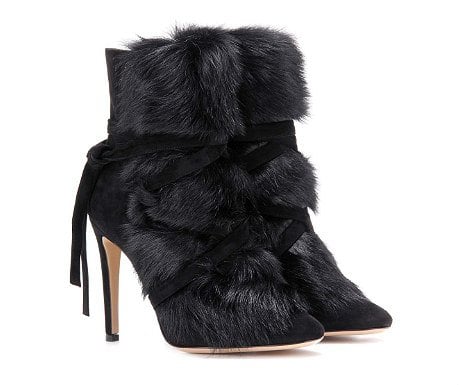 SuperSoft Thermals / Pajamas Set from Tani USA
Sometimes you really don't need thermal wear rated for an Everest climb. So for all the other times, there's
Tani USA
's SuperSoft Thermals. Though it's super soft and lightweight enough for everyday wear, it still features excellent heat retention whether you're at base camp or on a park bench. The imported Japanese Viscose Micro fabric is "sueded" on the inside for a velvety feel against your skin and interlocked for a smooth hand and tight finish, and the pajamas set comes with a long sleeve top and pants.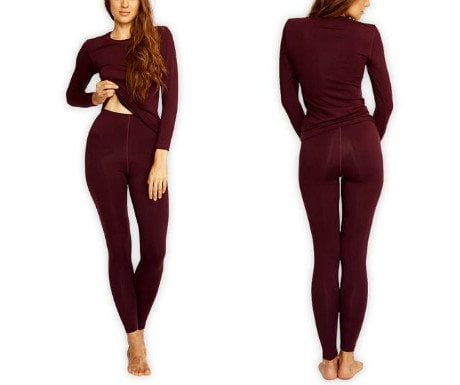 Wild Mantle
Whether coming off the slopes or on your way to yoga, the Merino is perfect for maintaining core warmth during your on-the-go lifestyle. This lofty and fun 100% Fine Italian Merino Wool "knoppy" knit pattern features two drawstrings for extra cold and wind protection. Lined with
Wild Mantle
's cozy minky fleece to optimize style, comfort and warmth, you can even flip the hood down to wear like a cowl. It is made by a community of snowboarders, artisans, moms and dads at a B-Corporation Knitting Mill in Longmont, Colorado, and delivered in a WM cotton drawstring garment bag.
Chrysalis Cardi from Encircled
Specifically designed for travel and able to be worn more than 8 different ways, the Chrysalis Cardi from
Encircled
is great for those on business trips or vacations who are looking for a high-quality item that they can dress up and down and layer with other pieces. From a cozy cocoon cardigan, to a Grecian tunic, a cape and a classic infinity scarf, the item is also suitable to wear in many different climates. This makes it easier for women who travel, to travel with less and get more wear out of their wardrobes. It comes in a variety of colors including black, slate grey, sky blue, navy and plum. It's also made from eco-friendly and renewable Modal with azo free, low impact dyes. It's even pill resistant and, with proper care, can last a lifetime – meaning less consumption of goods that ends up in a landfill.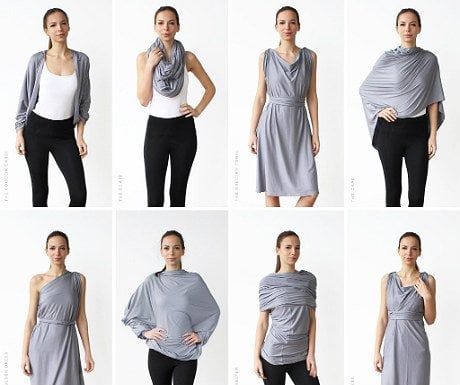 Linen night shirt from SAINT ATMA
The
SAINT ATMA
 linen night shirt is composed of soft washed black linen in the company's studio in Brooklyn. The nighshirt features button cuff details, asymmetrical hem and side vents, as well as hidden side pockets, and retails at $248. As each SAINT ATMA item is hand-dyed and made-to-order, no two are identical, creating a customized and luxurious experience for every customer.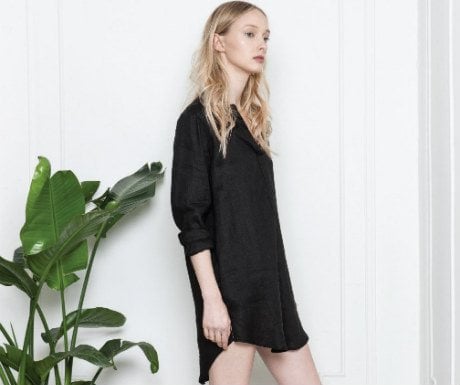 Printed cashmere silk scarf from Valentino
Opt for a little opulence this Winter with this cashmere and silk-blend scarf from 
Valentino
. Printed with a fire-breathing dragon in bright flame-like colours, and made from 80% cashmere and 20% silk, it's the ideal accessory for pairing with an all-black ensemble. Brighten up even the darkest of Winter nights with this colourful accessory!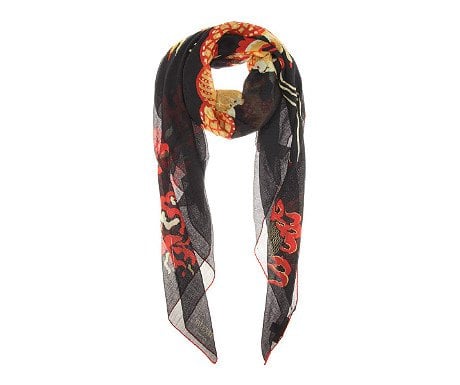 The Poppet packable wrap dress
This soft, slinky, sexy dress is the perfect two-second solution for ladies on the go. It is comfortable, wrinkle resistant and extremely stylish. Have dinner plans or a party but don't have time to go home or to your hotel room to change? Pop open
The Poppet
packable wrap dress from its attached pocket, slip it on and in just moments you go from work day drab to evening fab! The Poppet is the perfect garment to keep in your purse, suitcase, office drawer, or car, so you're always prepared to look your best at a moment's notice. The brilliance of this dress; it fits into the pocket which sits in the small of the back and is concealed when wearing. It's easy to pack and keep on hand for all of those just-in-case moments.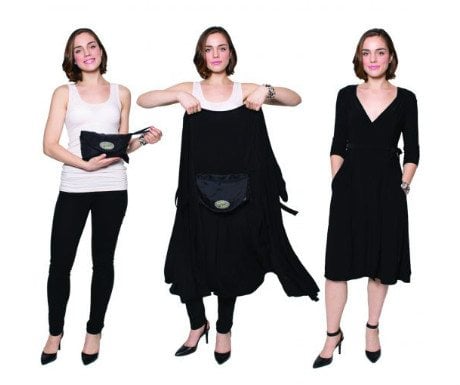 Shearling-lined leather jacket from Rick Owens
Rick Owens
gives the leather jacket a feminine update with this curve-enhancing version. Crafted in Italy from butter-soft leather, this piece is perfect for those chilly Winter days and lined with heavenly soft shearling for the most comfortable wear. The folded over shearling collar can be zipped to create a hood for when those unforeseen showers hit.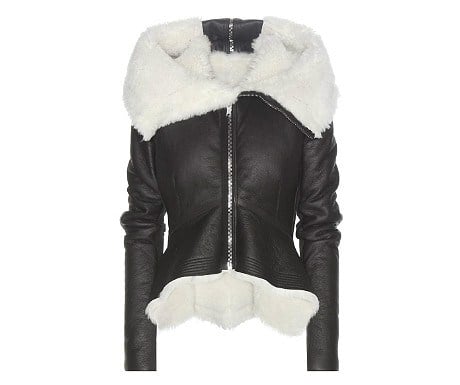 Our luxury fashion round-ups are published quarterly. Do you work in the luxury fashion industry and have an item you'd like to see feature next time around? If so, make sure you sign up on this mailing list in order to receive an alert when we are compiling the next one.
Did you enjoy this article?
Receive similar content direct to your inbox.