By
Kathryn Munro
on Mar 18, 2017 in
Accommodation
,
Air Travel
,
Attractions
,
Bars
,
Canada
,
Food and Drink
,
Going Out
,
Hotels
,
North America
,
Regions
,
Restaurants
,
Speciality Travel
,
Travel Miscellany
Celebrate Mother's Day the luxurious way with a trip to one of three beautiful cities in Canada: Ottawa, Calgary or Edmonton. Ottawa is the inspired hub of Canada and its capital, Calgary is metropolitan and modern, and Edmonton is industrially historic and serene, located right on the banks of the river. With fine dining, luxury shopping and indulgent experiences abundant, you'll be able to take the perfect pamper holiday. With this year marking the 150th anniversary of Confederation where the colonies united into one Canada, there are many reasons to celebrate.
Where to stay
The beauty of Canada and the history of Ottawa come together in the form of the Fairmont Château Laurier, a chic luxury castle which is elegantly designed. As style and history merge together, comfort certainly doesn't lack here. Modern amenities bring this French-inspired chateau into the 21st century, while its stunning architecture preserves it in the past. All of these elements combine to create a unique luxury experience, one promised to be memorable and enjoyable.
Transport yourself back into history as you step into the lobby of the Fairmont Palliser, a hotel more than 100 years old located in the heart of downtown Calgary. Here you are welcomed by decadently sitting areas and ornately decorated ceilings. Modernity is found in the rooms, styled simply yet elegantly, with space to unwind and relax.
Modern meets luxury at The Matrix Hotel in central Edmonton. This chic hotel offers sleek and comfortably decorated accommodations located in the heart of the city. A few steps outside of the hotel will find you surrounded by prime shopping and nightlife, bustling with activity and opportunity. If being in the heart of the action wasn't sweet enough guests are invited to take part in the Matrix's complimentary wine tasting.
Where to indulge
An inspired ski lodge with the thermal baths reminiscent only of Blue Lagoon in Iceland, Le Nordik located right outside of Ottawa is a spa like no other. The largest spa in North America, it promises to have award winning services for that will entice you to try it all. Spend the whole day relaxing in the thermal baths, alternating hot and cold experiences, reaching peak serenity. Don't want to get your toes wet? Le Nordic also offers standard spa treatments like massages and facials to work away the stresses of the past month.
Need to get away from the bustle of Calgary? Take a helicopter tour through Kananskis to the heart of the Canadian Rocky Mountains. Leave your worries behind as you fly from one breath-taking landscape to another. Enjoy the marvellous natural wonder that Canada has to offer, with views of its lush forests, towering mountains and picturesque valleys. Upgrade your tour with a bottle of sparkling wine to make the day truly unforgettable, and as luxurious as possible.
Wander down the street of Whyte Avenue in Old Strathcona, Edmonton to get lost in the world of boutique shopping. A charming marriage of historical buildings and youthful vibrancy, Whyte Avenue promises to be the best place to treat every mother, and yourself! Check out the unique art galleries and music shops, pop into a café like La Boule for delectable teas and coffee, shop as you'd like, but be sure to take in the relaxed pace and youthful energy of Whyte Avenue.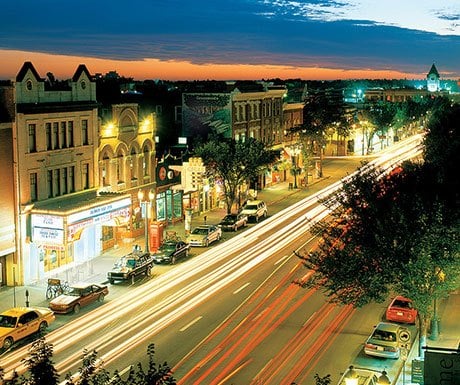 Where to eat
Embark on an inspired trip to the French countryside with Absinthe in Ottawa, memorable both by name and by atmosphere. Here the charm of the French countryside mixes with the flavours of all of France to deliver a fine-dining experience that cannot be matched. Opt for the wine pairing to make your dining experience all the more savoury, and elevate the delectable flavours of the food.
A meeting of contemporary and historic, Blink Restaurant & Bar in Calgary proves to be a testament to mixing all the best things in life. Exposed brick reminds the diner of the building's inspired heritage, while the dishes are modern and robustly flavourful. The menu rotates daily and the result is fresh seasonal dishes with a European twist. The director pulls from her worldly experience and refined palette to create a fusion of flavours.  The food is simply enthused, with dishes poised to please every palate and a perfect wine to pair.
If you'd like a change of pace, Café Linnea in Edmonton offers a delectable brunch service or High Tea to commemorate the occasion. A relaxing and inviting interior decorated with fresh flowers and a chic minimalist design, this restaurant is the perfect place to sit back and enjoy the real masterpieces – the food. Locally sourced ingredients combined with French and Scandinavian flavours promise to make this morning memorable and relaxing.
From different shopping experiences to the plethora of spa packages available, Canada proves to be the perfect destination for a relaxing Mother's Day holiday. With accommodations that range from historic to modern but always comfortable, and restaurants that are sure to leave you hungering for more, the perfect Mother's Day celebration is only a plane ride away.
Kathryn Munro is Managing Director at Canadian Affair.
If you would like to be a guest blogger on A Luxury Travel Blog in order to raise your profile, please contact us.