Wake up on your own private island in an almost untouched part of the world
Wake up to a spectacular sunrise on your own private island. Struggle with the difficult decision of choosing between room service or a walk through a piece of paradise to take you to your tropical breakfast feast.
Feel the white sand between your toes as you make your way by the coconut trees that line the beach, and spot hummingbirds, parrots and pelicans en route.
Calala Island: king of the private islands
Welcome to
Calala Island
: your own private island. Welcome to a little piece of unspoilt paradise, the king of the private islands. Enjoy the ultimate in luxury private island service, where a maximum of 10 guests are taken care of by a team of 25, who tend to your every whim.
An almost untouched part of the world
This is barefoot luxury at its best in an almost untouched part of the world. Calala Island is situated in an undiscovered part of the Caribbean, in the idyllic Pearl Cays off the Nicaraguan coast. Hence the name given by the team at Calala Island: NiCarribean. Nicaragua's Caribbean coast is quite a contrast to its Spanish Pacific coast, as it is comprised mostly of small fishing communities.
10 acres of blissful paradise
Calala Island is worlds removed from most luxury destinations of the 21st century. It is 10 acres of blissful paradise, where you can truly lose touch with reality and relax more deeply than you could ever have imagined. Look out to the palm-fringed turquoise water, where the waves are lapping gently and the birds are calling happily. On one side of the island there's also the most gorgeous free-form infinity pool, which has a swim-up bar. During the day it's easy not to want to go anywhere else!
Stay in an architecturally spectacular beach bungalow
You will be staying in an architecturally spectacular beach bungalow suite. Designed by Matthew Falkiner, a renowned leading architect, there are only four of these bungalow suites on the island. Each blends seamlessly into its surroundings on the remote paradise island beach. Only the finest locally sourced handcrafted furniture has been used to complete the perfection. Each suite is named after a local community.
Michelin-star standard food
Even though the almost untouched island is primitive in the most charming manner, the food certainly isn't! Calala Island's Executive Chef, Tom Morrell, has worked in some of the
UK
's and Europe's top Michelin starred restaurants. He was also a Masterchef Finalist in 2013. He is constantly pushing foodie boundaries using delicious locally sourced produce. His tasting menus showcase these ingredients perfectly.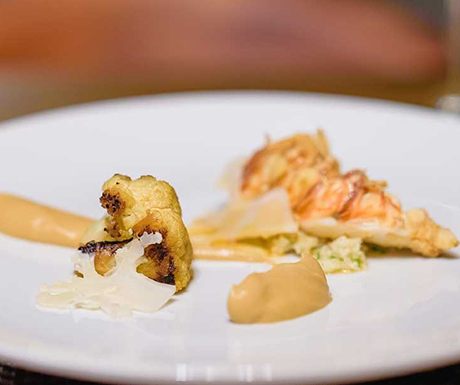 Serenity and service
Calala Island is actually run by Tom and his lovely French wife Sarah, along with the team of Calala Island Lalas, which is an endearing term for the island's staff members. Although it can take a bit of time to arrive to the island, which is of course ideal in terms of serenity and privacy, the welcome you'll get is wonderful. The entire team welcome you with a song and some refreshing rum punch and this warm, friendly attentive service continues throughout your stay.
Reserve a piece of paradise
If you wish to reserve a piece of paradise you can either book the entire island or a bungalow suite. If you reserve the island, it will just be you and your party, the team of lalas …and wait, the island's other residents. The other residents are two gorgeous parrots, who are sure to make you smile.
Disclosure: This post was sponsored by Calala Island.
Did you enjoy this article?
Receive similar content direct to your inbox.