By
Paul Johnson
on Sep 09, 2017 in
Accommodation
,
Europe
,
Family Travel
,
Featured
,
Food and Drink
,
Going Out
,
Hotels
,
Regions
,
Restaurants
,
Speciality Travel
,
Travel Miscellany
,
United Kingdom
,
Western Europe
Whatley Manor, situated three miles from Malmesbury in a sleepy corner of Wiltshire, was purchased in 2000 and painstakingly restored and brought back to its former glory by the Landolt family. This traditional country house hotel was converted from a 19th century farmhouse and opened in 2003 with a commitment to make it a destination in its own right, and a place where quality and attention to detail is key.
This was evident from the moment of our arrival – we had emailed ahead of our visit to check on the parking situation as we were travelling with a boat trailer, and were given directions as to the best place to go. On arrival, we were swiftly greeted and directed to an area of the car park that had already been cordoned off for us in anticipation of our arrival, so that it was easy for us to park – how thoughtful is that?! I know it's only a small thing, really, but I often feel that it's the little details that set true luxury hotels apart from the rest.
We made our way through to reception and from there were guided to room 1 of the hotel.
This deluxe room spanned two floors. On the ground floor was a writing desk, and large double.
Each room and suite at the hotel is equipped with a Bang & Olufsen sound and vision system (in fact, two in all the suites). You can borrow from a collection of over 200 DVDs at reception. For those seeking a more cinematic experience, the hotel has its own 40-seat cinema that is available to hire.
Beyond the bedroom was a bathroom with bath and separate shower…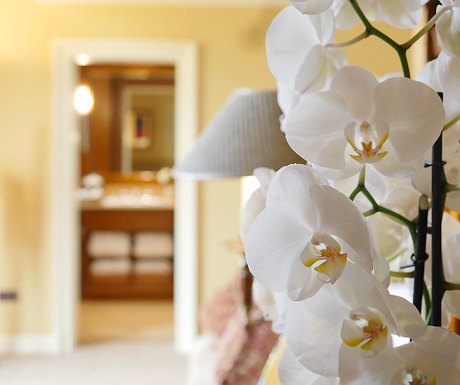 …and complete with L'Occitane toiletries.
The upstairs offered living space in which to relax…
…with one end converted to accommodate our children with two additional beds.
We arranged for our boys to eat at Grey's Brasserie, presented in a Swiss chalet style to reflect the owners' Swiss heritage, but set to be refurbished in the near future.
We had a drink whilst the boys dined. The food looked good and certainly had their seal of approval.
We were eating a little later at The Dining Room, found on the ground floor of the manor house; it holds two Michelin stars and is led by Executive Chef Niall Keating.
We had a choice of having a drink at the bar or the lounge beforehand, opting for the relaxed setting of the latter.
Niall has worked in some of the world's most exciting restaurants including Benu (San Francisco) and Kong Hans Kaelder (Copenhagen). Ahead lay a 14-course extravaganza, which drew on his culinary travels and showcased his own creative ability to deliver truly memorable food.
The italicised words are the descriptions as per the menu.
spiced cracker, sesame, crispy shrimp
This was just a little something to whet our appetite before going through to the main dining room – light, with a hint of spice.
oyster, seaweed mignonette
tempura, citrus aigre-doux
This was served with a Deus Brut Chamapagne which was refreshingly light to complement the tempura.
egg white custard, tamari, salmon roe
brown butter, buttermilk
The secret ingredient in the butter was Marmite and this was served with a light, blonde beer (Three Daggers), rather than wine.
mackerel, preserved raspberry, greens
A really refreshing dish that truly tickled the taste buds!
This was served with a very fruity, honeyed (almost sweet) Loire wine.
tortellini – black
This consisted of pork mince, truffle oil, a little bit of foie gras, ginger and spring onion.
This dish was a definite highlight – very rich and paired with a light Israeli red wine emanating from the higher altitudes of the Judean hills.
<<risotto>> – chorizo, raw scallop
This was made with Koshihikari rice (the highest quality sushi rice)…
…and served with a 1985 Riesling.
salmon, fresh almonds, exmoor caviar
Served with Rock Angel – a Provencal rosé similar to a good white Burgundy. 150,000 bottles of this second cuvée were produced (which is fairly small when compared with the 15 million bottles of Whispering Angel).
spring lamb, dill-pickle, horseradish
Paired with a 1999 Burgundy, a year when there was apparently great sunshine in the period up to the harvest.
optional cheese – £12.95
…we didn't partake in the cheese – there was more than enough food already!
aloe vera, grape, olive oil
A deliciously light palette-cleanser.
strawberry, elderflower, confit lime
Some interesting textures in this one.
This was paired with an English Entice wine (made from frozen grapes) – a high acidity, sweet wine which went well with the strawberries.
At this point we were very kindly presented with a bonus course – lemon macaroons – as it was our wedding anniversary.
matcha choux bun
treats
As you can see, the food alone is worthy of its growing reputation and enough to draw you to Whatley Manor, but there is more…
The manor house is a Grade 2 listed building set in 12 acres of land that have been transformed into 26 distinctive gardens, many of them based on the original 1920s plans. The gardens are most definitely worth exploring.
Sadly we didn't have time to take advantage during our brief stay, but the hotel also has its own spa for adult guests, complete with hydrotherapy pool.
We were really using the hotel as a stop-over on a long drive to France, but it is undoubtedly worthy of a visit in its own right. The rooms are generously-proportioned and luxurious, and the food an obvious draw. We hope it won't be too long before we find ourselves passing the area again!
Disclosure: Our stay was sponsored by Whatley Manor.